Virtual University Of Pakistan admissions 2018 in various programs of Bachelor, Master, MS, and Diploma are open. Virtual University is the first university of Pakistan that is totally based on the modern information and communication technology. This university is a nonprofit organization with a clear mission to provide quality education and established by the government of Pakistan and worked as a public sector University. Along with the physical campuses, even students can attend their classes and lectures via the internet and a television broadcast channel of Virtual University. Virtual university and as you can see now that in the very short span of time this university has made its place in the top-ranked universities of Pakistan. VU holds a federal charter which is being accepted and recognized all over Pakistan wherever you go with that degree. For this time authorities are inviting admission forms for Virtual University Of Pakistan admissions 2018.
Virtual University Of Pakistan Admissions 2018
As this is the year 2018 So the virtual university is open its gate for the spring semester admission of 2018 in the following programs.
Bachelor of Science (4 Years):
Accounting and Finance
Commerce
Management
Psychology
Bachelor of Business and Information
Banking and Finance
Computer Sciences
Marketing
Public administration
Technology
Business Administration
Information Technology
Mass Communication
B.Ed
Bachelor Programs (2 Year):
BSC (Computer Science)
BA (Business administration)
BA (Mass Communication)
B.Com (Bachelor of Commerce)
BA ( PSychology)
Bachelor of Arts
Master Programs (2 Years):
MBA
M.Com
MSC
MPA
MBEC
MIT
MS Programs:
Diploma:
PGDA
Diploma is CS and IT
Further details about Virtual University spring admissions 2018 are written in the following advertisement. You can click on the advertisement to make it bigger so that you can read it clearly.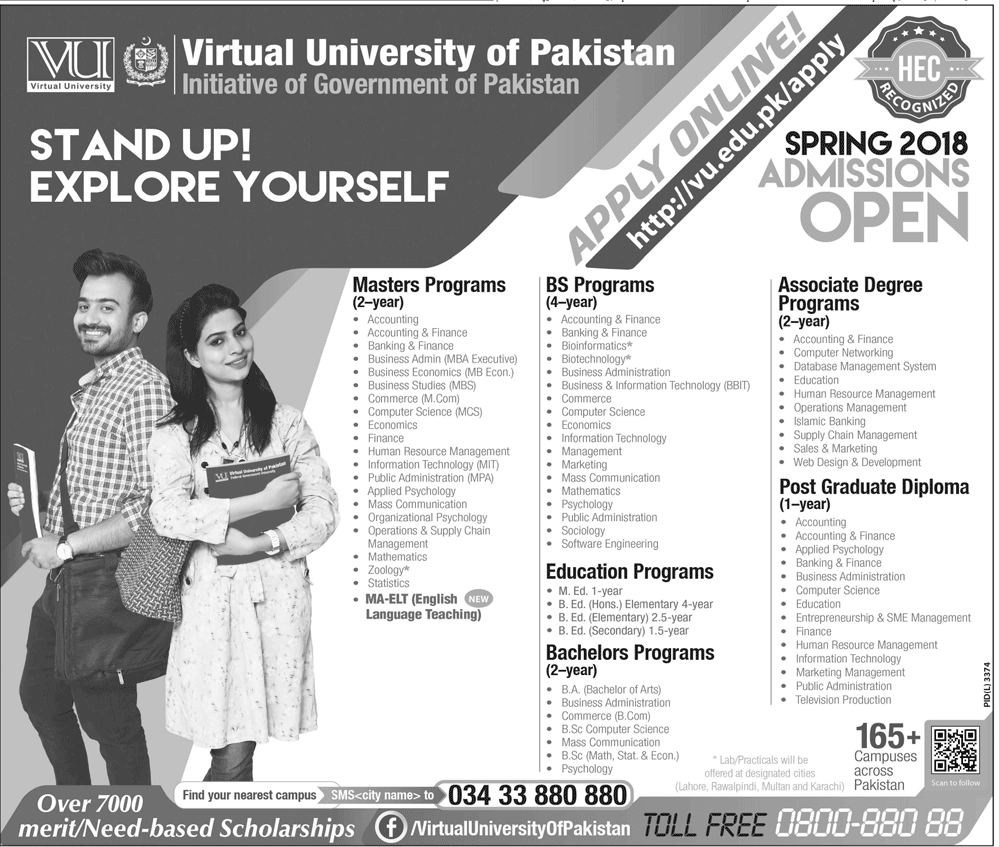 Application Form and Information:
Please fill in the admission application form below.
Submit the form when you finish. You will receive a Form Number. Please note it carefully.
Download and print following documents;
     a) Admission Application Form
     b) Challan Form
     c) ID Card Development Slip
     d) Hand Writing Sample
Deposit the challan to the nearest Bank Branch (as specified in challan) & attach a copy of deposited Bank Challan along with required documents. Finally, mail the hard copy of your complete admission form at the following address;
Hence these details about Virtual University of Pakistan admissions 2018. Never late in applying otherwise, you will not be entertained with admission criterion.