The Electrical Engineering Scope In Pakistan is the most demanded In Pakistan Market from the engineering Perspective. B.SC Electrical Engineering is the degree course that is offered to you after you are well done in the Intermediate Exams Of the 11th Class With Pre-Engineering Subjects. BSC Electrical Engineering is a dynamic Field With a lot of Hidden Opportunities and the occasion to gain success. The Bachelor of Engineering (commonly abbreviated as BE or BEng) is an undergraduate academic degree awarded to a student after four years of studying Engineering at Universities in Pakistan. There are no efforts involved while exploring the project assessment. It means every effort is the big one towards the power generation crisis in Pakistan.
Electrical Engineering Scope In Pakistan
The projects for electricity generation is the big one to review the analysis about the way out that ensure the hiring of new projects. Power generation is a big need as well. So, Pakistan needs electrical engineers so that they can manage electrical infrastructure within the country. The planning phase required the electrical engineers to review the policy about power generation. The electrical Engineering Scope In Pakistan is unlimited indeed.
Electrical Engineering Universities In Pakistan
The below given are Electrical Engineering Universities In Pakistan which means you have an abrupt approach with respect to developing a long-term approach. As per the allowed step with respect to the universities that develop the exact match approach with the skills. Below given is a list of
Air University, Islamabad
Bahria University, Islamabad (Main Campus)
University of Engineering and Technology, Lahore
Government College University, Lahore
Mehran University of Engineering and Technology, Jamshoro
Sir Syed University of Engineering and Technology, Karachi
CECOS University of Information Technology and Emerging Sciences, Peshawar
National University of Sciences and Technology (Pakistan), College of Aeronautical Engineering,
Risalpur Campus
Balochistan University of Engineering and Technology, Khuzdar
Mirpur University of Science and Technology, Mirpur, Azad Kashmir
University of Azad Jammu and Kashmir, Muzaffarabad, Azad Kashmir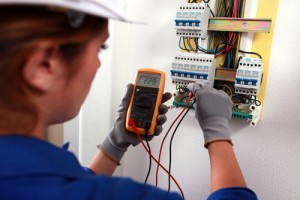 Check the Scope of Biotechnology
Electrical Engineering Subjects List In Pakistan
Besides various projects, labs, and seminars, the degree course in B.E. (Electrical Engineering) includes the study explored through the below Electrical Engineering Subjects List In Pakistan. These subjects are required.
Advanced Mathematics
Analog and Digital Electronics: Diodes, amplifiers, oscillators, etc
Control Systems
Electric Circuits and Fields
Electrical Machines: Transformers, AC & DC motors, generators, etc
Electrical and Electronic Measurements: Bridges and potentiometers, dynamometers, voltmeters, ammeters and multimeters, Q-meters, oscilloscopes, etc.
Electrical Workshop & Wiring Estimation
Electrical Circuit Theory
Electrical Material Science
Electrical Machine Design
Electronics
Electronic Instrumentation
Signals and Systems
Field Theory
High Voltage Engineering
Nonconventional Energy Sources
Numeral Analysis & Optimization Techniques
Power Systems
Power Electronics and Drives:  Semiconductor power diodes, transistors, thyristors, etc.
Strength of Materials
The above are just chosen subjects but there are many other subjects we are offered by the universities in Pakistan.
Electrical Engineering Jobs In Pakistan
There are many career options for students after the successful completion of their Electrical Engineering Jobs In Pakistan. Job opportunities for Electrical Engineers are manifold in areas such as:
Electrical Engineer Trainee
Electrical Solar Panel Engineer
Electrical Engineer
Assistant Chief Engineer
Trainee Engineer Electrical
Electrical Engineer
Electrical/Electronics/Mechatronics/Telecom Engineer
Team Lead Operations/ Shift Engineer
Electrical Sales Engineer
Lead Engineer – Controls Engineering
Associate, Technical Application Support
Team Lead Software Engr. Server & Back End
The above-given job titles are ideal ones which mean every engineer is going to share in a justified way. The process from the degree award to the job-seeking is the detailed step that can be an exercise involved after the degree. So please focus on the above-given job titles in different industries in Pakistan. The below are different phases of the same degree. It means you have the chance to develop the way out to review the progress by getting admission in any of the following degree names depending upon the different association.
BS Electrical Engineering
BSc Electrical Engineering
B.E Electrical Engineering
Check Also: Telecommunication Engineering Scope In Pakistan
Electrical Engineering Eligibility In Pakistan
Those students or professionals in the field who want to get the label of electrical engineer must have a background of FSc pre-engineering or pre-medical with additional maths. Even DAE or equivalent degree holders must get admission and for this, you have to consider Electrical Engineering Eligibility In Pakistan given below. For this, you have the
60 percent marks or above in matric science or equivalent examination
60 percent marks in the intermediate or equivalent examination within the major subjects chemistry, mathematics, and physics.
The admission test of any university is important indeed but if you have SAT II subjects test In math, physics, and chemistry then you may have the chance for admission but it entirely depends upon the university's policy.
So, there is an ideal stage if you are clear in the given mentioned approach. You must be clear about the way out to maintain the degree approach. The electrical Engineering Scope In Pakistan does not conclude here because it is just an outline for the understanding of the students and recent graduates.