As the demands high of short courses in Pakistan here are some CCNA Courses in Pakistan offered in big cities like Lahore,Islamabad and Karachi and others too. These Cities having bulk of Institutes which is offering CCNA Courses purely related with Computer Networking. CCNA is the most demanded short course in Lahore. This is only city having bulk of students who are interested in getting admission in CCNA. There are numerous colleges and institutes are still existing in Pakistan which are offering CCNA Courses comprises of as listed here but before going to the details of the course let us have a little talk about the benefits and future of this course. CCNA Course is totally related to networking and as you all know that these days everything is going to be computerized no matter which department or organization you enter the complete working these days are now on the Computers so that is why seeing this one could easily expect that what is the future of CCNA Course in Pakistan. The starting salary of a person with the CCNA is more than Rs. 25000/-.
CCNA Courses in Pakistan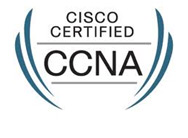 CCNA Course Outline in Pakistan:
Brief Introduction of Computer Networking in both LANs and WANs
Models of Layered Communication
Fundamentals of Ethernet
Fundamentals of LAB Cabling
Fundamentals of WAN Wide Area Networking
Internet Working
Basic and Fundamentals of Routers
Complete CISCO routers Information
Trouble Shooting, and Switching Routers
Operation of IP Data Networks
IP addressing (IPv4/IPv6)
Network Device Security
CCNA which is also known as Cisco Certified Network associate which helps to creates the ability to judge the network types,network Management, Internet Protocol as well as Many things associated with it. All those candidates having the capability to deal with much complex networking gadgets are welcome to CCNA courses in Pakistan. Basically CCNA is only built for so that it can made your knowledge to creates, maintain, secure and operaye a medium-sized network using such innovative ideas.
CCNA certified professionals can install, configure and operate LAN,WAN and detail access services for small network. Those candidates who are interested in IP, IGRP, Serial, Frame Relay, IP RIP, VLANs, RIP, Ethernet, Access Lists are normally offered in Pakistan in these CCNA Courses in Pakistan.