Note: DG Khan board going to organize the exam from 20 May 2023. Applicants that are ready to appear in 1st annual exam now they are finding the DG Khan Board 2nd Year Date Sheet 2023.
Students as you all know that the annual exams of the DG Khan Board for Inter are expected in mid of May. Well, there is good news for all the students who have registered themselves for appearing in the annual examination under this board you can download the 2nd Year Date Sheet 2023 from this page. So the time is very little now and we advise all the students to start the preparations now because a few days are remaining and this level is very important for all of them. No matter how good is your grip on every subject, you have to just focus on your studies now. There is no time remaining to waste. So just prepare according to the schedule.
Date
Morning
Evening
20 May 2023

Psychology
Food and Nutrition

Outlines of Home Economics
Hematology and Blood Banking
Applied Sciences

22 May 2023
English
English
23 May 2023

Economics
Child Development and Family Life

24 May 2023

Computer Science
Applied Art
Military Science

Health and Physical Education
Microbiology
Dental Hygiene
Physiotherapy
Radio Graphics Techniques

25 May 2023

Chemistry
Nursing
Geology
Fine Art

Chemistry
Statistics
Library Science

26 May 2023
Civics

Philosophy
Banking
Computer Studies

27 May 2023
29 May 2023

Physics
Education
Commercial Geography

30 May 2023

Islamic History
History of Muslim India
History of Pakistan
History of the Modern World
Islamic History & Culture

Geography
Clinical Pathology and Serology
Basic Medical Sciences

31 May 2023
Urdu
01 June 2023

Islamic Studies
Principles of Accounting

2 June 2023
Pakistan Studies
Pakistan Studies
3 June 2023

Punjabi
Arabic
Pashto
French

Punjabi
Persian
Urdu
English
German
Statistics
DG Khan Board 2nd Year Date Sheet 2023
The board has not yet declared the schedule of DG Khan Board HSSC Part 2 Date sheet 2023. So students stay in touch with this page so that as soon as the date sheet of the 12th class will be announced you will be the first person that would get this date sheet. Well, students as mentioned above that the annual examination of the Inter is going to start soon so you just have a few days left for the preparation that is why if you do not start yet then go for it now.
Also Check: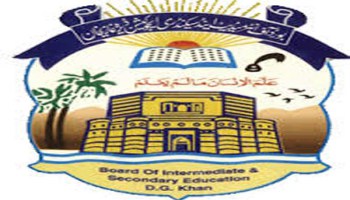 DG Khan Board 12th Class Date Sheet 2023
A few days are left in the announcement of the DG Khan Board 1st Year Date Sheet 2023.
There are a total of 9 educational Boards that are working to provide a better educational environment to the students of Punjab and the DG Khan Board is one of them.
Since the first day of the inception of this board, the management has always provided quality education to each and every student of the districts that are under the supervision of that board.
Well due to this reason every year a large number of students register themself. So that they could appear in the annual examination of Intermediate now as the year is going to end.
Every student is looking forward to the officials for the exams 2023.
Punjab Board Inter Date Sheet 2023
Now the BISE DG Khan 12th class date sheet 2023 is under processing and will announce in the last week of this month or the first week of the next month. As we have mentioned above whenever the board will make any decision about the exams, this page will be your first priority to check what is going on next. So just stay tuned and just wait for the official announcement as ilm.com.pk is providing every educational news on time. You just have to visit the page for the purpose of BISE DG Khan Board Inter Part 2 Date Sheet 2023.