Karachi Literature Festival 2019 is on the way at Beach Luxury Hotel during 2019 so are you planning to go this festival or not yet. This is one of the greatest literature festival held in Karachi every year from 2010 and this year in this literature festival in inauguration ceremony the keynote speaker will be Nadeem Aslam and then the performance by Sheema Kermani's group. Through out the whole program the "Batain aur Mulaqaatain" will be continue along with the author signing, book fairs, food courts and many exhibitions of photography by Tapu Javeri and Arif Mehmood.
This Karachi Literature Festival first held in year 2010 which is open for all as a free entry. This is the one and only literature festival of Pakistan which allows to gather the lectures, mushairah, book fair, book launches and many more under one roof And this year this festival is going to be held in the Beach Luxury Hotel along with a children's literature festival too so that will be a new kind of addition in these kind of festivals which will be a great fun for all of us.
Karachi Literature Festival 2019
This Karachi Literature Festival 2019 is directed by Ameena Saiyid and produced by the Oxford University Press. From its first festival in year 201o every year there is a rapid increase in the audience coming for this festival as in 2010 there were about 5000 visitors, in 2011 there were 10,000, in 2012 there were 15,00 and now this is 2019 and it is consider that more than 20,000 will come to this festival and to enjoy them self with the literature. This place is the perfect and ideal place for all the literature lovers.
Karachi Literature Festival 2019 Schedule
Festival: Karachi Literature festival
Dates: 1st, 2nd, 3rd March, 2019
Venue: Beach Luxury hotel, Karachi
Programs: For programs List CLICK HERE
Karachi Literature Festival 2019 Registration Started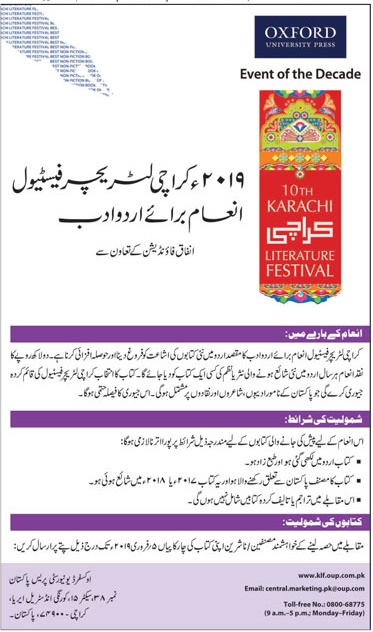 In this literature festival this year there were twelve countries and nine languages will be represented including  Nepal, India, Palestine, France, Italy, Germany, Sweden, Russia, Canada, US, UK and Pakistan. If we now talk about the keynote speaker then history is witness that every year the speaker is so fanatic that audience love to hear as in year 2012 it was Shamsur Rahman Faruqi, in 2011 it was Karen Armstrong, in 2012 it was William Dalrymple and now it will be Nadeem Aslam and Gulzar. The Karachi Literature Festival Prize goes to the best non-fiction book in English by a Pakistani / Pakistani-origin author published in the preceding year and in 2018 this prize will be Rs. 150,000 and the name of the prize is Karachi Literature Festival 2019, Coca Cola prize. One thing is for sure that you will really enjoy this festival if you are there.