Ufone the number one telecom operator in Pakistan has now introduce the Summer Internship Program 2018 for the fresh graduate of the different universities of Pakistan. This is the second time when Ufone has launched this program as the first internship program were concluded in year 2012 with great success and now this program is relaunched to provide a better career opportunity to the fresh graduates of the Pakistan and according to the official statement this summer internship program will be started in this month April all across the Pakistan major cities. The selection procedure for this is very simple as the candidates have to appear in the test first and then the selected candidates will be forwarded towards the interview session for confirming their selection.
In this program candidates of all major cities and Universities can apply now no matter you are from Islamabad, Sawabi, Lahore or Karachi you are eligible for this Summer program and can apply for the test now after that this will totally depends upon your education, Skills, communication that whether you can make your place in this program or rejected during the test or interview.
Ufone Summer Internship Program 2018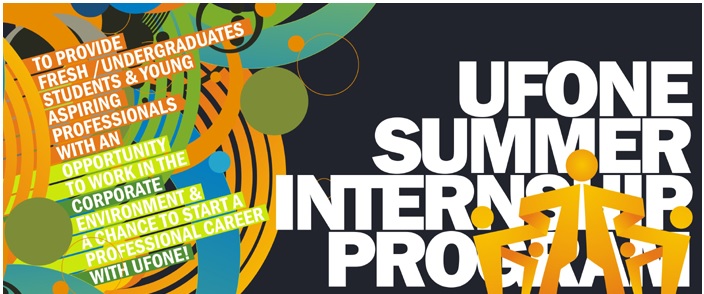 Eligibility Criteria For Internship Program:
Candidate applying for this internship program must be a student of bachelor Program or Master program.
In bachelor program he or she should be in 6th or 7th Semester and in Master program he or she should be in 2nd or 3rd Semester
Candidate must have maintain its CGPA to 2.5 or above otherwise he or she will not eligible to apply
Candidate must be free means he or she is not currently working in any other organization.
Aims and Objectives of this SIP:
This Ufone Summer Internship program will provide all the students of bachelor and master a great opportunity to work in a highly professional and dynamic environment with the highly motivated team of the Ufone Telecom. After this program a candidate is eligible to know all the industry best practices as all the selected candidates will work on a real time project started by the Ufone to exposure more and more of each internal skills. This Summer program is of 6 to 8 weeks.
General manager human Resources in Ufone Mr Syed Ali Zaidi said while describing this internship program that this program is totally focuses of identifying the natural and hidden talent of Pakistan. In the last year internship program there were total 150 students who were selected and then work from 6 to 8 week in the professional environment on a Ufone project with real time situation an dafter facing the real time situation hurdles and making strategies to control that situation all these 150 students have completed their internship programs and now all of them are working in a highly reputed companies working in Pakistan and our of Pakistan. After the completion of the last internship program a ceremony was held in which these 150 students are standing along with the Abdul Aziz President & CEO of Ufone.
As we all know that Ufone is providing the Telecom services in Pakistan and now this is the Ufone is the first choice in mind of every person if he or she thinking of getting any telecom services so to work in the nation's number one telecom organization is a proud and when it comes to learning then what else you can get while facing the real time situations for the whole 6 to 8 weeks.