Goi international essay contest 2022 topics, award prize winner list, and complete detailed information has briefly described here. Those who are interested to join this competition are required to lie on the eligibility criteria and must submit the essay before the last date which is also written below. So before going towards those details let's have a short introduction about Goi international essay contest 2022. This contest is organized by the Goi Peace Foundation which is endorsed by the ministry of education, culture, sports, science, and technology of the Japanese National Commission for UNESCO, Japan Private School Federation, Tokyo metropolitan board of education, Japan Broadcasting Corporation, Nikkai Ins. Supported by FELISSIMO Corporation. Well, the purpose of this competition is to develop and to mind build of youth in peace and their imaginations. In this contest, there will be national and international youth as competitors. Each student or candidate will call on stage and will be offered to speak and to impress the jury and listeners there. Your way of speaking, way of conveying your message, and your body language will count the marks to bring you to the list of Goi International essay contest 2022 award prize winners. Keep on reading for more details about the Goi peace foundation 2022 international essay contest.
UNESCO Goi International Essay Competition 2022
Theme or Topic of Essay
"Education to Build a Better Future for All"
Eligibility Criteria
Only eligible and short-listed candidates will only join the international essay contest. The eligibility criteria are written below
Age: age for the children category is up to 14 years/age for the youth category is from 15 years to 25 years till the last date of submission of an essay
Words/ characters:
 Maximum 700 or fewer words in English, French, Spanish or German
Maximum 1600 or fewer Characters in Japanese, Excluding Essay title.
Guidance and Instructions
The essay should be in typed or printed form
Your essay should have a cover page with your Name, Gender, Essay Title, Category (Children / Youth), School, College, or University Name (if applicable), Word Count
The essay Should be Unique as plagiarized entries will not accept
An essay should be written by one person
Copyright of the essay entered will be assigned to the organizer.
How to Submit Your Essay
If you are meeting the above criterion then you can submit your essay by following this process online via E-mail. Youth directors or teachers have to prepare a list of names and ages of contestants and have to submit a collection of essays from their class or group via email or postal address.
For Online Submission:
Click Here
Sending Your Entries via Post: At international Essay Contest c/o The Goi Foundation 1-4-5 Hirakawacho, Chiyoda-ku, Tokyo 102-0093 Japan.
Last Date of Send your Essay: Update Soon

Prize/ Awards for Winners
1st Prize= Certificate and prize of 100, 000 Yen (Approx. US$880 as of February 2022)
2nd Prize: Certificate and Prize of 50, 000 Yen (approx. US$440 as of February 2022)
3rd Prize: Certificate and Gift
Other Participants will also be awarded Certificates and gifts
Goi International Essay Contest 2022 Notification/ Advertisement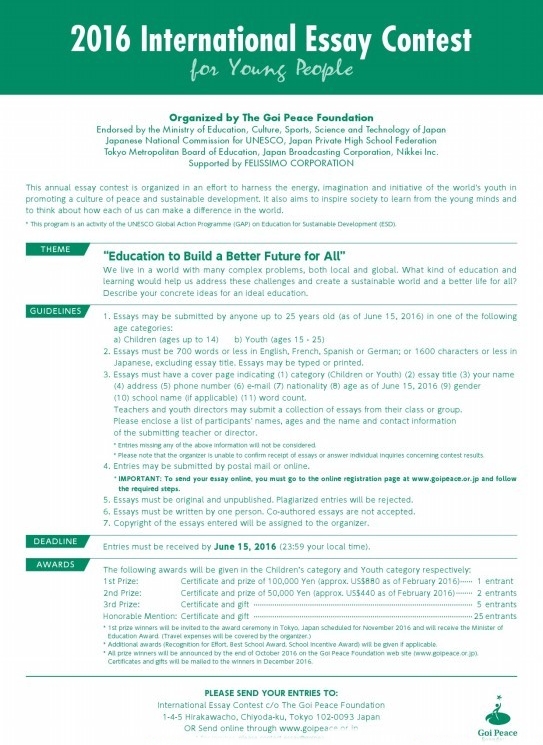 Hence all about the Goi International Essay contest 2022 topics, and the award prize winner list. Hope you are all well motivated to participate in this international essay competition 2022 organized by the Goi Peace Foundation. This is a good initiative for the youth of the world to give their unique ideas to demolish the brutality and cruelty from all over the world. So just take it apart and make your name on the list of Goi international essay contest 2022 winners.