It is to inform that Punjab University PU Institute Of Administrative Sciences Entry Test Result 2018-19 Merit List is available here. PU open admissions 2018 for MBA, MHRM, MMkt, MHA and restrict and eligibility criteria along with an important entry test. All those eligible candidates who submit their application forms to PU on 18th December, 2018 have to attempts an entry test. This entry test is mandatory for each and every applicant to pass so that their name can be mentioned in the Merit List. According to the PU administrative rules and regulations only those candidates will be entertained by the PU executive evening admissions 2018 that pass this entry test held on December, 2018. Here you are also informed that if you are eligible according to the eligibility criteria restricted by the officials but fails in this entry test will be rejected to grant admission. PU every year when every opens admission it collects the application forms and make a list of selected candidates and these selected candidates have to get their admittance cards and then appear in their entry test along with their admittance cards and those who pass the entry test get admission in PU. Similarly this time also the PU Institute of Administrative sciences offer executive evening admissions 2018 for master's class and the PU result for entry test is available here below this page. Have a look down.
PU Institute Of Administrative Sciences Entry Test Result 2018
PU Overview
University of the Punjab PU Institute of Administrative Sciences is a separate department of PU which offers admissions for administrative faculties. It was established in the year of 1962 as a public type institute. It offers admissions for post graduate classes in morning and evening timings. It is affiliated with the Higher Education Commission HEC and also Pakistan Engineering Council PEC. It also provides convenient facilities to its enrolled students and arranges examinations every year for all the students. Since the time of its establishment this department is performing its duties in the best way.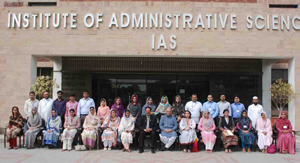 PU institute of administrative sciences Entry Test Result 2018-2018 Merit List   
Punjab University PU institute of administrative sciences IAS has conducted the entry test from all the short listed candidates on 20th December, 2018 at PU IAS and the result of this test in the form of Merit List will be dispatched between 20th and 26th December, 2018. You're PU IAS Merit List 2018-2018 will be available here with the very next minute as the officials announced it. So stay connected with this page if you want to get your PU Institute Of Administrative Sciences Entry Test Result 2018-2018 Merit List before others exactly and accurately.