The page is about the Winter Holidays In Pakistan 2020-2021 Vacations For School, Colleges and Universities have been declared by the ministry of education Govt. of Pakistan. These holidays are for all the private, government, and semi-government schools colleges, and other educational institutes. According to the winter vacation schedule these holidays are held in the last of the month of December every year. The government education Punjab issues the order to all the elementary, Senior Elementary, Secondary, Higher Secondary Schools, colleges (Public, private), Universities to keep close their doors for winter holidays from 24th December 2020 to 5th January 2021 in Punjab; while in Sindh Province the schools will remain close till 31st December 2021. According to the All Pakistan Private Schools Management Association, the private type schools in Pakistan will remain close on the same date and any of the school that does not follow these instructions will be addressed by the Government. Here down the advertisement for Winter Vacation In Pakistan 2020-2021 is uploaded and we suggest you to must read this ad if you want to read in Urdu.
Winter School's Vocations 2020 Extended
Till now no notification about Winter School's Vocation 2020 Extended has released by the official while when any notification will receive then we will share on this page. As well as you can see the previous year's notification.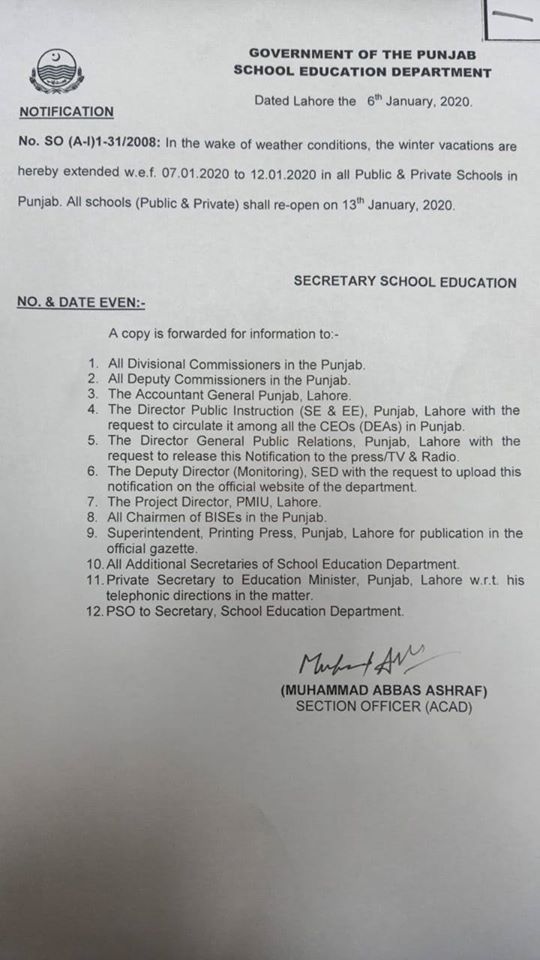 Every government officer and student of both private and public academic institutions. The academic level approach is doing
Punjab Winter Vacations 2020

Punjab winter vacation 2020 will announce after a few days. The expected date of vacation is December 2020.
Winter Vacations 2020-2021 in Sindh

In the month of September, the Sindh government will declare the winter vacation.
Winter Vacations 2020-2021 in KPK

In the last week of November or the 1st week of December, the KPK government will officially announce the winter holidays.
The purpose of these holidays is just to provide some relaxation to the students to keep safe from the cold weather and to prepare for the spring semester exams. After these holidays mostly schools will obtain the annual exams while most schools have been conducted the December exams before these holidays. So students are suggested to stay at home and to avoid going out so that the cold winter could be resisted and join the training classes at school to cover the syllabus.
Related: Winter Season Vegetables
Winter Vacations In Pakistan 2020-2021
So this is all about the Winter Holidays In Pakistan 2020-2021 Vacations For School, Colleges, and Universities Schedule. If you have read this schedule then you are suggested to make your preparation well for your upcoming examinations. It is because if any student who doesn't have attempt classes in the whole year can chase a chance to clear that previous syllabus and to get ready for Spring exams that are going to be held in 2021.