Federal Public Service Commission FPSC has been revised that the CSS new subject groups 2019 and syllabus. CSS competitive exams were last time revised in 1981 with emerging global trends and for netting high talent and quality stuff for the Civil Services through FPSC. FPSC is a federal type governmental agency which is responsible for hiring competitive aspirants on civil services. For this hiring, the FPSC took a competitive exam that is called CSS test. This test contains compulsory and optional subjects and carries 1200 Marks for both the compulsory and optional subjects. 600 marks are set for compulsory subjects and this is mandatory for each and every candidate to attempt while the optional subjects are based on the selection of candidate's discipline or in other words the field a candidate is going to be chosen for his or her career. So for each vacancy officials issue through an advertisement and set some eligibility and that that meeting these eligibilities and requirements have to appear in CSS exam that was held in the month of February while the date sheet for CSS exams is the issue online in the month of September of the previous year. CSS Exams Schedule 2019 has announced. Hence, candidate, this is a tiny intro about CSS 2019 exams now scroll down this page to get CSS new subject group 2019 and syllabus FPSC.
CSS New Subject Groups 2019 And Syllabus FPSC
FPSC CSS Competitive exams 2019 Date: 14 

February 2019

Notice for Inviting application forms will be issued in

last week of September 2019

Paper contains

3 hours of duration

for each subject

The question paper

will be in different languages but and a candidate has to answer in his respective language unless otherwise directed in the question paper
CSS New Subject groups 2019 (Compulsory) 600 marks 
Compulsory Subjects carry 600 marks and there are 6 subjects and each subject carry 100 marks.
English Essay 100 marks
English (précis and Composition) 100 marks
General Science and Ability 100 marks
Current Affairs 100 marks
Pakistan Affairs 100 marks
Islamic Studies or Comparative Study of Major Religions (For Non-Muslims) 100 marks
CSS New Subject groups 2019 (Optional) 200+200+100+100 = 1200 Marks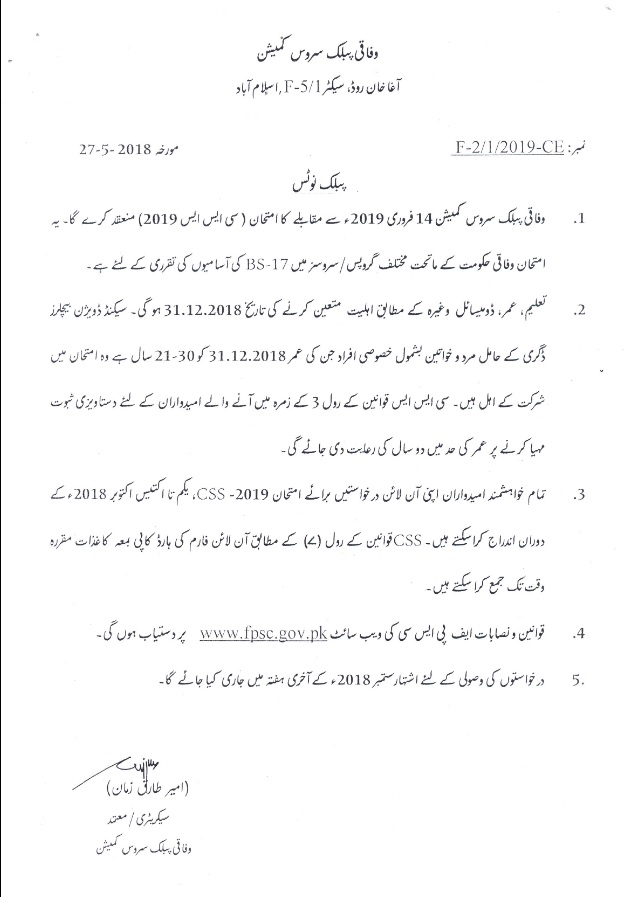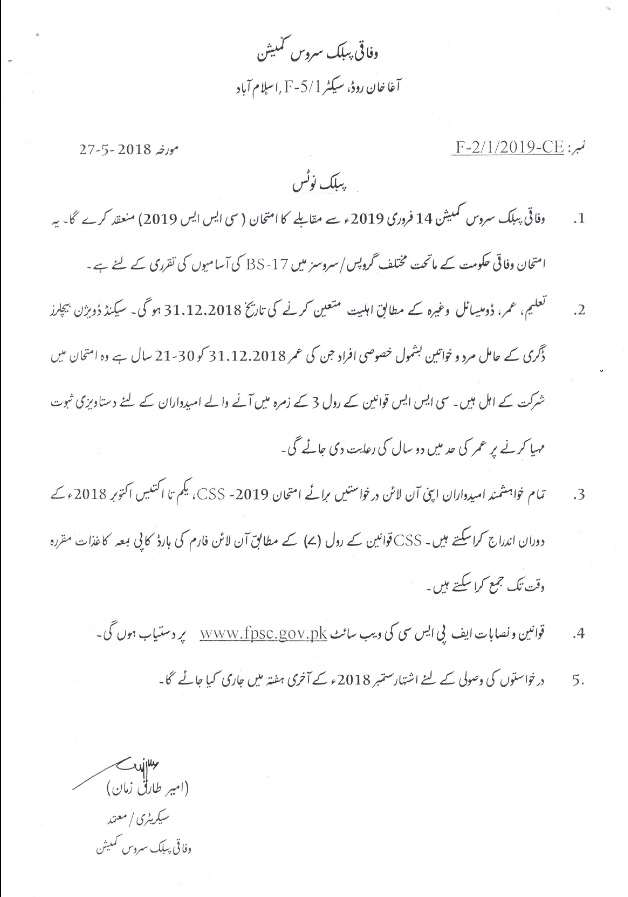 There are four optional groups divided into different subjects carry 100 marks for each and a candidate have to choose 2 subjects if that is of 100 marks while he has to choose one subject if the subject carry 200 marks.
Total Marks for CSS Exams 2019 =1200 (Compulsory = Optional)
For More Details Visit
CSS New Subjects group 2019
FPSC CSS 2019 Syllabus For Test Preparation
Hence this is all about "CSS New Subject Groups 2019 And Syllabus FPSC". The Central Superior Services (CSS) is conducted every year for induction to group 17 of the Civil Services through FPSC. Hope you are all now fully aware with the CSS New Subject group 2019 and Syllabus and you are fully prepared for appearing in your CSS Exams. For any further inquiry you can leave your comment in the following comment box we will be replying you on high priority and also upload the notice for inviting applications by the FPSC as soon as it announce it. So stay in touch with us to get the latest update for CSS Competitive examinations 2019 FPSC.