Looking for CSS Exam Date Sheet 2021 Download then it is to inform you that the officials of FPSC have announced the date sheet for the competitive exams and here on this page, you will be able to download it. CSS is a competitive examination that will be held by the Federal Services Commission for recruitment to posts in BS-17 for various departments. This examination will be held simultaneously in different cities. The students who pass the examination will be called for an interview. The interview will be held in Islamabad, Karachi, Lahore, Peshawar, and Quetta. The Commission reserves the right to finally decide the place where the candidates would be examined or interviewed. The competitive examination comprises the written examination, Medical examination, Psychology Assessment, Viva Voice. Every year, it is conducted by FPSC, and results are also announced by the commission. Below here, you can check the date sheet that is officially announced.
CSS Exams Date Sheet 2021
CSS Exam Date Sheet 2021 yet not declared by the official because registration will close on 3 November 2020 and then the organization will release the date sheet. On the other hand, management has released the exam date that will start on 18 February 2021 while the complete date sheet not announce.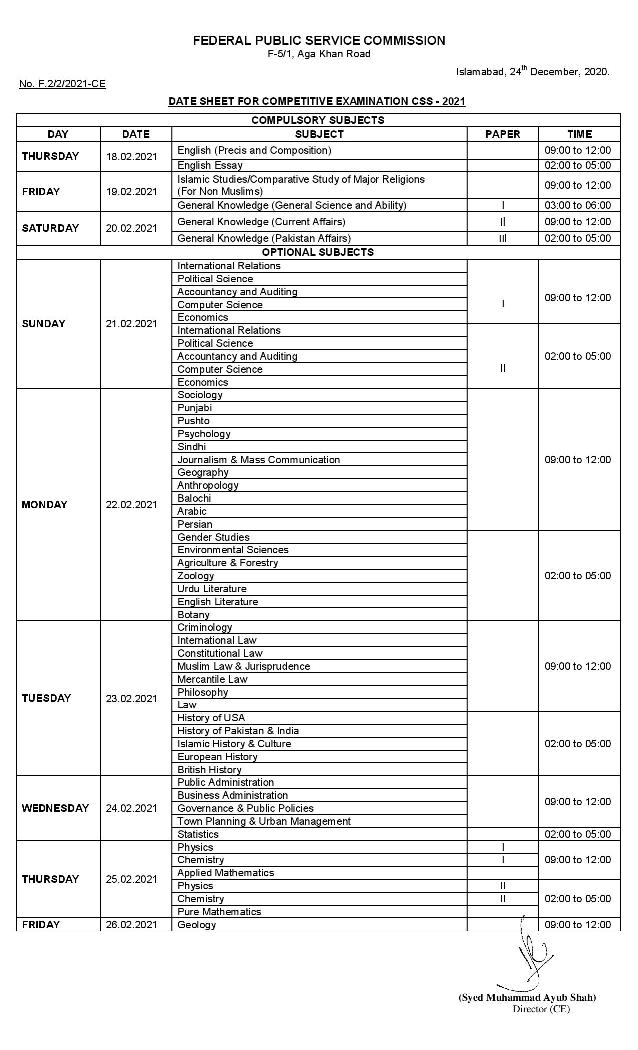 FPSC CSS Exam Date Sheet 2021
CSS examination starts from 18th FEB 2021. The students who are applying to attempt in 2021 must submit their forms with full documents. Candidates who have submitted their registration form and are registered by FPSC for the exams are eligible for it. The exam contains quite complicating questions. So, it is advised to the students that they have to prepare themselves well for the exams and appear in the examination hall with good preparation. This is a big chance given to every student to appear in this test and to pass it. So, best of luck with your test. You can ask questions related to the CSS exam in the comment section.
For CSS a student must hold at least a second division or grade C bachelor's degree in any faculty of one of the Pakistani universities or any equivalent degree from a foreign university recognized by the Higher Education Commission. The other thing in CSS Examination 2021 Date Sheet is that the Candidates for the examination must be a citizen of Pakistan. In CSS compulsory subjects have 600 marks there will be two papers of 100 marks each of the subjects which carry 200 marks. In other subjects, there will be one paper. A candidate who does not appear in any compulsory subject will not be allowed to appear in the remaining papers of the examination. For optional subjects, the candidates are required to select subjects carrying a total of 600 marks.