Federal Public Service Commission CSS 2018 Pakistan Exams Advertisement is released in the Daily Jang newspaper of Pakistan which is an announcement from the officials of commission related to exam date, post and name of those cities where the vacancies have to be filled after the Central Superior Services exam in February. This advertisement also got a lot of information that who are the eligible person who can apply for the exams and where you can find the application form and how. Here is the announcement which is in the CSS 2018 advertisement.
The federal Public Service Commission will hold the central Superior Services (CSS) competitve examination 2018 for the recruitment to posts in BS-17 in following Occupational Groups/ Services under the Federal Government with effect from 15th February, 2018.
Commerce & Trade Group
District Management Group
Foreign Services Of Pakistan
Information Group
Inland Revenue Service
Military Land & Cantonments Group
Office Maagement Group
Pakistan Audit and Accounts Services
Pakistan Customs Service
Police Service of Pakistan
Postal Group
Railway (CZommercial & Transportation) Group.
The number of vacancies to be filled on the basis of 2018 examination will be announced later. Depending upon the number of candidates, the examination is likely to be held at the following centres.
Abbottabad
Bahawalpur
D.G. Khan
D.I. Khan
Faisalabad
Gilgit
Gujranwala
Hyderabad
Islamabad
Karachi
Lahore
Larkana
Multan
Muzaffarabad
Okara
peshawar
Quetta
Rawalpindi
Sargodha
Sialkot
Sukkur
CSS 2018 Pakistan Exams Advertisement
Eligibility Criteria:
Both male and female including disabled persons having at least 2nd division Bachelor's Degree between the age of 21 to 28 years as on 31st December, 2017. The upper age limit may be relaxed by two years in the categories mentioned in rule 4 provided with the application form, subject to fulfillment of documentary requirements.
Availability of Application Form:
Applications form for the CSS exams 2018 will be available at FPSC Head Office, Provincial Offices, Regional Offices and FPSC information Centre from 14th November, 2017 in against the amount of Rs. 1500/-(Non-refundable), that will be deposited in nearest government treasury or the State Bank of Pakistan or the National Bank of Pakistan under the head account "C-02101- Organs of State- Examination Fee (FPSC Receipt)". Application form can also be downloaded from the official website of FPSC
Rules & Syllabus, Click here
Instructions to Candidates, Application & Challan Form, Click here
Closing date is 14th November, 2017

Important Information: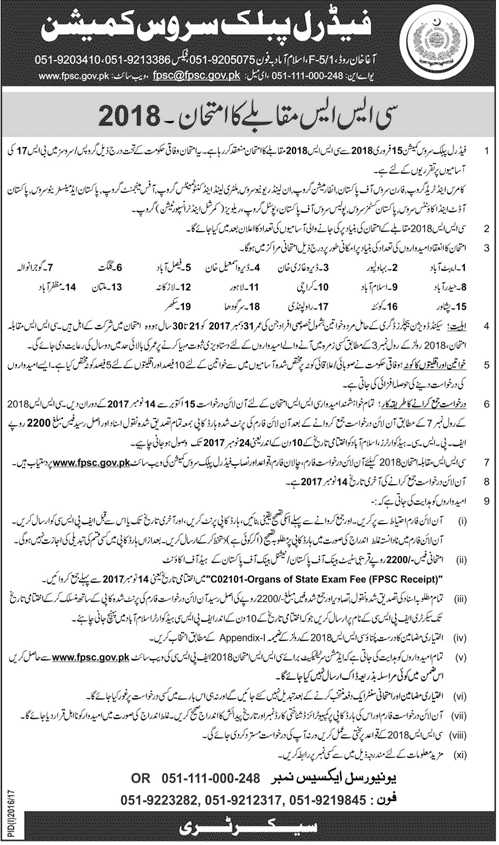 Applications form must be filled properly, attested copies of requires documents, photographs and tresury receipt in original must be attached with the application form.
Choice of subjects must be made correctly in accordance with the given instructions. Optional subjects, exams centre once selected shall not be changed.
Application form must be dispatched well before the closing date, applications forms received after the closing date shall not be entertained.