Bano Qudsia was the novelist, playwright and spiritual writer of Pakistan. She was born on 28 November 1928 in Ferozpur, British India. She wrote number of novels and books and here are Bano Qudsia Books and Novel Names List. She is one of the famous novelists for her novel "Raja Gidh". She was awarded numerous awards due to his literary work. In 1983 she was awarded Sitara-i-Imtiaz (Star of Excellence) by the President of Pakistan in 2010 she also awarded Hilal-i-Imtiaz (Crescent of Excellence) by the government of Pakistan. She also awarded Kamal-e-Funn Award by the Pakistan Academy of Letters in 2012 which is a lifetime achievement award. Here you can easily find the detail list of her work includes Dramas, Novels, Short Stories and Biographies etc. keep reading this article to check Bano Qudsia Books and Novel List. (also check Famous Urdu Poet of Pakistan List.)
Bano Qudsia Books and Novel Names List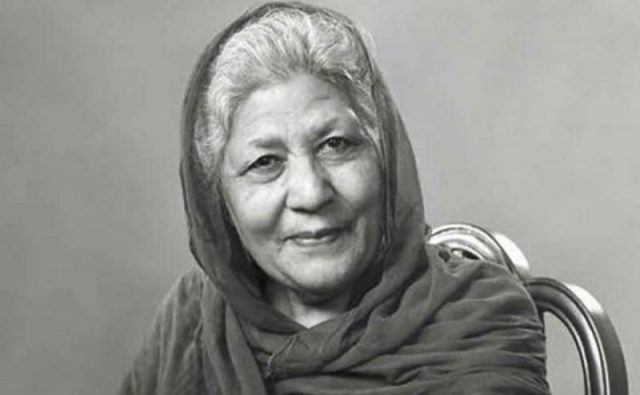 Dramas Written by Bano Qudsia:
Here below is the list of dramas written by Bano Qudsia and called the notable work of her time. The drama list is comprised of
Chota Shehar Baray Log
Phir Achanak Youn Hua
Lagan Apni Apni
Aadhee Baat
Foot Path ki Ghaas
Aasay Paasay
Tmaseel
Hawa k Naam
Dusra Qadam
Sidhran
Suraj Mukhi
Piya Naam ka Diya
Novels Written by Bano Qudsia:
Here below is the list of famous Bano Qudsia Novels list written by Bano Qudsia which are undoubtedly called the forgettable work of her.
Raja Gidh
Aik Din
Haasil Ghaat
Shehar-e-Lazawaal
Purwa
Moom ki Galiyan
Shehar-e-Bemisaal
Short Stories by Bano Qudsia:
The short stories list is comprised of the following title mentioned below written by the legendary writer Bano Qudsia;
Hijraton k Darmiyan
Dast Badast
Aatish-e-Zarr-e-Paa
Amar Bail
Dusra Darwaza
Baz Gasht
Na Qabil-e-Zikar
Samaan-e-Wajood
Tawaja ki Talib
Kuch or Nahi
Biographies:
Bano Qudsia also wrote two famous biographies list below;
Rah-e-Rawan
Mard-e-Abrsham
Bano Qudsia Books and Novel Names List is given above. In short, she was one of the best and leading wrote of his time and awarded numerous awards. She awarded with Hilal-e-Imtiaz and Sitara-i-Imtiaz by the President of Pakistan due to her literary work. She died at the age of 88 years on 4th of Feb, 2017 in Lahore, Pakistan. She also awarded Kamal-e-Funn Award by the Pakistan Academy of Letters in 2012 which is a lifetime achievement award. The GCU Old Ravians Union (GCU-ORU) also conferred a lifetime achievement award to Bano Qudsia. The Pakistan Life Care Foundation also awarded Bano Qudsia with lifetime achievement award in 2016.