The page created here about the latest Askar Oil Services Jobs 2018 and the send your resume is the process to apply for different jobs including business development officer, site engineer for retail outlets. Operation manager, logistics executive lahore and rawalpindi, finance officer and tele sales executive female. These job vacancies are open at the Askar Oil Services Jobs 2018. It means all these jobs are reliable and considerable through the email address and postal address that is given below. The 30 A Garden Block New Garden Town Lahore that means hr@askaroil.com.pk can be use to send he resume directly. The Oil Marketing Company named as OMC decided to looking for proactive and energetic indviduals to fill up the positions currently open.
Askar Oil Services Jobs
The first position is business development officer that means the graduate qualification with 4 to 5 years of experience preferably In OMC. AOSPL Jobs are open and now you can apply for the individual jobs. The position are available in different categories including region lahore gujranwala, gujrat mndi bahaudin even sargodha, rawalpindi, okara.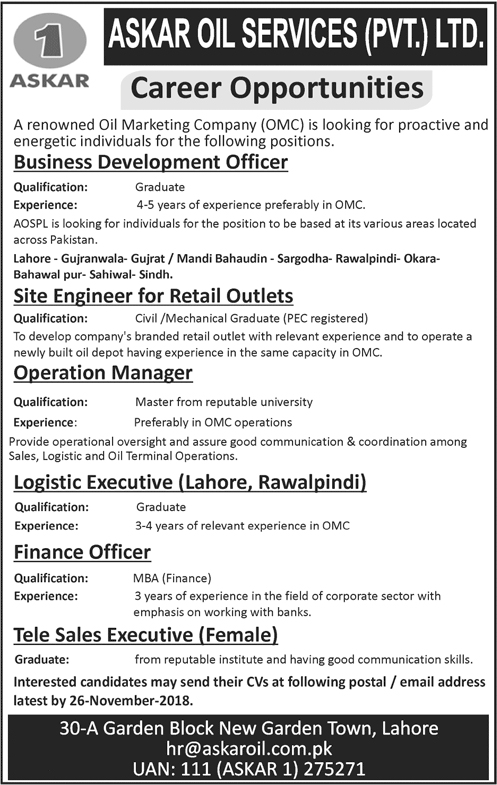 Askar Oil Services PVT LTD Lahore Jobs 2018 Titles
Busineess development Officer
Site Engineer For Retail Outlets
Operation Manager
Logistic Executive Lahore And Rawalpindi
Finance Officer
Tele Sales Executive Female
Apply Procedure For Askar Oil Services Jobs 2018
Send your resume with all references at hr@askaroil.com.pk. If they found the relevance with the goals and objectives of Askar Oil Services then they would be hired. Bahawal purr sahiwal and Sindh. The Site engineer for retail outlets, Operation Manager Logistic Executive Lahore and rawalpindi. Finance officer, Tele Sales Executive female are some open jobs with respect to the good communication skills and reputable institute. Interested candidates may end their CVs at the following postal and email address with respect to the the job and their associaton with the job opening.