Pak Army 36th TCC Technical Cadet Course 2024 announced and the last date for TCC Army online registration will be updated soon. Further, the Written test, Height, Weight, Age, Gender, Martial Status, and how to apply for the 36th TCC Course are discussed below. Moreover, the Pak Army is offering young boys to join the army through the 36th Technical Cadet course for September 2024. All the male candidates are allowed to apply for the Technical Cadet Course. Those candidates who have already been rejected twice by the Pak Army will not be allowed to apply. This is the best chance if you have a passion to join Pak Army.
| | |
| --- | --- |
| Application Start Date | Update Soon |
| Application Last Date | Update Soon |
| Preliminary Test | Update Soon |
| Height | 5 ft 4 Inches |
| Height in Centimeters | 162.5 cm |
| Weight | As per Body Mass Index |
| Age | 17 Years to 21 Years |
| Gender | Just only Male |
| Martial Status | Unmarried |
Pak Army 36th TCC Technical Cadet Course 2024 as Engineer
TCC Army 2024 Technical Cadet Course 36th Registration Online and people can submit their applications for joining. On the other hand, the entry test will be held in the month of September 2024. As well as the registration start date will be announced within a few days. After this dating department will not accept your application and you will lose this chance.
How to Apply for Technical Cadet Course
People are seeking how to apply for technical cadet courses because some apply without reading the eligibility criteria of the selection and when they receive the rejection letter they are disappointed. So now all the selection criteria and how to apply for cadet courses are mentioned and people can follow all the steps.
35 Technical Cadet Course Registration Schedule:
| | |
| --- | --- |
| Registration | Update Soon |
| Preliminary Test | Update Soon |
Old Advertisement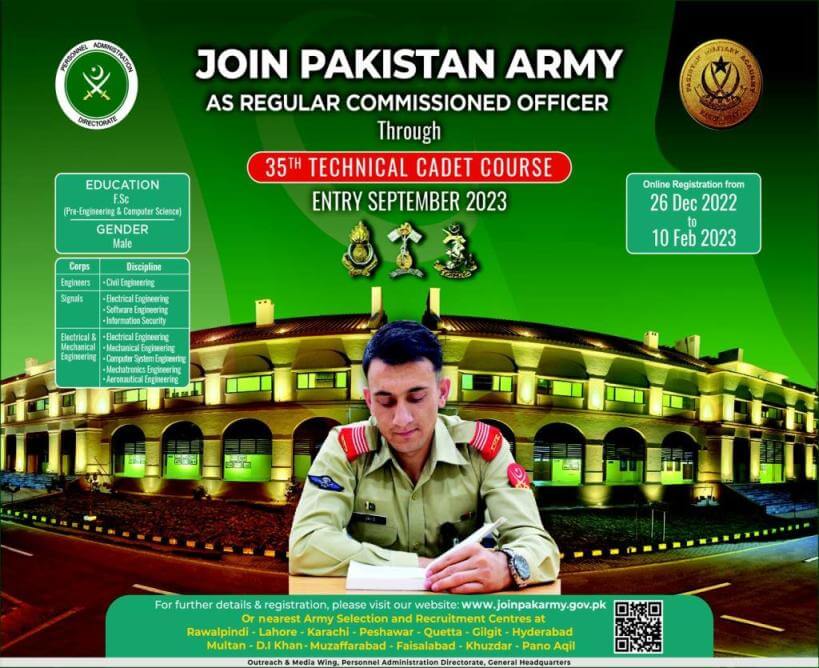 Eligibility Criteria to Join Army
| | |
| --- | --- |
| AGE | 17-21 years on 1st September |
| GENDER | Male |
| MARITAL STATUS | Unmarried |
| NATIONALITY | Citizen of Pakistan |
(A) General Criteria
Age: 17 to 21 years on 1st September.
All male unmarried citizens of Pakistan and domicile holders of AJK and Gilgit Baltistan are eligible.
Those having dual nationality have to surrender the other one at the time of selection.
(B)Physical Requirements:
Height: 5'4",
Weight: As per Body Mass Index
(C)Educational Requirements:
All the candidates passed FSc (pre-engineering) with at least 65% marks or A-Level with Grades A to C.
Those who have done A-Level have to submit the equivalence certificate issued by IBCC.
The students who have passed the FSC-I exams with at least 65% marks and now going to appear in the Part-2 exams can also apply for the "Hope Certificate".
Those who have done ICS, are also eligible to apply for Computer Software Engineering.
Ineligibility Criteria to Join Pak Army as Engineer

Those who have been rejected two times by any board of Armed Forces.
Those dismissed from any Government Services.
The candidates who have been convicted by a Law Court for any heinous crime.
Those declared unfit by AMB.
The candidates were declared unfit by any Armed Forces.
Technical Cadet Course Registration 2024
Click here to register yourself online. After submitting your applications, all the dates times, and other info will be given to you by email.
After this, the candidates will report to the nearest AS & RC.
Now, the intelligence test will be taken from the candidates.
A Physical Test will also be taken that includes.
–>1.6 KM run in 8 minutes
–>Pushups: 15 Repetitions in 2 minutes
–>Sit Ups: 20 Repetitions in 2 minutes
–>Chin Ups: 3 Repetitions in 2 minutes
–>Ditch Crossing: 7'4"x7'4" with a depth of 4′
A medical test will be taken at AS & RC.
The successful candidates will be called for the ISSB test and those who will pass it will go further.
Documents Needed at AS & RC
Original educational certificate or mark sheet of Matric/O-level and Inter/A-level.
Computerized National CNIC of the candidate for 18 years or above candidates and B-form for less than 18 years candidates with the CNIC of father/guardian.
1 set of photocopies of all the above documents.
3 recent colored passport-sized photographs.
Original and 3 Photocopies of ISSB "NOT RECOMMENDED" letter for repeaters.
After this, those who will pass all the tests will complete their studies at the National University of Science & Technology. They will be able to select the desired subject for their studies. After completing 04 years of degrees, they will go for training at PMA Kakul. So, this was all about the Pak Army 36th TCC Technical Cadet Course 2024 as an engineer. Hopefully, you are confident about the post. If you have any questions related to the post, then ask in the comment box. Stay tuned with us for more latest updates.