The reason to create this page so that we can regulate the advertisement recently for the job opening Join Pak Navy as PN Cadet Online Registration 2020-A Permanent Commission. There is the permanent commission in term 2020-A remains intact. The organization for this job is the Pakistan Navy and you can apply online for the registration and for that purpose you have to visit the Pakistan Navy website that is www.joinpaknavy.gov.pk. The date of the announcement for the job is 27th October 2019 and you can register between 27th October 2019 to 10 November 2019. The eligibility criteria for apply to apply for Pak Navy are given in this post. You can also check the age limit, applying procedure, last date, entrance test, and benefits here in this post. So, check the Pak Navy PN Cadet Permanent Commission.
Join Pak Navy as PN Cadet Online Registration 2020-A Permanent Commission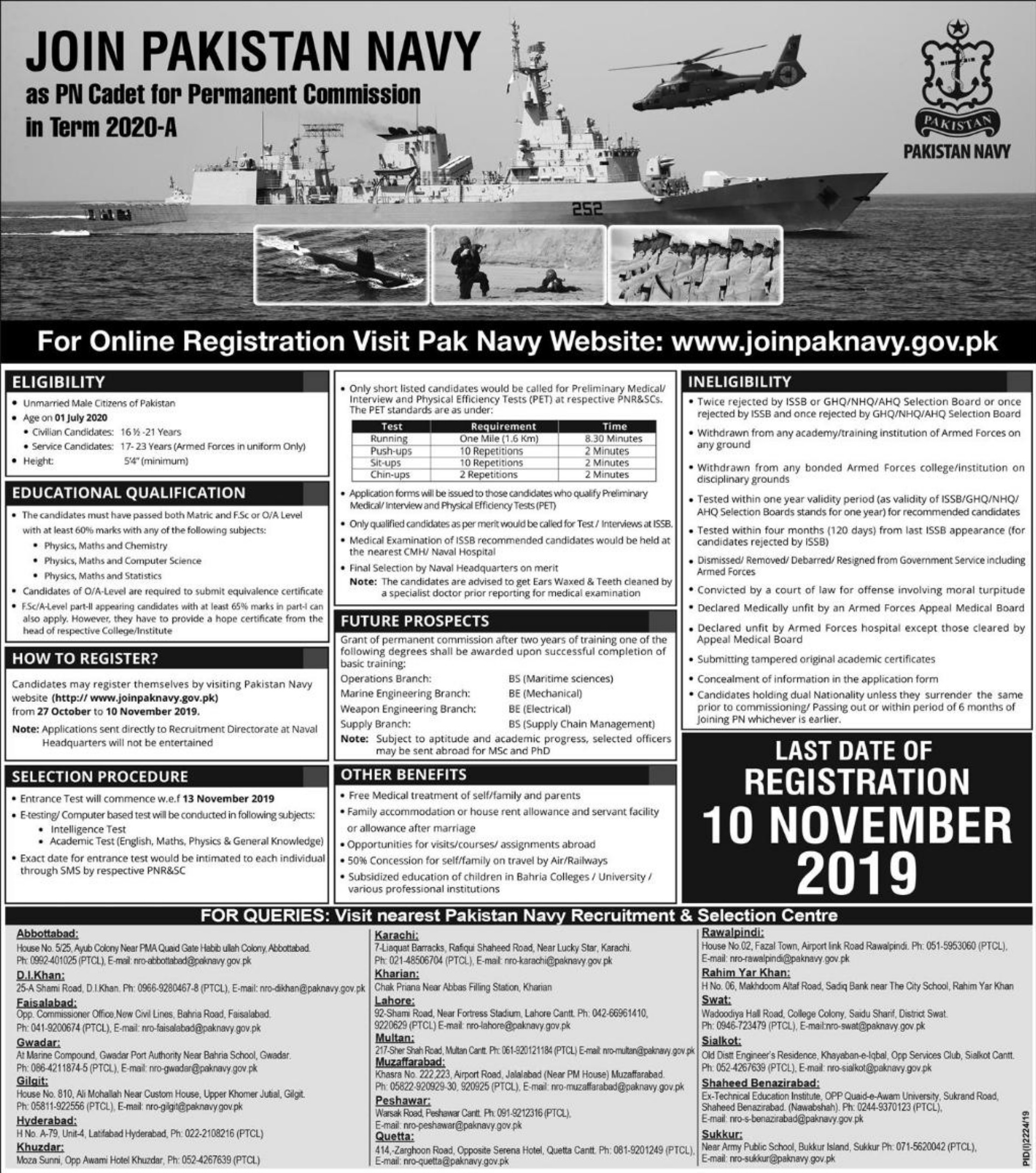 Important Dates for Registration
| | |
| --- | --- |
| Open Date | 27th October 2019 |
| Last Date | 10 November 2019 |
| Test Date | 13 November 2019 |
| Age Cutoff Date |  1 July 2020 |
Eligibility Criteria for Pak Navy 
The following eligibility is required for registration. Age will be required until 01 July 2020.
Unmarried Male citizens of Pakistan are eligible to apply.
Height to join Pak Navy is 5 feet to 4 inches at a minimum.
Age for Civilian candidates must lie between 16.5 to 21 Years.
Age for Service candidates must be between 17 to 23 Years.
The candidates who have passed Matriculation/O-level and Intermediate/A-level with at least 60% marks in each with the combination of subjects: Physics, Maths, and Chemistry as the first combination. Physics, Maths and computer science is the second combination for the FSC and O or A level and Physics, Maths and Statistics as 3rd combination.
Candidates who have done O and A level and want to apply must submit the equivalence certificate.
Those candidates, studying in FSc/A-Level 2nd year can also apply if they have passed the Part-1 exam with more than 65% marks by providing the hope certificate issued by the head of that college/institute.
Ineligibility Criteria for Pak Navy
Candidates who are twice rejected by ISSB or GHQ/NHQ/AHQ selection board or once rejected by ISSB and once by GHQ/NHQ/AHQ selection board.
Candidates withdrew from any academy/training institute of Armed forces.
Candidates dismissed/removed/debarred/resigned from government services including Armed Forces.
Candidates who have declared Medically unfit by an Armed Force Medical Board.
Applying Procedure for Pak Navy 
Candidates can apply online by visiting the Pak Navy official website given below.


Apply Online.

First of all, register yourself there, after providing all the information and submit it.
Then take print of the registration slip by providing your CNIC.
After that, you can check your results by providing your CNIC.
Pak Navy Entrance Tests
The selection for Pak Navy will be made after the entrance test which will be conducted on 13th November 2019.
The entrance test consists of questions from:
Intelligence
Academic Subjects (Maths, English, Physics, General Knowledge)
After the entrance test, Physical test will be taken from the selected candidates which will be as following:


| | |
| --- | --- |
| Running | 1.6 Km in 8.30 Minutes |
| Push-ups | 10 Repetitions in 2 Minutes |
| Sit-ups | 10 Repetitions in 2 Minutes |
| Chin-ups  | 2 Repetitions in 2 Minutes |

After the test, selected candidates will be given with application form and will be called for the Interview and Medical test at ISSB.
Final Selection will be made on merit.
Degrees from Pak Navy in Future
After two years of training, one of the following degrees can be given after successful completion of training:
| | |
| --- | --- |
| Operation Branch | BS (Maritime Science) |
| Marine Engineering Branch | BE (Mechanical) |
| Weapon Engineering Branch | BE (Electrical) |
| Supply Branch | BS (Supply Chain Management) |
Benefits of Pak Navy
Free medical treatment of Self/Family and Parents.
House rent allowance after marriage.
Opportunities to visit abroad.
50% concession for self/family on travel by air/railways.