State Bank of Pakistan SBP is now offering OG-2 Jobs 2014 for young Professionals as young professional induction program. So if you have qualify your those educations which makes you eligible for this job then you are advised that this is the time to avail this golden opportunity by joining this Position. By reading this article you will get the procedure that how to apply for this job and will easily determine yourself that either you are eligible for this job or not. Well state bank was established in 1948 one year later by the establishment of Pakistan to hold the currency and foreign exchange operations. State Bank is the central Bank of Pakistan which is functioning under the act of 1956; this act was lies over the previous act 1948 according to the new amendments of the modern era. Before the establishment of State Bank of Pakistan the Reserve of India was the Central bank for both India and Pakistan. But later when the Pakistan was established independently the British colonial determine the Reserve bank of India in two parts one is State Bank of Pakistan and the other is State Bank of India. And From that time this Bank is performing its operations to make the cash system in country better and well balanced.
SBP Young Professionals Induction Program OG-2 Jobs 2014 Registration Online
SBP OG-2 Jobs Appliance Procedure
The Eligible candidates have to qualify the NTS GET-FS for Officers Grade-2 Job in State Bank Pakistan. After qualifying this test applicant have to follow the following points.
Download the Application Form
Dully Filled in the application form
Attach GET-FS of NTS result sheet along with the application form
Attested Copies of All the academic certificates
One Copy of Attested National Identity Card C.N.I.C.
Domicile and 3 Passport size Photos
Well applicants when have complete all these appliance procedure, submit it to the Personal Management Department, State Bank of Pakistan. Head Office I.I. Chundrigar Road, Karachi.
SBP 2014 Job Position
State Bank of Pakistan is offering jobs for Officers Grade-2 Positions for eligible graduates.
SBP OG-2 Job Eligibility Criteria
Those candidates who have qualify the NTS Job Test for SBP BSC OG-2 Job.
Candidates having 16 year educational degree for master or Bachelor from any HEC recognized Institute or University.
Candidates having 60% marks in educational examination or equivalent CGPA.
Candidates having CA, ACMA or ACCA Degree can also apply
Maximum age limit is 28 years old but three year relaxation is allowed for applicants from FATA, Azad Jammu Kashmir, Balochistan and Northern Area.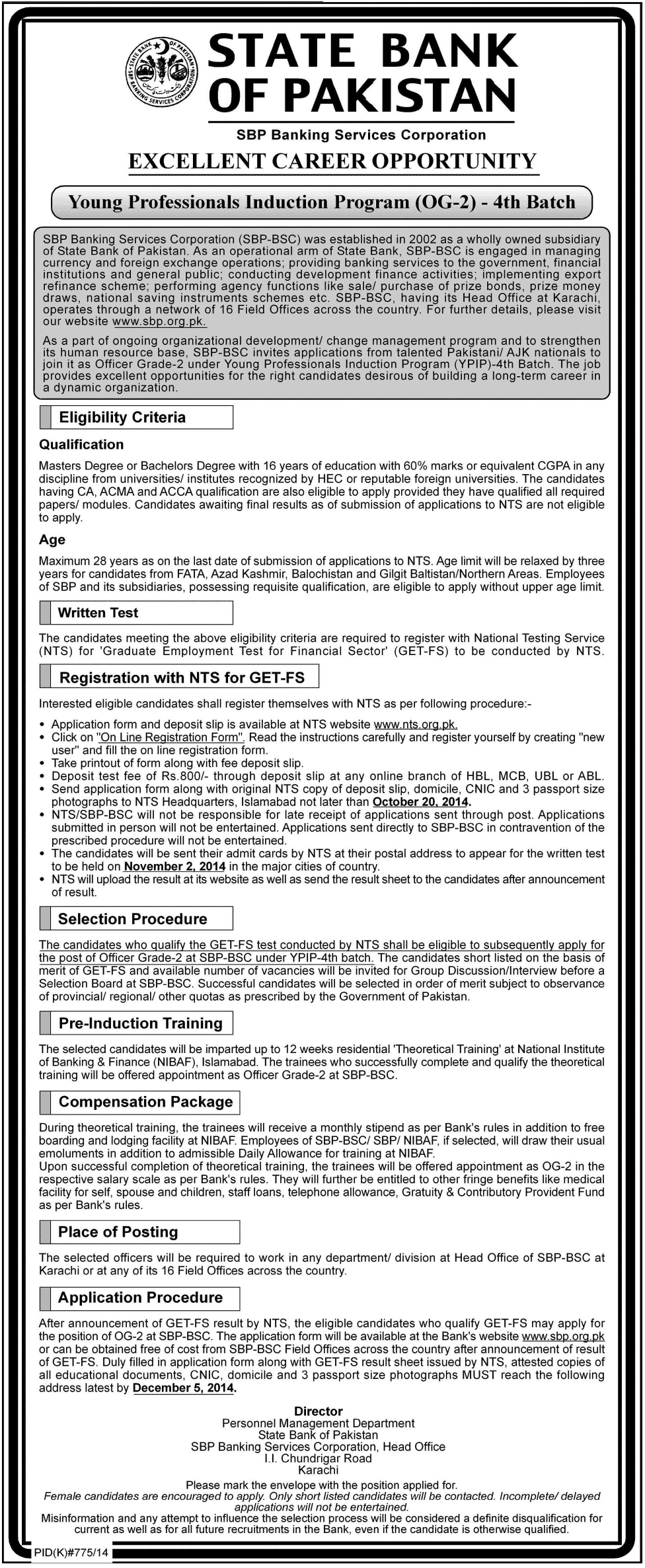 SBP Young Professionals Induction Program OG-2 Jobs 2014 Registration Online and all other information is available here in above description. You have to follow these instructions if you wan to join the SBP OG-2 Jobs 2014.