Allied Bank is now offering jobs for Management Trainee Officer (MTO) for all fresh graduates who want to join the Banking profession for their bright carrier. Allied Bank MTO Jobs 2023 Salary, Sample Paper details are given. So all of you fresh graduate contenders are to be advised through this page that willing nominees have to apply for this job. Allied Bank is working for the last 70 years and now it is running its well-prepared 971 online branches under high technology innovation solutions to provide the best quality services to its account holders. The Allied Bank has also launched a new technology of money keeping through Automatic transaction machines (ATM). More than 728 of its branches have the facility of ATM to provide Value-added services to its clients. So if you want to be a part of this innovative banking network as a Management Trainee Officer (MTO), you have to clear an inclusive selection procedure including initial only shortlisting based on the eligibility criteria. After all, the final selection will decide after the test and interviews will conduct by the Allied Bank Authorized. Other essential information relating to this job is extensively discussed below. The Allied Bank Jobs 2023 procedure is also given here. You will be all satisfied by reading all the articles below.
Allied Bank MTO Jobs 2023
Allied Bank MTO Jobs 2023 is now available Getting this job as Management Trainee Officer (MTO) has to complete a comprehensive selection procedure. That is a short listing-based process as every applicant should be eligible through eligible criteria. All those candidates who are considered by the officers eligible for this vacancy will be called for the interview or some of the applicants have to qualify for the written test prepared by the Allied Bank team so they can purify eligible interviews for this Job as (MTO).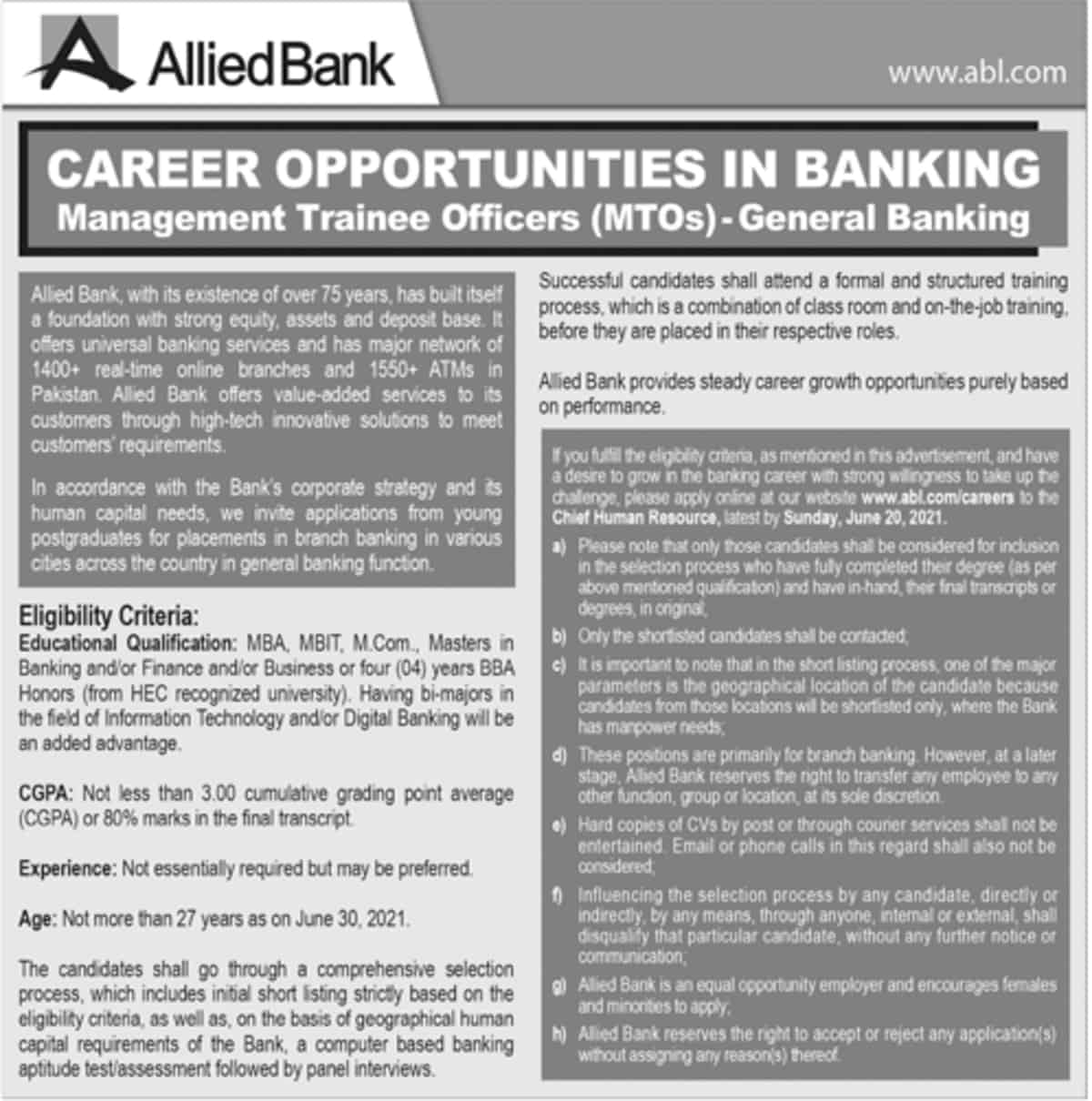 Eligibility Criteria:

Only those candidates are to be eligible for this job that has completed their master's education in commerce subjects are as they have clear…
Candidates should have a qualified Master in Business Administration (MBA), (M. Com), Masters in banking and finance (MB&F), or Master in Economics.
All the master's programs should be qualified through any Institute recognized by Higher Educational Council HEC.
The candidate should secure a minimum CGPA of 3.0 or at least 80% marks in case there is no CGPA system available.
The age Limitation is a Maximum of 27 years old.
All those candidates are eligible who submit their applications physically, as applications through E-mail or courier will not be accepted.
Both males and females can apply for MTO.
Results awaiting candidates are not acceptable for this Allied Bank Management Trainee Officer Jobs 2023.
Last Date:
Allied Bank has announced the last date of application submission, as well as the last date of application submission, is April 2023 after this date, no application will process by the management. Moreover, few days are left.
 Allied Bank MTO Jobs Salary
The salary for Management Trainee Officer (MTO) is approximately 25,000/- to 30,000/- at the start according to educational achievements (CGPA and aggregate marks). Further salary can be up grated according to the employee's working performance.
Allied Bank MTO Jobs 2023 Salary and Sample Paper are granted only for eligible nominees who are above-mentioned. If you lay the eligibility criteria and have the wish to grow in a banking carrier with well-built motivation to take up the challenges, you have to apply for this job. After you have submitted your documents according to your education and skills and you are also eligible according to eligibility criteria even the Bank keeps the right to either accept or reject any application without conveying any reason. But you are advised that if you are eligible for this Allied Bank MTO Jobs 2023 as Trainee Management Officer (MTO) you should physically visit the Allied Bank in this matter so you can entertain the hiring process.