Australia Award Scholarship Pakistan 2021 Application Form, Registration Date, and eligibilities along with how to apply online procedure is all discussed here. So if you want to continue your studies in Australia by attaining the scholarships then you are suggested to read out this entire article to analyze and determine, either you are eligible for this scholarship or not. Moreover here on this page, you will all other information and necessary instructions for this scholarship. Well according to this Australia Award Scholarship program all eligible and suitable students are invited by the institutions which are participating in the Australia Award Scholarship for studying in undergraduate, Masters, and Ph.D. programs. Here I would like to mention to you that you can take admission in any of the faculty under this scholarship but the participating institutes do not study those programs related to flying aircraft, nuclear technology, or military training. There are some other restrictions and conditions varied which are also discussed below in this passage. Keep reading this page for further information and details about Australia Award Scholarship 2021 Pakistan Application Form, Registration Date, and How to Apply Procedure.
Australia Award Scholarship Pakistan 2021 Registration Date
Students can take admission in engineering, medical, business, and management; arts-related all the faculties instead of those programs which are relating to aircraft flying, nuclear technology, or military training. Well the numbers of seats for this scholarship are also not specified because all the eligible candidates can apply for online registration for Australia Award Scholarship Pakistan 2021
Undergraduate
Masters
PhD
Benefits/ values
Air Traveling with Return Expenses
Stipend of Full Tuition Fee
Establishment Allowance
Contribution to Living Expenses (CLE)
Overseas Student Health Cover (OSHC)
All the study-related expenses which are a student is availing in the participating institute
Note: students are not allowed to shuffle in any other university or institute if once he or she has been admitted to one institute.
Last Date For Australia Award Scholarship 2021 Pakistan:
For the information of the students who are interested in this scholarship now registration of this scholarship is available and students can do the registration online till 31 May 2021. After this date, no application will process by the management.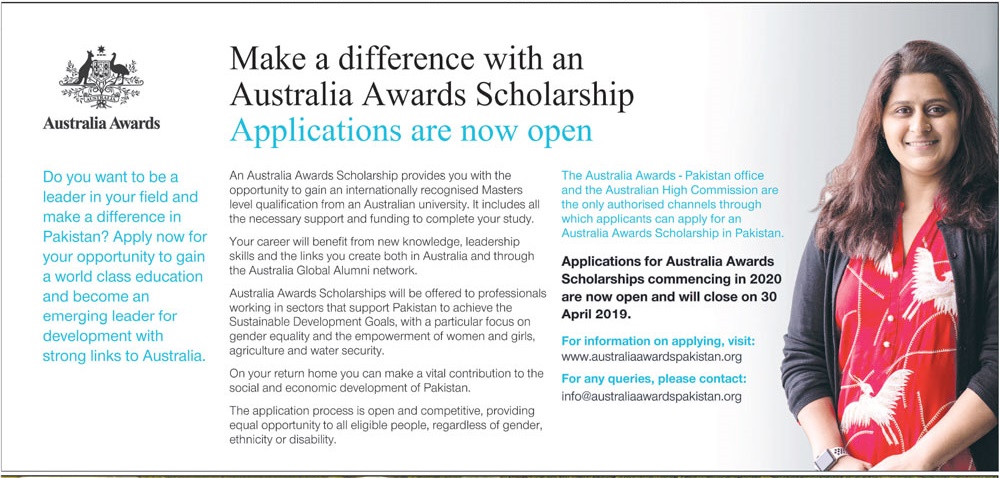 Eligibility/ Ineligibility
As I have written above that the scholarship will only be awarded to eligibility-meting students so you must read the eligibility criteria with full of concentration and determine if you are eligible for this scholarship or not according to the eligibility criteria written below.
Permanent Citizens of Pakistan
The minimum age should be eighteen 18 years
Male/ Females are both eligible
Marital status should be single unmarried
Any candidate who is serving in the military is not eligible
That one who is already availing any long term national or international scholarship is also not allowed to apply in this scholarship
A reasonable citizen who is not involved in any of the police cases. For this, the authority will verify the student's police record
Should be lying on the requirements of the Department of Immigration and Border Protection to hold a foreign affairs or Defense Sector subclass 576 VisaA
Australia Award Scholarship 2021 Application Form
Apply Online
So students if you are eligible according to the above-written criterion then you to get an online Australia Scholarships Information System (OASIS). Then you will be required to answer some of the questions and then you will see an online application folio that you have to fill and provide your documents. After filling your application form you have to submit it. It is also recommended that you must apply within the due date and time because any application form that is receiving after passing the last date will not be entertained. Another way to apply is by mail in which you can send your application form along with documents at the mailing address of the Australia Award Scholarship Pakistan 2021.
Hence this is all about Australia Award Scholarship Pakistan 2021 Application Form, Registration Date, and Apply Procedure. Hope you have now fully aware of the details and information about this scholarship. But in case you have any query in your mind relating to this scholarship you can ask via the comment box below this passage. Thank You!