Higher education commission HEC Overseas Scholarships 2019 Advertisement Application Form, Last Date, eligibility criteria and all important instructions are available here. HEC is offering Human Resource Development initiative PhD Program of Faculty Development for Universities of Engineering Science and Technology. So if you are also among those candidates who want to grow your educational career with engineering and technology in overseas countries. Then you are informed that the Higher Education commission HEC is offering overseas scholarship 2019 Form for all the nationals of Pakistan/ AJK. The HEC will provide these scholarships for all the eligible candidates (eligibility is available bellow). Those candidates who selects through this programs will get a fix amount for their educational expenses in overseas countries and Universities. HEC will fix an amount for eligible candidates and students will get their scholarships in overseas according to the policy arranged by the HEC authority for overseas scholarship program. Well candidates you are also informed that you have to appear in the National Testing Services NTS GAT subject base test.
HEC Overseas Scholarships 2019 Advertisement Application Form, Last Date
NTS will conduct GAT test for HEC Overseas Scholarships for PHD 2019 and it is mandatory for each applicant to pass this test with minimum 50% marks. Those candidates who have already attempts their NTA GAT test can apply on the bases of that test. Scroll down this page and get HEC Overseas Scholarships 2019 Advertisement, read this advertisement carefully and analyze yourself that either you are eligible for this admission or not and how to apply.
HEC Overseas Scholarships 2019 Advertisement
Last Date for apply: 18th February, 2019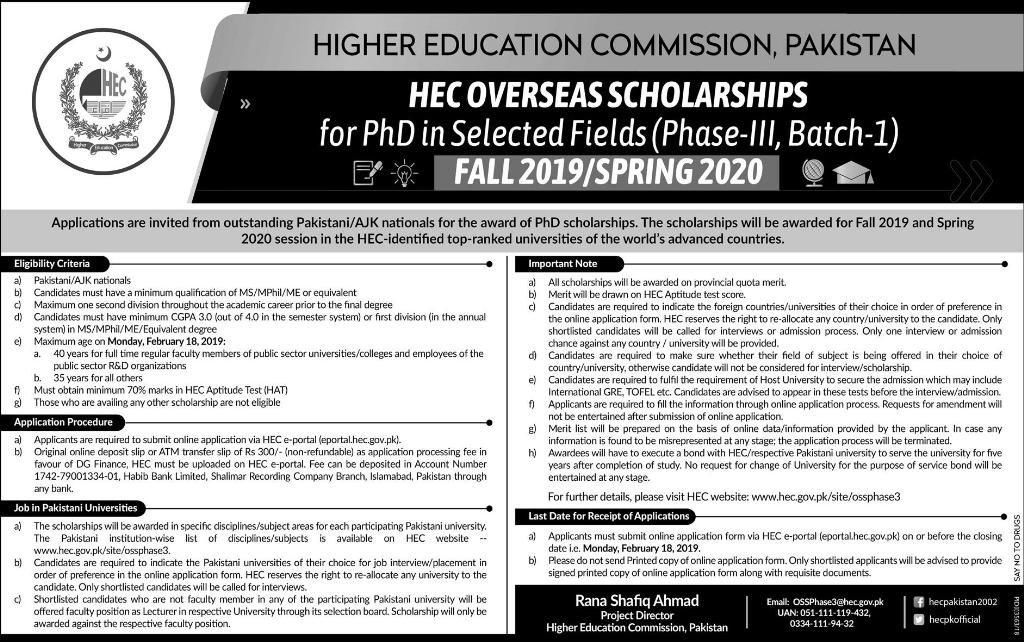 HEC Overseas Scholarships 2019 Application Form
Higher Education commission HEC was establish in Pakistan with the independence of Pakistan to regulate and mange the higher educational activities. It is proceeding to university Grant Commission UGC since 2002. Its headquarter is located in Islamabad Pakistan. HEC is an autonomous authority by which every University located in Pakistan has to affiliate with HEC so that its degree can get world wide acceptance in higher educational faculties. HEC plays vital role in up grating higher educations in Pakistan. HEC has also maintained scholarship quota for those students who want to get educations in overseas countries. This time HEC is offering scholarship for fall and spring 2019 programs. This is all about the HEC overseas scholarships 2019 advertisement application form, last date. If you want to get any further detail about HEC overseas Scholarship 2019 for MS/ M. Phil leading to PhD, you can also ask through comment box below.