It is to inform you that the Ehsaas Undergraduate Scholarship 2019 is open now. Those who want to apply for this program can apply from this page. Ehsaas Undergraduate program is a Governmental Program provided by HEC. Its main objective is to provide scholarships and to support all those students from low-income families. It is the vision of PM Pakistan Imran Khan to provide free education to all those students who want to continue their studies but they are not financially strong. Through this program, over 50,000 students will get benefits in a year and about 200,000 students will get benefit in 4 years. So, this is a very beneficial program for all the deserving students. There is a very good thing that 50% of the scholarships will be given to female students. Here we have given online application form, eligibility criteria and last date for the program.
Ehsaas Undergraduate Scholarship 2019 Online Apply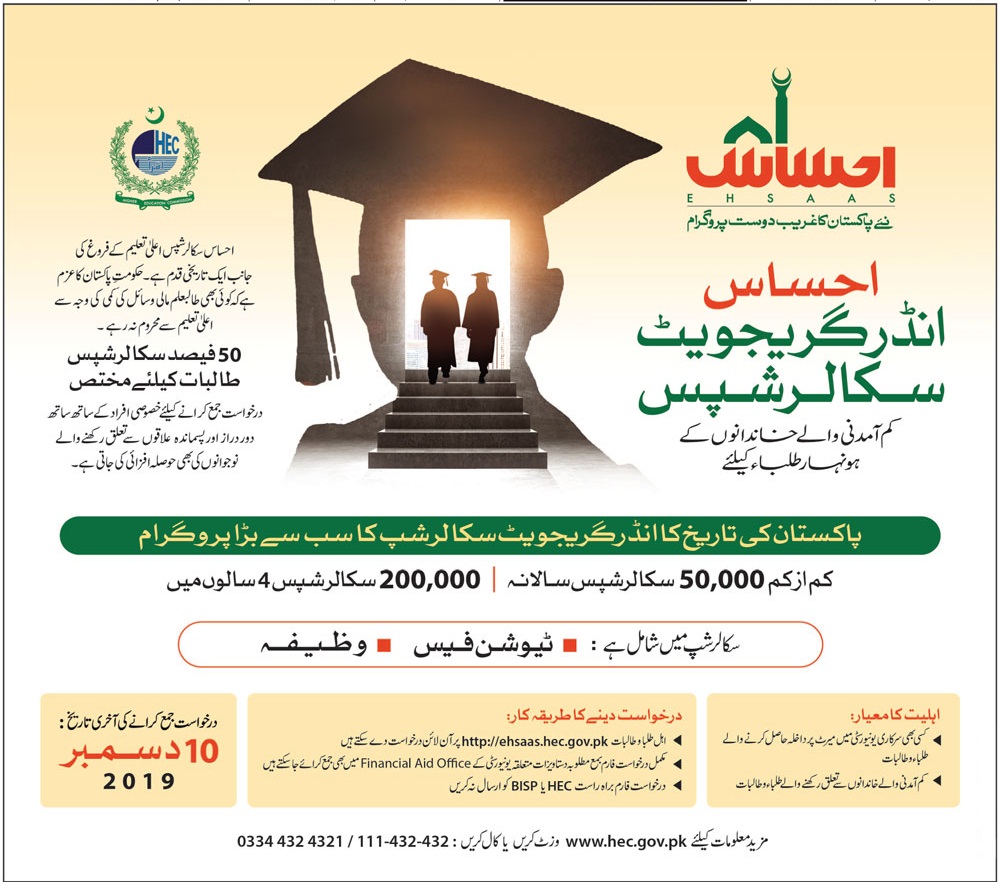 Eligibility Criteria for Ehsaas Scholarship Program
Students who got admission to the Government University on Merit.
Students belonging to families with low-income.
Applying Procedure for Ehsas Scholarship Program
Eligible candidates can apply online by visiting:
Fill the form completely and submit it before the last date.
Do not send your admission forms to HEC or BISP directly.
Important Dates
Last Date to submit the application is 10th December 2019.
Ehsaas Undergraduate Scholarship 2019
So this was all about the Ehsaas scholarship program. Those students eligible for the scholarships can apply online here. It is a very good step taken by the Government. As there are thousands of students who want to study but there are a lot of financial problems for them. So, through this step of the government, those hardworking students will be able to continue their further studies. It is a friendly step of the government. Now only you have to do is to apply for the program as described in the given steps. After this, students will be able to get scholarships. For more educational news, stay connected with us.