It is to inform you that the Ehsaas Undergraduate Scholarship 2020 is open now. Those who want to apply for this program can apply from this page. Ehsaas Undergraduate program is a Governmental Program provided by HEC. Its main objective is to provide scholarships and to support all those students from low-income families. It is the vision of PM Pakistan Imran Khan to provide free education to all those students who want to continue their studies but they are not financially strong. Through this program, over 50,000 students will get benefits in a year and about 200,000 students will get benefit in 4 years. So, this is a very beneficial program for all the deserving students. There is a very good thing that 50% of the scholarships will be given to female students. All instruction regarding Ehsaas Undergraduate Scholarship 2020 Online Apply and eligibility criteria is mentioned below the article.
Ehsaas Undergraduate Scholarship 2020
After a long time wait, Ehsaas Undergraduate Scholarship 2020 Online Apply last date has announced by the official of phase 2. So candidates will submit and apply online application form till 30 October 2020 after thsi date no application will process by the management.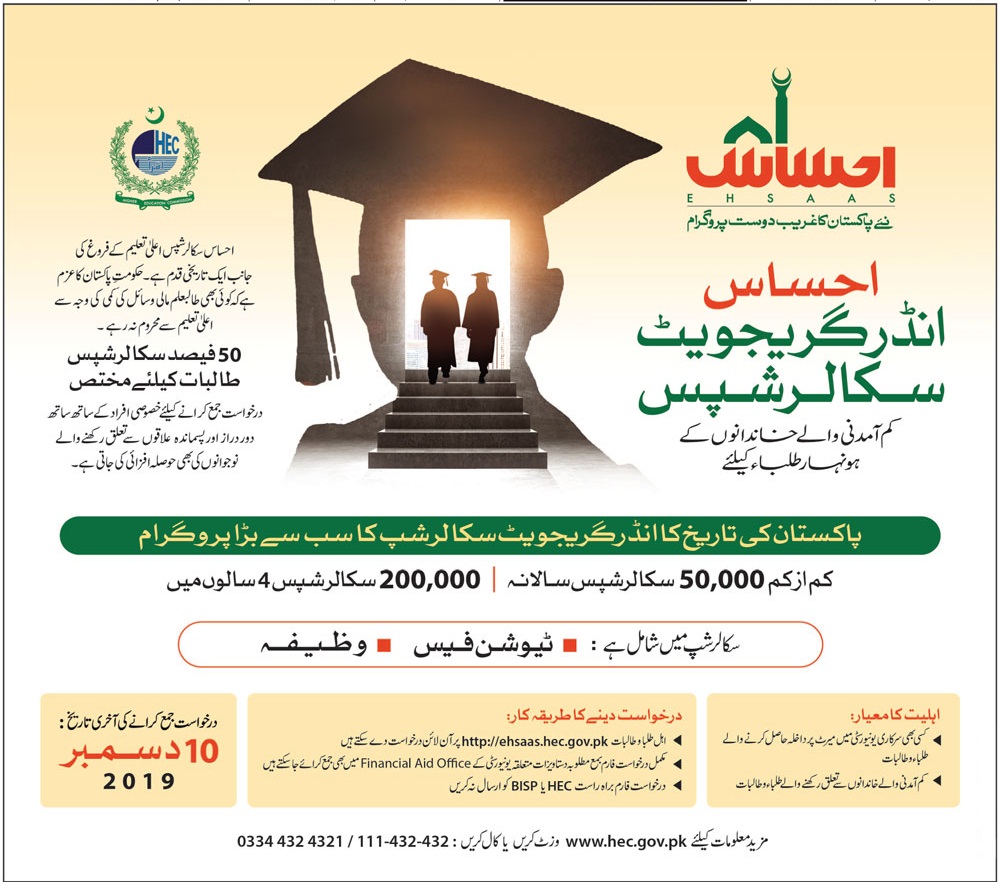 Ehsaas Undergraduate Scholarship 2020 Eligibility Criteria
Click Here to View
Those candidates who are seeking the Ehsaas Undergraduate Scholarship 2020 Eligibility Criteria now they can check after clicking on above the link you can see the eligibility crioteria of Ehsaas program.
Ehsaas Undergraduate Scholarship 2020 Apply Online
Apply Online
Firstly, you will click on above the link.
Then you will register herself on the portal of the Ehsaas program.
After the registration application form will appear on your screen.
After registration, you will give all required documentation according to portal need
You will provide father, mother, and guardian income detail
Last, you will submit the application before the last date.
Ehsaas Undergraduate Scholarship 2020 Phase 2 Last Date
For the guidanc of the candidates who are waiitng for the Ehsaas Undergraduate Scjholarship 2020 Phase 2 last date. So organization has officialy announce the last date application submission while the last date of admission is 30 October 2020.
So this was all about the Ehsaas scholarship program. Those students eligible for the scholarships can apply online here. It is a very good step taken by the Government. As there are thousands of students who want to study but there are a lot of financial problems for them. So, through this step of the government, those hardworking students will be able to continue their further studies. It is a friendly step of the government. Now only you have to do is to apply for the program as described in the given steps. After this, students will be able to get scholarships. For more educational news, stay connected with us.
FAQ:
1:How do I apply for Ehsaas undergraduate scholarship 2020?
Ans. All the procedures and methods have already mentioned above the content. after reading this content with focus then you will understand all the required things and how to apply while if you will feel difficulty then you can visit hec.gov.pk where all information is available.
2:Who is eligible for Ehsaas scholarship?
Ans. The majority of the students are finding who wants to apply the criteria and eligibility of this scholarship. So, those people who are earned below the 45000 rupees those people are eligible under this scheme. on the other hand, some criteria for this scholarship have decided by the organization and after visit this link Ehsaas Eligible Criteria you would get all the information.
3:How do I check my Ehsaas scholarship status?
Ans. Most of the students are seeking the method of check the status of Ehsaas program because after applying for the scholarship they are worried that our application has submitted. So now you can easily check her status of application form the NADRA portal after giving the CNIC number and code number.