National Testing Service NTS is offering an innovative opportunity for needy students in order to meet their educational expenses. Here you will get NTS need based scholarship 2016 along with application form, last date, eligibility criteria, how to apply and official's advertisement. Scholarship will only be stipend to NTS associated universities or institutes and the students enrolled in these universities. Through this scholarship students who are in need of financial assistant will get partial or complete waiver of tuition fees and stipend worth Rs. 5000/- per month for two semesters i.e. 9 months in one academic year. NTS offer need based scholar ship for graduate and under graduate students who have secure higher marks in NTS NAT test (for 4 years under graduation) and NTS GAT Test (for 2 years graduate). It also analyze the financial condition of a candidate to ensure that either the student is really able to avail this opportunity or not. After a complete confirmation NTS stipend complete academic fee under monthly and semester wise Performa. So candidates it is a great opportunity for all of you who is bright, brilliant and honest with studies but can't afford the huge packages of fee. In our country many students who is even intelligent, brilliant and self motivated but they are behind of the race of education in well ranked universities due to their fesses. So in this way NTS take an initiative step to provide help to needy students so that they can achieve their goal in educational way.
NTS Need Based Scholarship 2016 Application Form, Last Date
NTS Need Based Scholarship 2016 Advertisement
You will find all eligibility criteria, How to apply and Scholarship coverage in the following advertisement. You can click on the below image to view it in zoom so that you can read it clearly. You also can download advertisement by drag and drop on your desktop.
Download Application Form: Click Here
NAT Associated Universities/ DAI's List: Click Here
GAT Associated Universities: Click Here
Click On Advertisement below to View In Zoom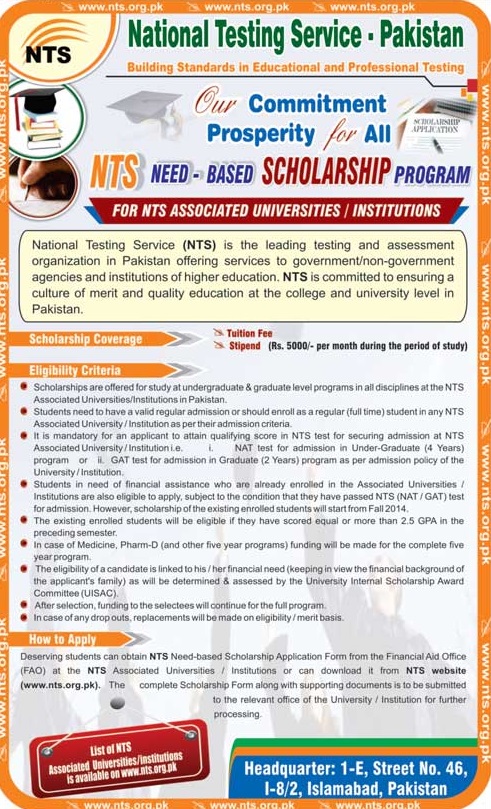 Hence this is all about National Testing Service NTS need based scholarship 2016 application form, last date, how to apply, scholarship coverage, list of NTS associated Universities. Hope you are eligible for this scholarship 2016 NTS Need Based, if you are! Then must download application form and perform all the tasks within due date and before and last date so that you can be entertained by the NTS Need Based Scholarship 2016.