COMSATS Institute of Information Technology Spring Admissions 2017 is now open for various cities including Islamabad, Abbottabad, Lahore, Wah, Attock, Sahiwal and Vehari campuses in different undergraduate, MS and PhD programs. In year 1998 COMSATs came into being and in very short time it makes it place in the top educational institutes of Pakistan with providing the quality education to every one. Its First campus is in Islamabad and now it has many campuses in different cities of Pakistan and journey does not end up here there are still projects are under process for many new campuses in cities like Gujrat, Kotli, Karachi, Larkana, Quetta and peshawar. From the first day of inception of this University the only focus of the faculty and management is to provide quality education to the students of the Pakistan all the campuses have highly qualified and experienced faculty member that transfer their education to the students mind in a perfect way by providing them an educational environment. Along with the education the University is also focus on the Personal Grooming of the students so after completing their education from the COMSATS Institute of Information Technology they can become a professional and will enlighten the name of our nation by their services. That is the reason that every year there is a crowd of students who want to take admission in this COMSATS University but due to limited number of seats all students cannot able to get admission so the final merit list will decide that which are the students that will be able to get admission.
COMSATS Spring Admissions 2017
Admission Schedule:
Last Date for Submission of Admission Form
11th November, 2016
NTS NAT Test

NTS GAT General Test

NTA GAT Subject Test

20th November, 2016

20th November, 2016

20th November, 2016

Merit List will be Display on
28th November, 2016
Commencement of Classes at

(Isb, Lhr, Wah, Attock, Sahiwal, vehari, and Virtual campus )

06th February, 2017
Classes in Abbottabad will start from
 006th March, 2017
How to Apply:
Complete application form and Submit it online
Visit the Admission Office of the campus of choice to complete all formalities.
COMSATS Institute of I.T (CIIT)(Islamabad Campus)
COMSATS Institute of I.T (CIIT)(Lahore Campus)
COMSATS Institute of I.T (CIIT)(Abbottabad Campus)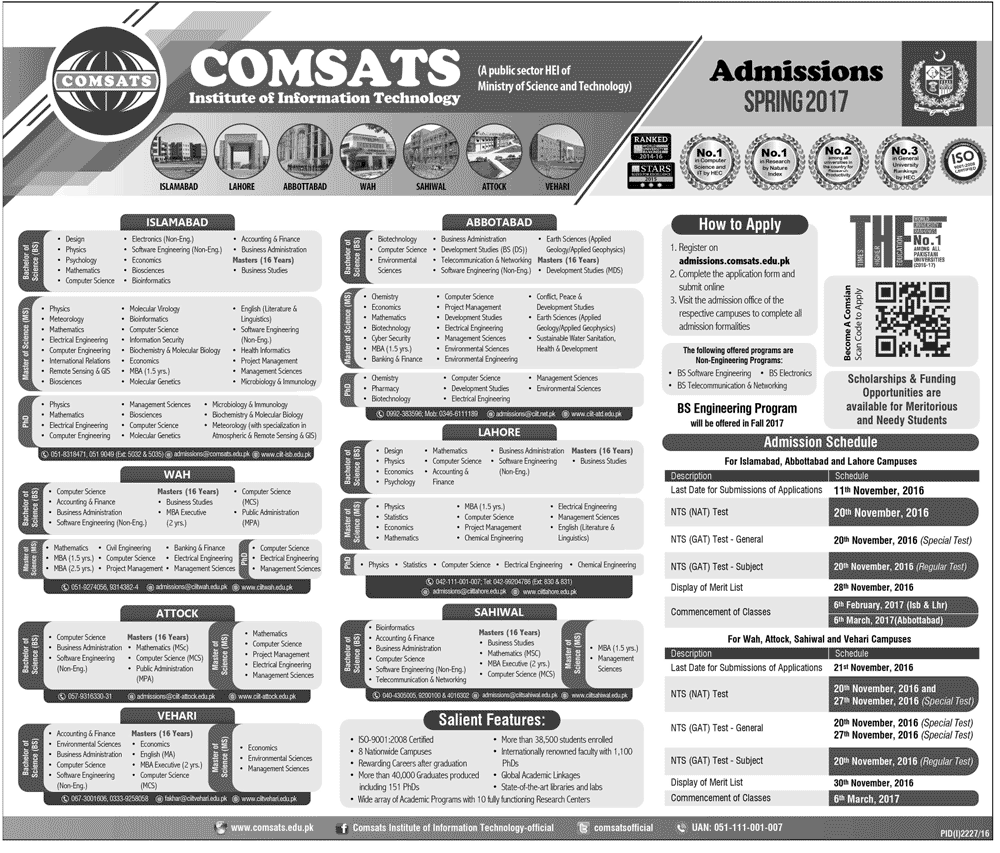 Contact Us:
Islamabad Campus
051-9247000-3
Abbottabad Campus
0992-383596
Mob:0313-5939092
LahoreCampus
042-11100107 (Ext:830 & 831)
Wah Campus
051-9274056, 9314382-4
Attock Campus
057-9316330-31
Sahiwal Campus
040-4305005, 9200100 & 4016302
Vehari Campus
067-3001606