Allama Iqbal Medical College Lahore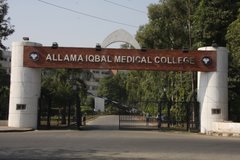 Allama iqbal medical college established in 1975 and located in Lahore. Allama iqbal medical college is a public school of medicine, health sciences and nursing. Today, this medical college has a campus with an area of almost 105 acres. Before discussing the allama iqbal medical review, we would like to throw light on its history. Mr Zulfikar Ali Bhutto is the founder of allama iqbal medical college and he inaugurated this medical college on 2
nd
may 1975. The first principal of this medical college was professor A.H.Awan. This medical college was first affiliated to the Punjab University. In 2003, it became affiliated with university of health sciences.
Allama iqbal medical college has complex with an area of 105 acres. The campus includes various buildings for basic and clinical sciences, administration and mosque. There are various schools for nursing, medicine and physiotherapy. Moreover, this medical college has sports facilities like tennis courts, cricket stadium, flied with trackers and swimming pool. This medical college has seven hostels for the accommodation of students, professionals and hospital residents. The hostels are divided into four categories such as:
Three hostels for male students.
Two hostels for females students.
One hostel for male professionals.
One hostel for female professionals.
In case of departments, there are two main departments are arranged for the students such as basic science department and medicine and allied department.In basic science department, various subjects are offered such as anatomy, biochemistry, community medicine, pathology, pharmacology and physiology. In case of medicine and allied department, multiple subjects are offered such as cardiology, dermatology, cardiac surgery and many more subjects. There are three main and major undergraduate qualifications are offered under university of health sciences. The three main undergraduate qualifications are as follows:
School of medicine offers bachelor in the fields of medicine and surgery.
School of nursing offers bachelor in the field of science.
School of physiotherapy offers bachelor in the field of physiotherapy.
There are three main postgraduate programs are offered such as:
Master of Science.
Doctor of medicine.
Master in surgery.
Furthermore, students of allama iqbal medical college worked under three main departments of college such as biochemistry, pathology and medicine in various research fields. Recently, college has announced its monthly journal of research known as AIJE.
Contact Us:
Postal Address:
Allama Iqbal Medical College, Allama Shabbir Ahmed Usmani Road,
Lahore  54550 Pakistan
Telephone:
Informations: (9242)9231443
Principal Office (9242) 9231441
Fax:
(9242) 9231400-23
Website:
www.aimc.edu.pk
Email
info@aimc.edu.pk
On the whole after discussing the allama iqbal medical review it is easy to conclude that this medical college is considered to be the best medical college of Pakistan. It's the dream of every student to get admission in this medical college.
Allama Iqbal Medical College Lahore

,