Are you looking for how to celebrate Pakistan independence day 14th August? It is celebrated annually in the memory of independence of Pakistan from the British rule. Its basic aim is to promote patriotism and national unity. Not only the people all over Pakistan but all the people who belong to Pakistan celebrate independence day with patriotic zeal and zest. People who are great patriotic dress up in green and white color dress which are the Pakistani flag's colors. To get entertain people visit national monuments and places of national importance and some visit relatives and exchange gifts.
How to Celebrate Pakistan Independence Day 14th August
Forteen August is the most important day for Pakistanis who are living in Pakistan or anywhere in all over the world. If you are also a Pakistani and want to celebrate independce day of Pakistan will perform the special activities which are described below. Lets read out the traditional way of celebrations.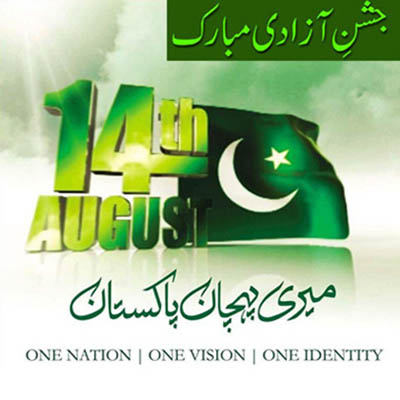 The celebrations start at the beginning of the month of August. Everywhere you will see the green flags of Pakistan on the top of the roofs of houses and buildings. At the public level, there are so many arrangements are made where one can judge there is something special is going on. On the other side, the government also decorate the roads and public buildings with Pakistani ticker tapes. Official buildings, including Parliament House, are decorated with the national flag, small buntings and colorful lights and so another thing which is including in decorations.
Mostly people use to go to the India and Pakistan Borders to watch special parades by Pakistan Army. On this day all the armed forces of Pakistan including Army, Navy, and PAF showed their performances and weapons to the general public. This is really an interesting celebration because when the fighter jet flies in the air with a roar create special motivations with our Armed force. Besides the borders, people also use to went to different parks with their families to spend time together. On the night of 13th August, you can watch a special rush on roads. Right on 00:00 Am a great fir work is presented which is a seeable moment.
The celebrations of 14th August especially arranged in the memorandum of those martyrs who gave their lives for the establishment of Pakistan. Prime Minister of Pakistan gives a special speech on the importance of this day so that one can understand where Pakistan is existing with this new government. It is really a special day for all of us and being a Pakistani we should respect to this day. These were the result of special efforts made by Quaid-e-Azam Muhammad Ali Jinnah, Allama Iqbal Muhammad Ali Jinnah and other senior personalities who have played a vital role to motivate the Muslim youth of that time. We are very pleased to Allah for bestowing us this precious homeland.
Some special events additionally organized in this day which may be Independence Day Pageants, Competitions of National Songs, Debates and Speeches in School, Colleges and Universities. Radio and television stations broadcast national songs and particularly organized Independence Day applications to signify the reminiscence of those who sacrifice for Pakistan's Independence Day. Well, this is all approximately the How to Celebrate Pakistan Independence Day 14th August.