University of management and technology was founded in 1990 as an institute named Institute of Leadership and Management (ILM). The foundation was laid by many expertise, professionals and educationist. UMT is an independent and not for profit private institution for higher and advanced learning. The university received its charter under the name of Institute of management and technology in 2002 through a combined act passed by the government of Punjab. Which was later on 16 June 2004 was named as university of management and technology UMT. In the late September 2007 the university was upgraded from the X category to the W category by the higher education commission HEC.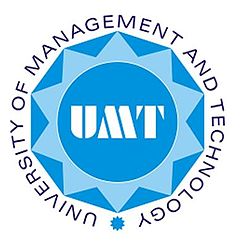 At the present time the institute has four major schools and two institutes running under one roof. Which includes; school of science and technology (SST), school of business and economics (SBE), school of social sciences and humanities (SSH), and school of professional advancement (SPA), Institute of textiles and industrial sciences (ITIS) and Institute of audit and accountancy (IAA). The main aim of the institute is inspire all of its stakeholders which are accompanying them and wanted to capture all the new outspread realities and discover new possibilities. The institute wants to set high and handsome standards regarding there excellence, efficiency and effectiveness and want to contribute to full extent in the development of the global human society. An inclusive range of degrees are offered at UMT at all levels including doctoral, masters and bachelors. Various subjects and disciplines are offered which includes as Commerce, Accounting, Business Administration, Banking and Finance, Business and IT, Computer Science, Economics, Education, Electrical Engineering, Management, Supply Chain, Textile Engineering, Industrial Engineering, Information Systems, Linguistics, Media and Communication, Agri-business, School Management, Social Sciences, Educational Leadership Management, Law, and English Language Teaching.
UMT Admission Process:
Admission calendar for each campaign is prepared by the Admission Office after consulting all Deans.
↓
Admissions announcement in the press through the Office of Communication & Media (OCM).
↓
Students can get Information about Admissions through:
    Email/ postal mail
    Visits
    Telephone
    UMT's Admissions Office Website
↓
Students get admission forms on payment of Rs. 500 from Admissions Office. This includes:
    Introductory brochure of UMT
    Prospectus
    Admission Form
    Essay form
    UMT Admit card (Blank)
    Program brochure
    Fee structure
    UMT folder and
    UMT bag
↓
Applicants can submit the duly filled forms on or before the deadline.
↓
Admissions office issues Admit Card duly filled and stamped after receiving the form for appearing in test / Interview on given date and time.
↓
Admission Office sends academic profile of all students to the Dean SBE for preparing final merit list.
↓
Students appear in UMT admissions test.
↓
Admissions papers are checked by Examination Office.
↓
Admissions Committee Chairperson/Head OIA approves the merit list and sends it to Admissions Office.
↓
Admissions Office displays these results through the OCM on UMT's website and Notice Board.
↓
Candidates are called for interview by Admissions Office as per the lists approved by the Deans.
↓
Faculty conducts the interviews on given date and time.
↓
Admissions Office displays the results of successful candidates on notice board and UMT's website after the final merit list.
↓
Successful students receive bank payment challan form from the Admissions Office.
↓
Students submit the copy of bank payment receipt and get their UMT ID No. from Admissions office.
↓
Admissions Office sends the student's admission file to Registrar Office for record.

 Pakistan engineering council PEC has credited the institutes BS electrical engineering program and all the associated programs are recognized by the HEC which assures that all the standards and the credits of the institute can be transferred through the globe. UMT acquires good in fact brilliant infrastructure of tangible and intangible assets. The building and accessories are up to prescribed standards of a well-qualified university. The faculty and other resources are also up to the mark which includes about 30 PHDs giving their services at the university. There are almost 10,000 alumni and almost 4000 enrolled students in the university which belongs from about 48 districts in Pakistan and ranging from 11 countries across the world. Well-equipped laboratories are available with computer networks with more than 130 nodes. The university library comprises about 50,000 books with the facility of digital resources. UMT can be one of the best alternatives an individual get to acquire knowledge for their under graduate and post graduate programs.
Contact Us:
University of Management and Technology C-II, Johar Town, Lahore.
Tel.: +92 42 35212801-10
Fax: +92 42 35184789
Email: [email protected]
Office of Admissions
Questions about applying to UMT should be asked from the following:
Hours:     9:00 am – 5:00 pm (Monday to Friday)
10:00 am – 2:00 pm (Saturday)
Phone Tel:     +92 42 35212801-10
Fax:     +92 42 35184789
Email:     [email protected]