Australia is a beautiful country and not only for this but Australia is also famous for providing quality education to Students from all over the world. That is the reason every year thousands of students apply for an Australia Study Visa so that they also be able to get their education in any Australia College or University. Well if you are living in Pakistan and wanted to move to Australia then we will explain to study in Australia from Pakistan. Now, complete your Study in Australia from Pakistan and other eligibility and by fulfilling these all requirements your chances of getting a student visa are more. There are a few steps you have to follow in the correct order and the rest of the thing is very simple so there is no need to go to any consultant and submit a huge amount of money just taking consultancy as most of them are fake and will not be able you to guide the right path. Australia will provide the Visa according to your Course duration or if it is a work visa then according to your employment duration. There is also a short student visa which is about 12 weeks to 50 weeks if you wanted to do some language course or any other vocational course from Australia.
Study in Australia from Pakistan
Students who are interested to get an education in Australia must apply before 4 to 5 months of admission. On the other hand, before applying for Visa must gather the Degree or Transcript from the institute. In addition, all necessary documents that are necessary to apply for admission in Australia are given below.
Australian Student Visa Requirements for Pakistan 2023
You need to prepare a few documents before you are going to apply for the Australia Students Visa because if you did not prepare and apply then you will be rejected and if you are fully ready then the chances of accepting your Visa are more. The complete list of all the required documents is listed below so have a look and prepare these.
Students VISA: Documents Checklist
Passport All Pages (Color Scan)
Birth Certificate (If Student is under 18) (English Translation)
Bank Certificate and Bank Statement (Covering 1 Year Expenses)
FRC
Evidence of Income and Financials (Copy Set Attest with Notary Public)
Affidavit of Spnser (Original Attest with Notary Public)
Affidavit of Financial Declaration (Original Attest with Notary Public)
Polio Certificate
Police Certificate
CNIC Copy of Applicant and Sponsor (English Translation)
The picture with White Background (Digital)
Statement of Purpose
All Educational Documents
CV
Experience Letter (If Applicable)
IELTS
ECOE
Education Documents:
All academic documents from matric to the last degree
Grading Scale (The Back Side of Transcript)
Course outlines from the university (For Germany Only)
IELTS / TOEFL
Updated CV (MS Word Format)
Work Experience letters (If Applicable)
Passport Copy (First Page + Signature Page)
2 Reference letters from college or university
SOP- Statement of Purpose in MS Word Format (250 – 300 Words)
SOP Heading Are:
Introduction
Educational Background and interest in achieving a degree.
Why Australia or Canada or UK etc?
Why Selected Course
Why this college / University
Worth of that degree and opportunities in Pakistan after completing the degree
Who will afford your fee and what is the source of income of your sponsor?
How to Apply for Australia Visa:
The only way in getting the Australia Students Visa is not just the preparation the documents as there few other things too. One of the main things is the right time to apply and the complete procedure that how to apply for a Visa. Do Apply for the Australia Students Visa 3 months before the start of your course as it is a long process so it would take some time in processing.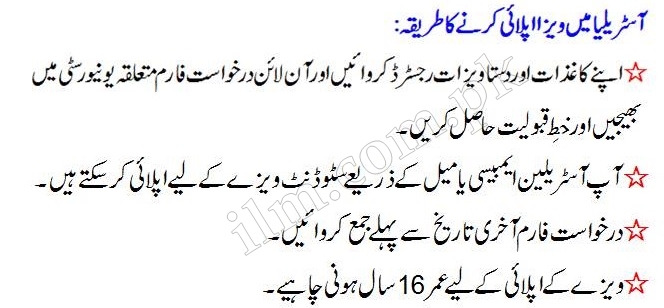 Study VISA for Australia from Pakistan without IELTS
Many students want to go to Australia for education purposes but without IELTS.
Many agents that are working give hope to all these students' admission to Australia without IELTS.
As per the Australian Embassy if you are moving from Pakistan to Australia then the IELTS test is a must otherwise Australian government will not provide VISA.
So, all candidates who are interested to go Australia for education must clear the IELTS test.
Study in Australia After Matric from Pakistan
Without 12 years of education, nobody can apply for Australian Study Visa. But if someone already living in Australian National or a company sends an offer letter to Pakistan people then they can go. Otherwise, the Australian government will not issue study visas for matric base education.
Study in Australia for Pakistani Students Scholarships
Australian Government announces different scholarships for Pakistani students some are fully funded and some are half. But before the announcement firstly they decided on the criteria of selection because people want to get an education from Australian Universities. Right now on the official webpage of the Australian High Commission Islamabad, these scholarships exist and visit the official webpage of HEC where apply online procedure is available.
Australian Development Scholarships (ADS)
Endeavour Postgraduate Awards
Endeavour Research Fellowships
Endeavour Executive Awards
Endeavour International Postgraduate Research Scholarships
Endeavour VTE Awards.
Bank Statement for Australian Student Visa from Pakistan
At the time of Visa Approval, High Commission Employees must check the bank statement of candidates.
As per some reliable sources statement of 10 Million Rupees must require.
This is the minimum amount because these days they have some changes in the requirement due to the devaluation of Pakistani Currency.
VISA Ratio of Australia for Pakistani Students 2023
At this time, every student prefers to get an education in Australia due to the high standard of education. And no doubt the demand of people is much high who have completed their graduation from Australia. So, that's why the ratio of Pakistani students is going to increase. Around 40% Students annually apply for Study Visa.
Study Visa for Australia from Pakistan Price
The VISA Apply fee is 500$. This is not a refundable amount as well after that many other hidden charges exist. So, we can say that millions of rupees require to go to Australia for education.
How Many Pakistani Students in Australia
Right now, thousands of students now getting an education in Australia while many people doing different jobs. We cannot share the exact figure about Pakistani students that is now available in Pakistan.
This is the complete information of Study in Australia from Pakistan well other than the given information if you need more and have any other questions then write your query in the comment section at the end of the page and then our quick response team will provide you the right possible answer of your query generated.