For the new session, Islamic International Medical College Admission 2022-2023 has been announced and the last date is 20th December 2022. Moreover, the final date of the merit list, interview schedule, and when Classes will start in January 2023. Moreover, when given admission according to merit base because after closing the admission they issue the final list of those candidates who will take Admission into this institute while other candidates will out from this race. Further, the Islamic International Medical college admission schdule is given below.
| | |
| --- | --- |
| Admission Start Date | November 2022 |
| Admission Last Date | 20th December 2022 |
| Final Merit List Date | January 2023 |
| Commencement of Classes | February 2023 |
Islamic International Medical College Admission 2022-2023 In MBBS And BDS
Islamic international medical college admission 2022-2023 is now open and people can apply online. Because PMC has declared the result of MDCAT. For the information of the students if you want admission to medical then firstly you will clear the MDCAT test organized by the PMC ( Pakistan medical commission).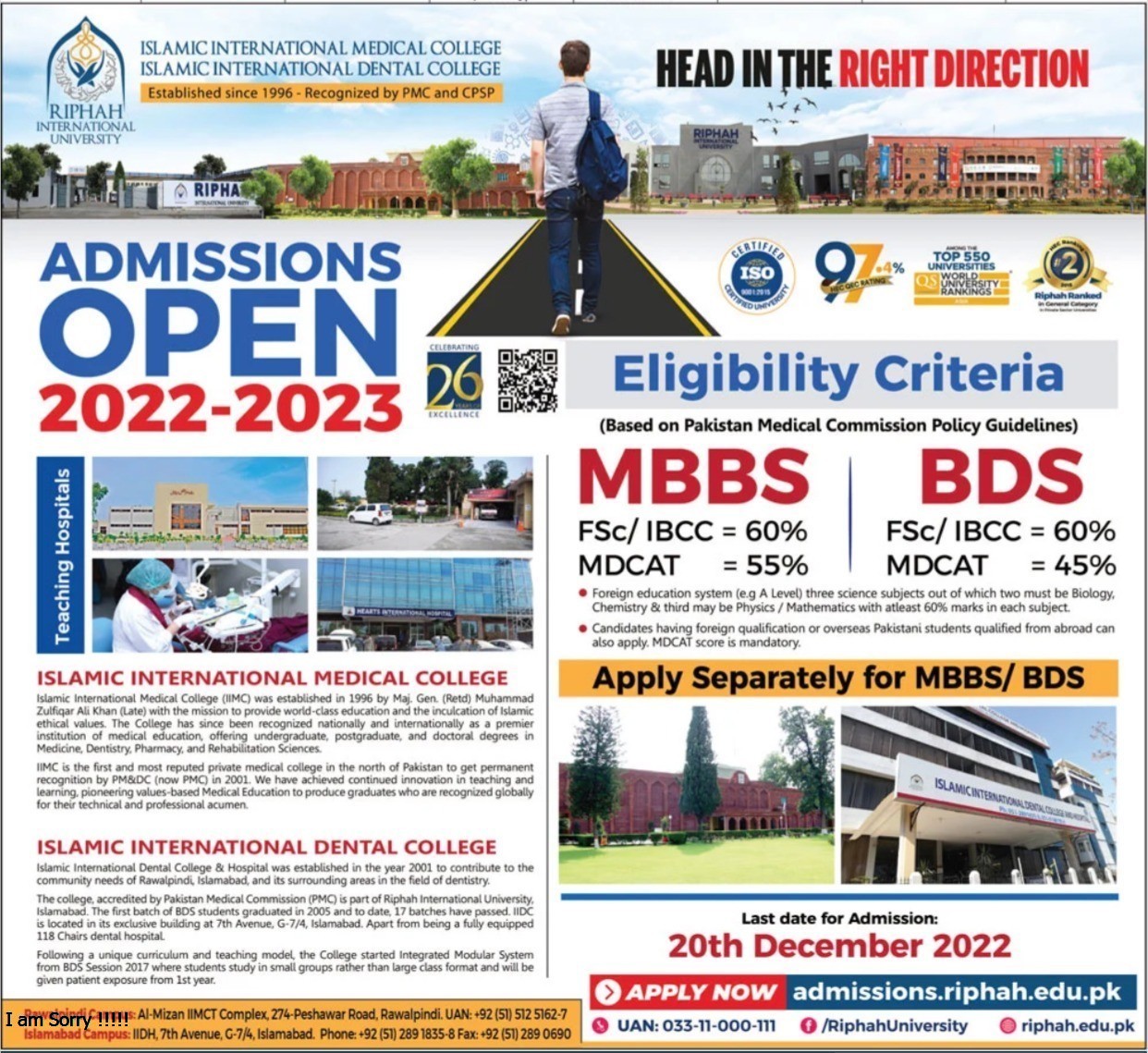 Islamic International Medical College Offered Courses:
Islamic International Medical College offers admission in undergraduate and postgraduate courses. It offers admission on different occasions and currently, it has announced admission for the following programs.
Eligibility Criteria:
A candidate who has completed FSC pre-medical with at least 60% marks is allowed to take admission.
Those candidates, who have an international diploma in biologies such as A levels or British G.C.E with equal marks are eligible.
Candidates have to appear in their provisional medical entry tests such as MDCAT, ETEA exam, or any other.
Foreign Students have to pass SAT-II with at least 550 marks to take admission.
Students with A-level or other international programs are also required to bring an equivalence certificate from IBCC to take admission.
Admission Procedure:
Admissions will be according to the PMDC rules in Islamic International Medical College. Candidates are allowed to fill out their application forms online at https://admissions.riphah.edu.pk. After online registration, the application processing fee which is 3000, must be paid in the HBL branch and uploaded Chalan image. Those applications which will receive by hand are not acceptable. Asides from this, a candidate must have to appear in a provisional medical entry test and also have passed that test. Overseas students are also eligible to take Admission if they have passed the SAT-II exam with 550 marks.
We have mentioned the complete details regarding Islamic International Medical College Admission 2022-2023. Further, according to the statement, PMC candidates will apply for admission through the PMC portal because those students who have cleared the MDCAT test know they will log in on the PMC portal and select the college where they want to get admission. Admission will close in private medical colleges on December 2022 and after this date, no applicant will apply for ion private college while in public sector medical colleges admission will close on 20 December 2022 and after this date, no application will entertain by the management.