Services Institute of Medical Sciences SIMC Lahore is now offering admission 2022 in the programs of MBBS and BDS for all those candidates who have qualified for their previous examination FSc Pre Medical or equivalent subjects from any HSSC or American High School of Foreign education. If you also want to be a doctor in the future and want to cater your future with medical sciences then this is the time when you can avail yourself of the opportunity of getting admission to SIMS Services Institute of Medical Science Lahore. There is a complete procedure to get admission to this Institute which is prescribed by the officials according to the admission policy restricted by the Pakistan Medical Commission PMC. So if you want to get admission then you have to read an entire article in this respect to get all admission-related dates and eligibility criteria. The SIMS was founded in 2003 as a public research School by Dr. Faisal Masud located in Lahore, Punjab Pakistan. This is affiliated with Services Hospital as a teaching hospital. The SIMS is providing the best quality education to every enrolled candidate and providing every year well-trained and well-mannered graduates who are paying for their roles in different medical fields. Hence admissions are open these days in this instate so to get admission here have a look down.
ADMISSION SCHEDULE
Online Application (Start Date)
3rd December 2022 (Saturday)
Online Application (Closing Date)
12th December 2022 (Monday)
Hifz-e-Quran Test
10th – 13th December 2022 (at UHS Lahore)
Medical Board for Students with Disabilities
10th – 13th December 2022 (at UHS Lahore)
Provisional Merit List of candidates
15th December 2022 (Thursday)
Final Merit List of candidates
17th December 2022 (Saturday)
Selection List
MBBS
BDS
First College-wise Selection List
19th December 2022
16th January 2023
Last date of submission of College Fee at BOP
22nd December 2022
19th January 2023
Second Selection/Up-gradation List
24th December 2022
21st January 2023
Third Selection/Up-gradation List
28th December 2022
24th January 2023
Fourth Selection/Up-gradation List, if any
31st December 2022
28th January 2023
Fifth Selection /Up-gradation List, if any
1st February 2023
Sixth Selection /Up-gradation List, if any
4th February 2023
Commencement of classes in medical/dental colleges
1st March 2023 (Wednesday)
Services Institute of Medical Sciences Lahore Admission 2022 Form, Date
Apply Online
Services Institute of Medical Sciences Lahore admission 2022 has been announced and those people who have appeared in the PMC MDCAT test and successfully cleared now can apply online before 12 December 2022 because this is the last date for Medical Admission. On the other hand, an application form is available on this page who do not know the procedure of the online method.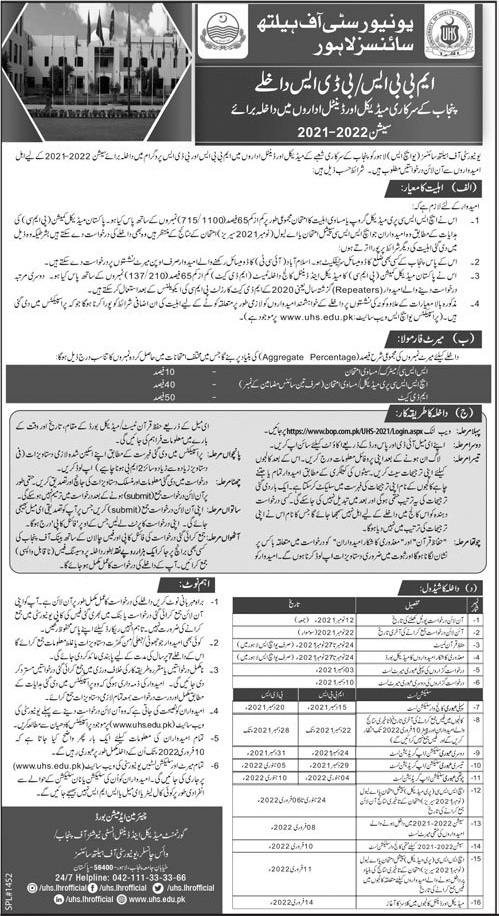 SIMS Admissions Undergraduate Programs
Services Institute of Medical Sciences SIMS every year offers admissions in the following admission programs related to medical fields.
SIMS Admission Procedure
To get admission in Services Institute SIMS Lahore there is an admission procedure that is every candidate has to qualify according to the Pakistan Medical Commission PMC admission procedure which is obtaining a prospectus which is available from the admission office. After obtaining the prospectus along with the application form and fill it in dully and resubmit it to the same office before the deadlines, as shown in the following schedule.
SIMS Entry Test
As the SIMS is affiliated with the Pakistan Medical Commission PMC so every candidate who is willing to get admission to the Services Institute of Medical Sciences SIMS has to qualify for the Medical Entry test which was held on 28th August 2022. So if you have qualified for this entry test then you are advised to complete the up-giving admission process according to the given dates.
SIMS Eligibility Criteria for Admission.
That candidate is eligible to get admission to the Services Institute of Medical Sciences SIMS which lays on the following eligibility points.
That candidate who has qualified for the Intermediate examination with pre-Medical Subjects as F. Sc Pre-Medical or equivalent A-Level with basic Science subject (Biology, Physics, and Chemistry).
The candidate should have secured a minimum of 60% marks on the Inter-Level academic certificate.
Candidates must secure a minimum of 50% marks on the PMC Entry Test.
A complete admission schedule has been mentioned and those people could not apply due to some reason now they can apply because UHS will close admission as soon.