Foundation University Islamabad (FUI) was established as a private zone university. It is sponsored by the Fauji Foundation which is the largest welfare association in the country. This Foundation has vast human and financial resources as well as school and colleges in the Pakistan. The Foundation University Islamabad (FUI) was approved by the Federal Government vide Ordinance No LXXXVIII of 2002 as promulgated by the President of Pakistan and granted charted in 2002. The aim of establishment of this University is to provide quality education of international standards to the talented students.
Now Foundation University Islamabad has offered admissions in engineering & management sciences and Liberal Arts and Sciences. All details such as fee structure, admission guideline and admission forms are below.
Students can download admission forms below…
Documents to be Submitted
Attested copies of the following documents should escort the application form
SSC/Matric or equivalent foreign qualification certificate (One copy)
FA/FSc./I.Com/D.Com or an equivalent foreign qualification certificate (One copy)
BA/BSc or an equivalent foreign qualification certificate (One copy)
Equivalence certificate from the Inter-Board Committee Chairman, Islamabad (In case of foreign qualification)
National Identity Card/Form B (One copy)
National Identity Card of the Father/Guardian (One copy)
Certificate of residence on a court Paper ( In case of Pakistani Residents only; as per the specimen placed in the admission kit)
English language expertise certificate (In case of Foreigner)
Duly attested discharge certificate/pension book of the Parent/Guardian
Original documents are required for BEd students only.
Entry Test Admit Cards duly completed (Original)
These documents should be posted through a trustworthy service or delivered in person to the College office from Mondays to Fridays between 8:30 am and 12:30 pm, before the last date of the receipt of applications as advertised.
Selection Procedure
The applications for admission are reviewed by the College Admission Committee. The selection procedure for admission is designed by the senior staff members and is approved by the University. All admissions are made on merit, keeping in view the academic record and scores of the entry test.
It is compulsory for all applicants (Pakistani residents) to appear in the Entry Test, organized by the College/University.
Click Here to Download Foundation University Admission Forms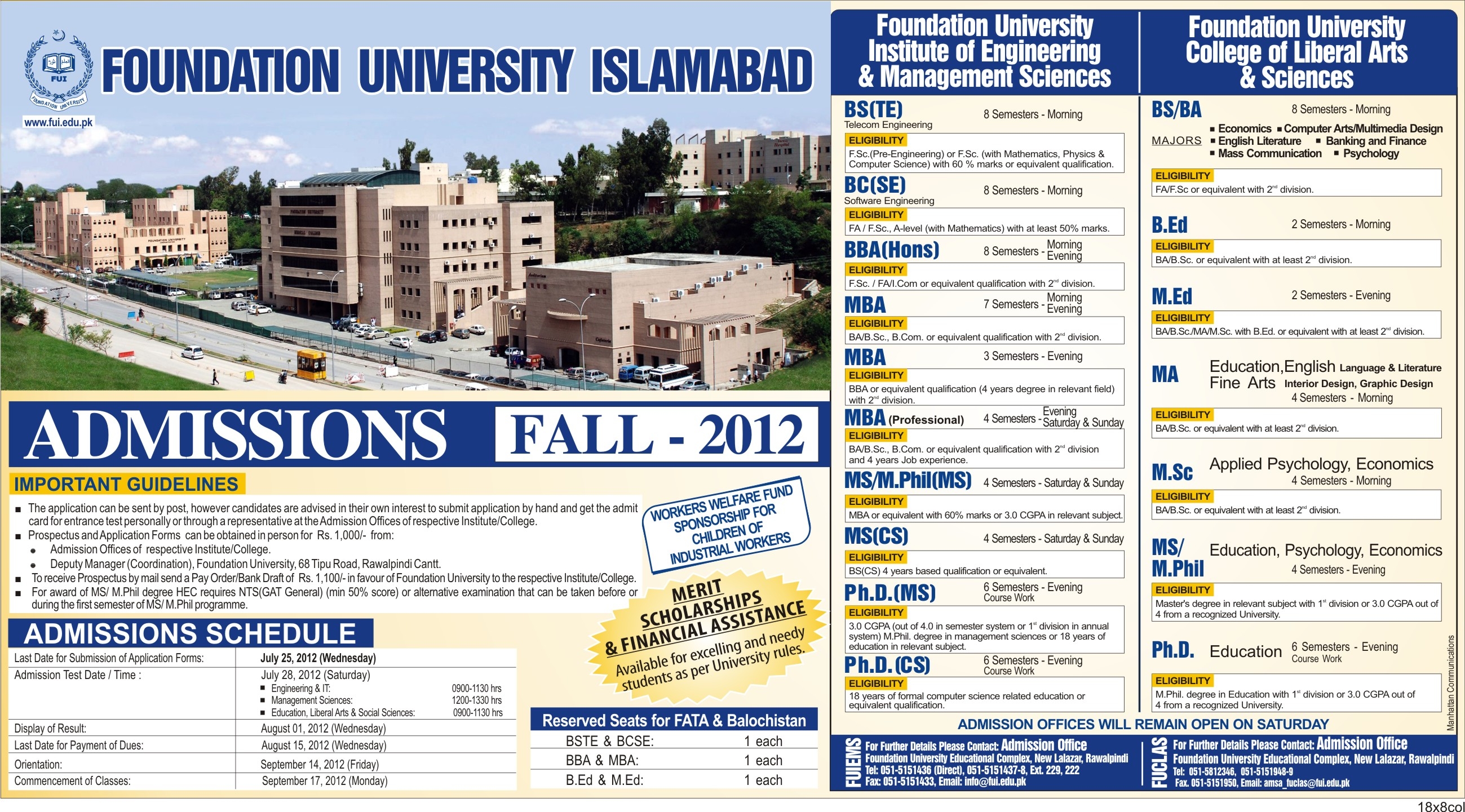 Fee Structure for All Faculties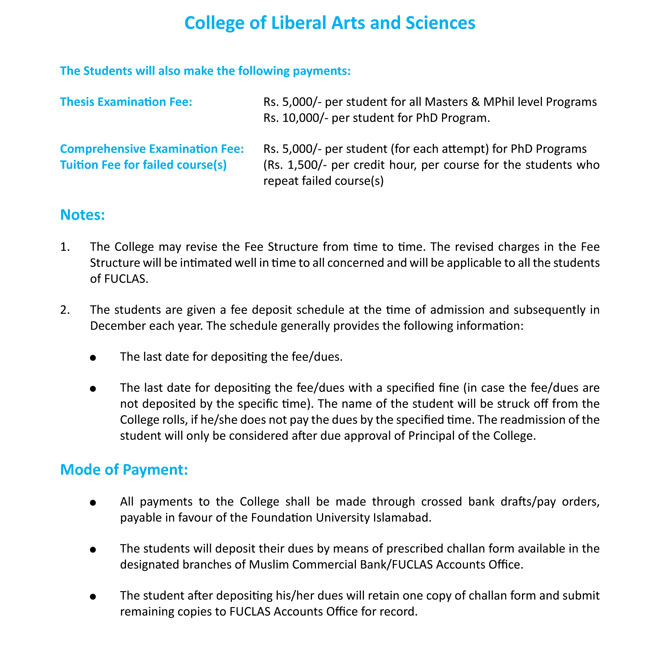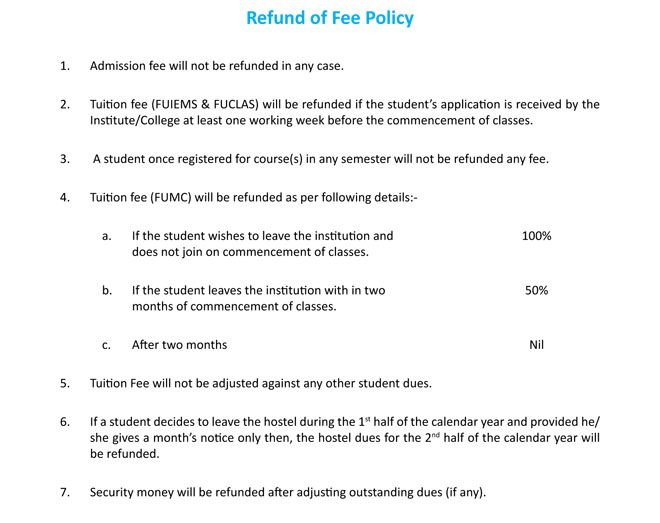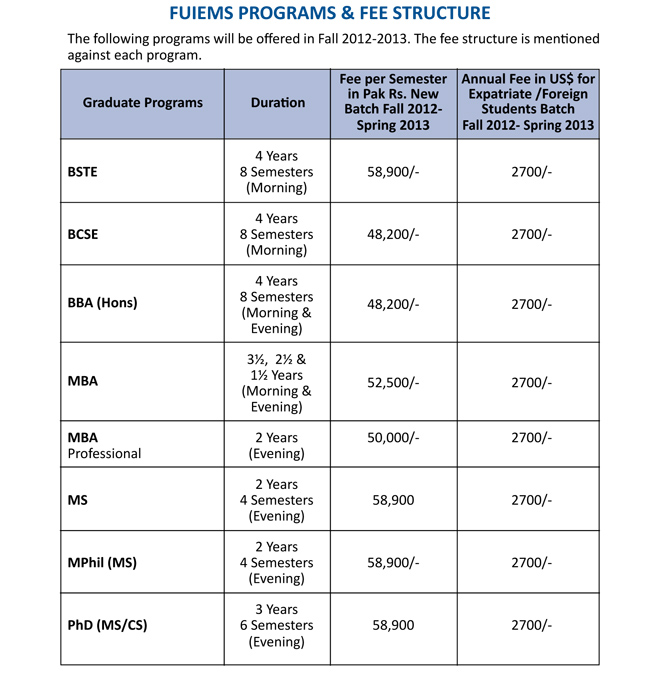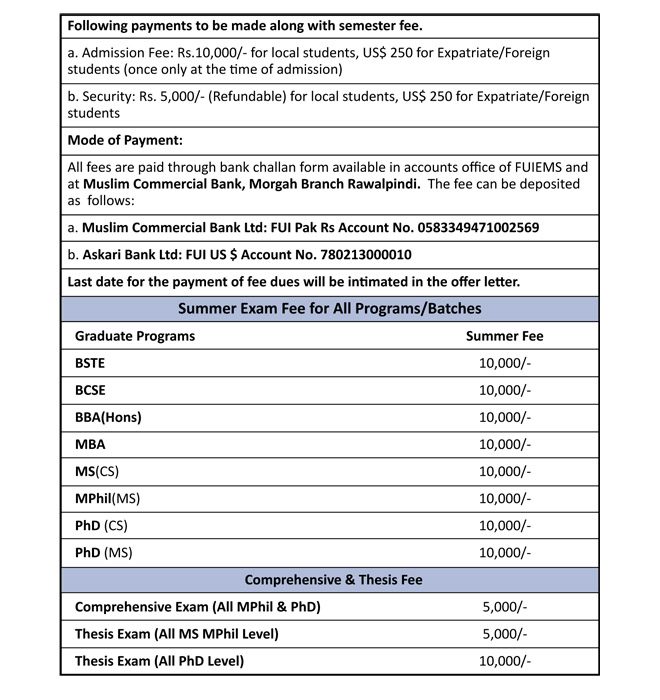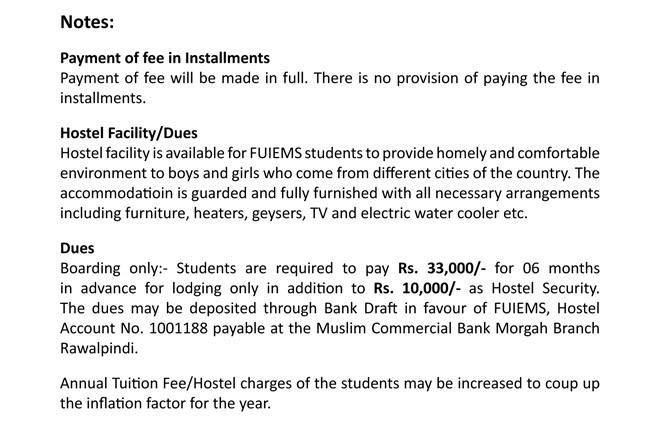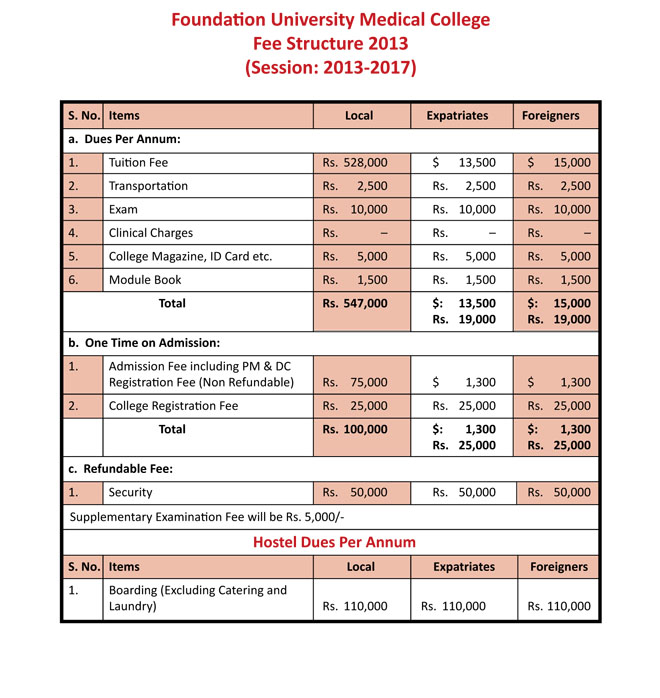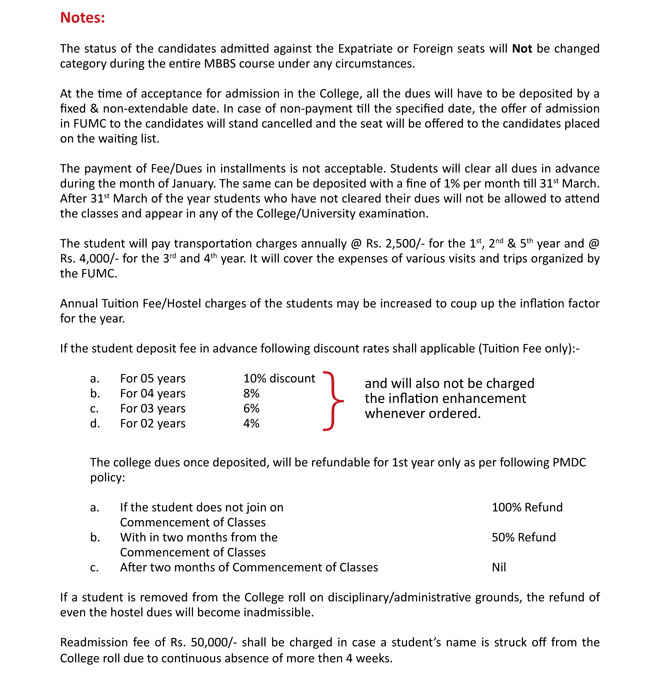 For more information stay with us, if you have any question then you can ask now via comments.
Students can apply online Admissions
Contact Information:
Foundation University Islamabad
Defense Avenue, Phase-I, DHA,
Islamabad, Pakistan
Ph: 0092-51-5788446, 5788450, 5788378
Fax: 0092-51-5788633
Email: [email protected]
Campuses
Foundation University Institute of Engineering & Management Sciences (FUIEMS)
Foundation University Educational Complex,
New Lalazar, Rawalpindi, Pakistan
Telephone No: +92-51-5151431-32 (2 lines) & 5151434-38 (5 lines), Ext. 200, 229
Fax No: +92-51-5151433
E-mail: [email protected]
Foundation University Medical College (FUMC)
Defence Avenue, Phase – I, DHA
Islamabad, Pakistan
Telephone: +92-51-5788171, 5788250, Ext. 205, 415, 416
Fax +92-51-5788582
E.mail:
[email protected] (Principal FUMC)
[email protected] (Administrator FUMC)
[email protected](Manager Student Affairs FUMC)
[email protected] (Establishment Officer Faculty FUMC)
Foundation University College of Liberal Arts and Sciences (FUCLAS)
Foundation University Educational Complex,
New Lalazar, Rawalpindi, Pakistan
Telephone No: +92-51-5812346, 5563725, 5110823
Fax No: +92-51-5527069
E-mail: [email protected]