Undergraduate, Graduate and Post Graduate programs Admission 2018 is open at GIFT University Gujranwala as the University main aim or motive is to provide the quality education to the students of Pakistan and since from the first day of the inception of this University the motive is being fulfilled by the highly qualified and experienced management. In such a short period of time Gift University has made its name in the Educational institutes of the Pakistan by offering students what they want that is the reason that the Higher education commission HEC is also ranked this University in "W-4" Category which is the highest ranked University in the Pakistan. Gift University believe that the Education is the only pillar on which the pillar of our society can be stand and students of the nations are those who holds these pillars so these are the big assets of the society and community so we have to serve them perfectly. Gift University provide an learning education environment to the students of the Pakistan.
GIFT University Gujranwala Admission 2018
Undergraduate Programs:
Accounting and Finance (B.Sc.)
Business Administration (BBA) (HRM, Marketing and Finance)
Computer Science (B.Sc.)
Textile and Fashion (B. Des.)
Textile and Clothing Management (B.T.C.M.)
Graduate Programs:
Accounting and Finance (M.Sc.)
Banking and Finance (M.Sc.) (General Banking, Islamic Banking)
Business Administration (M.B.A) Morning / Evening
Marketing, Finance, HRM, Banking and Finance
Business Administration (MBA Executive)
Commerce (M.Com.)
English Language and Literature (M.A.)
Islamic Studies (M. Phil.) Evening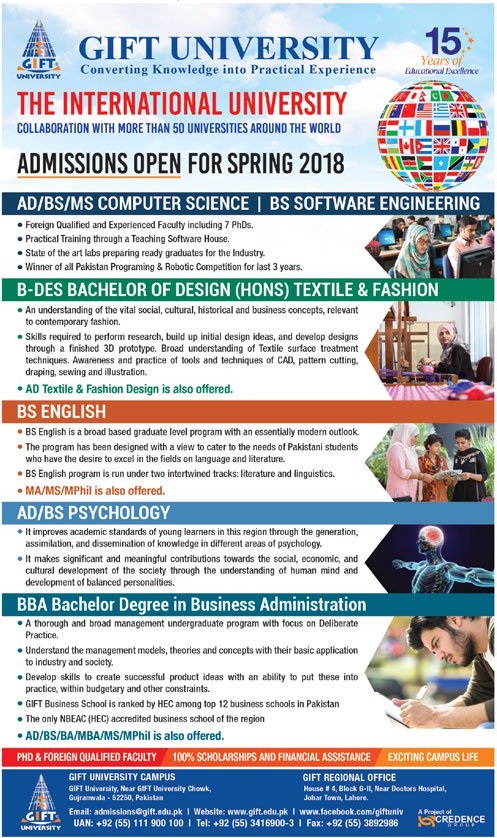 Scholarships:
Undergraduate Programs
60% tuition fee waiver at 75% marks
40% tuition fee waiver at 65% marks
Graduate Programs
60% tuition fee waiver at 70 % marks
40% tuition fee waiver at 60 % marks
Evening Programs
70% tuition fee waiver at 70 % marks
50 % tuition fee waiver at 60 % marks
Fee Structure:
Students who are looking for the Gift University Fee strcutre for undergraduate, masters and postgraduate programs can check their fee structure online at their official website. Fee structure will also be mentioned on the prospectus 2018. You can also can on the below numbers to get information about the fee structure
Contact Us For More Information:
GIFT University
Near GIFT University Chowk Gujranwala,Pakistan.
UAN: (+92 55) 111 900 100
Telephone: (+92 55) 3892989
Fax: (+92 55) 3890266