Lahore University of Management Sciences LUMS MBA Admissions 2019 are now open. It is a private university which was established in 1984. This institute offers business programs such as BBA and MBA under its department Suleman Dawood School of Business SDSB. Before you apply for the admission in this university please make sure LUMS MBA Admission 2019 Dates, Online Apply, Requirements from this page. This university is affiliated with the Higher Education Commission and also affiliated with the Association of Commonwealth Universities. It opens admissions for couple of time every year for Masters of Business Administration. Admissions are now open and candidates are invited to take admission in MBA fall admissions that have completed 16 year of education from HEC recognized institute.
LUMS MBA Admission 2019 Dates, Online Apply, Requirements
An entry test GMAT (Graduate Management Admission Test) or GRE (Graduate Record Examination). LUMS MBA Admission Dates are mentioned on this page so you can online apply before the dates will expire of you are according to the requirements.
LUMS MBA Admission Requirements:
A candidate, who have successfully passed 16 year of education (Masters or bachelor) from HEC recognized university are allowed to take admission
Those who have bachelor degree less than four years, must have to bring equivalence certificate from the Higher Education Commission
GMAT or GRE admission test is compulsory to pass for candidates who want to take admission
For admission, interview will also be conducted for short listed candidates on the basis of academic record, test performance and work experience
It is compulsory for student to maintain at least 3.7 CGPA in previous program
Candidate have more than 670 marks GMAT/ GRE test
LUMS MBA Admission 2019 Dates:
Online Applications must receive before 19th February 2019 for Round 1 MBA admission
Last date to apply for admission in MBA for Round 2 is 17th April 2019
Documents and payment proof must receive at university admin office till 20th February for round 1
For Round 2, last date to submit documents and payment proof is 18th April 2019
Last date to register for GMAT/GRE in round 1 is 12th February
in Round 2, last date to apply for GMAT/GRE test is 12th April 2019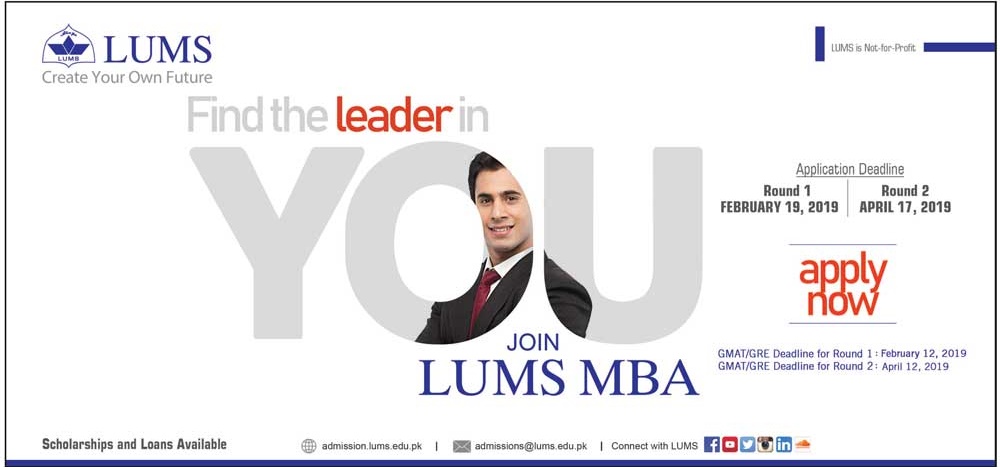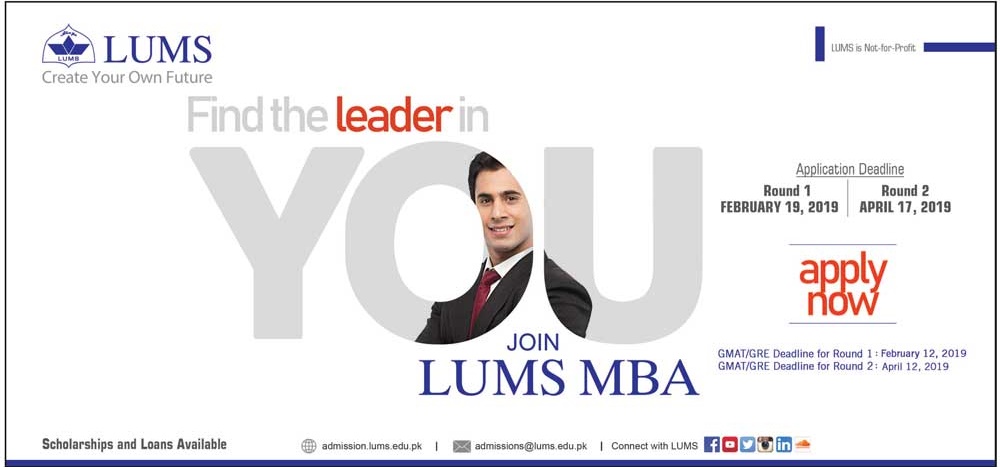 LUMS MBA Apply Online:
LUMS MBA Admission 2019 are now open. Applicants are allowed to apply online from their official page. To apply online, a candidate has to visit httpss://admissions.lums.edu.pk. There you have to login through creating new account. Afterwards, select your program and fill online application form and upload necessary documents. Those applications which will receive after last date will not entertain.