Students can apply for National Defence University NDU Islamabad Fall Admissions 2018. This University announces admission two times, once in Spring and second in Fall. fall admissions in NDU university are open. if you are among those candidates who are looking forward towards the admission opening date of the NDU then you are the lucky one as now the admissions are open these days and if you laid down on the eligibility Criteria for admission as it is mentioned below on this page then you should have to collect your admission form from the admission office of the university or online through this page but keep one thing in your mind that this application form should have to be submitted back after competing it to the same admission office till 27 June 2018 as this is the last date to submit the admission form and then all those forms that will receive after that date will not be entertained in any case. Admissions are open in BS, M.Sc, MS, M.Phil and Ph.D. programs and the complete information is given below on this page that is why candidates have a complete view of this page until the end so that all the authentic and officials news could be reached to you in the same way as it is been declared.
National Defence University Islamabad Fall Admissions 2018 Form
National Defence University Islamabad Eligibility Criteria:
Students with at least 60% marks are allowed to take admission
Pre Admission entry test or HAT test is compulsory to pass in order to take admission in bachelor, masters and Ph.D. programs
The interview is also compulsory
National Defence University Admission Schedule:
Last Date to submission of admission form : 27 June 2018
Test / Interview for BS Programme: 10th July 2018
PHD Entry test 18th July 2018

Entry Test and Interview for MS, M. Phil : 17th July 2018

Display of BS Merit list : 19 July 2018

Display of MS Merit list: 25 July 2018

Display of PHD Merit List: 25th July 2018

Admission Form:
Online admission application form is available to this page so that is why there is no need to go anywhere else just click on the link below
CLICK HERE TO APPLY ONLINE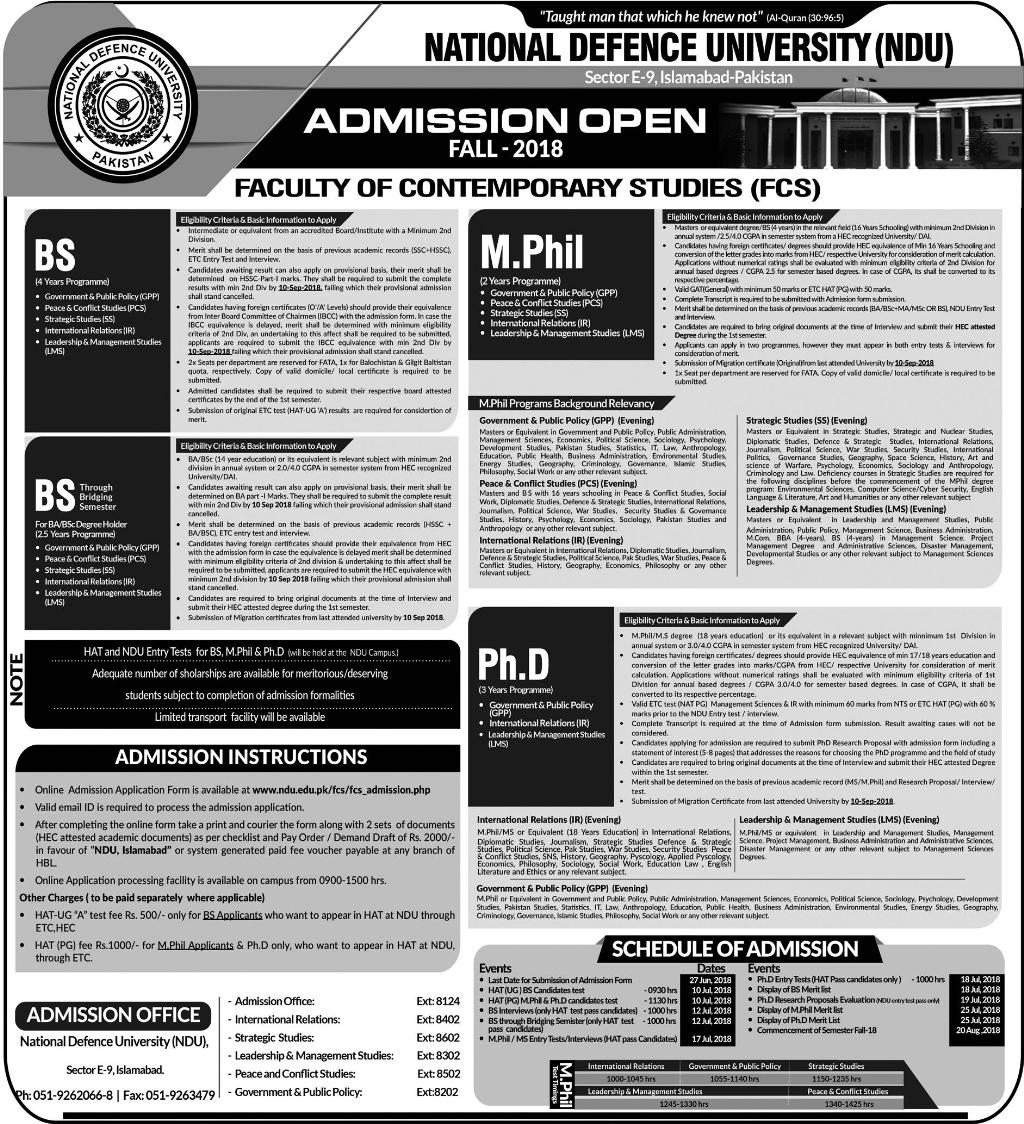 Valid Email id is required to process the admission application. After the completing online form takes a print and courier the form along with all the required documents as per checklist available on the admission form and pay order of Rs. 1000/-.