If you are looking for the University of Central Punjab UCP Lahore Spring Admission 2020 then you are here on the right page. The admissions are now open in various faculties. So all those students who want to be a part of UCP Lahore will have to submit the admission form. 1996 was the Year when Punjab Group of Colleges submit a petition to the Government of Punjab for opening a University in Lahore and then-No objection certificate was issued in the year 1999. From 1999 this University started producing fine bachelor's and master's in Pakistan in the initial stages UCP starts offering courses Management Studies, Information Technology, Commerce and Law and with the passage of time UCP got a well-known position in the Educational institutions of the Lahore as well as Punjab. Also, check UCP Lahore Admission 2020. So, have a look down for the admissions.
University of Central Punjab UCP Lahore Spring Admission 2020
The admissions are open now in various undergraduate and graduate programs. You can apply online through this page. If you have 45% marks in Inter, then you can apply for Undergraduate programs. Scroll down to have a look.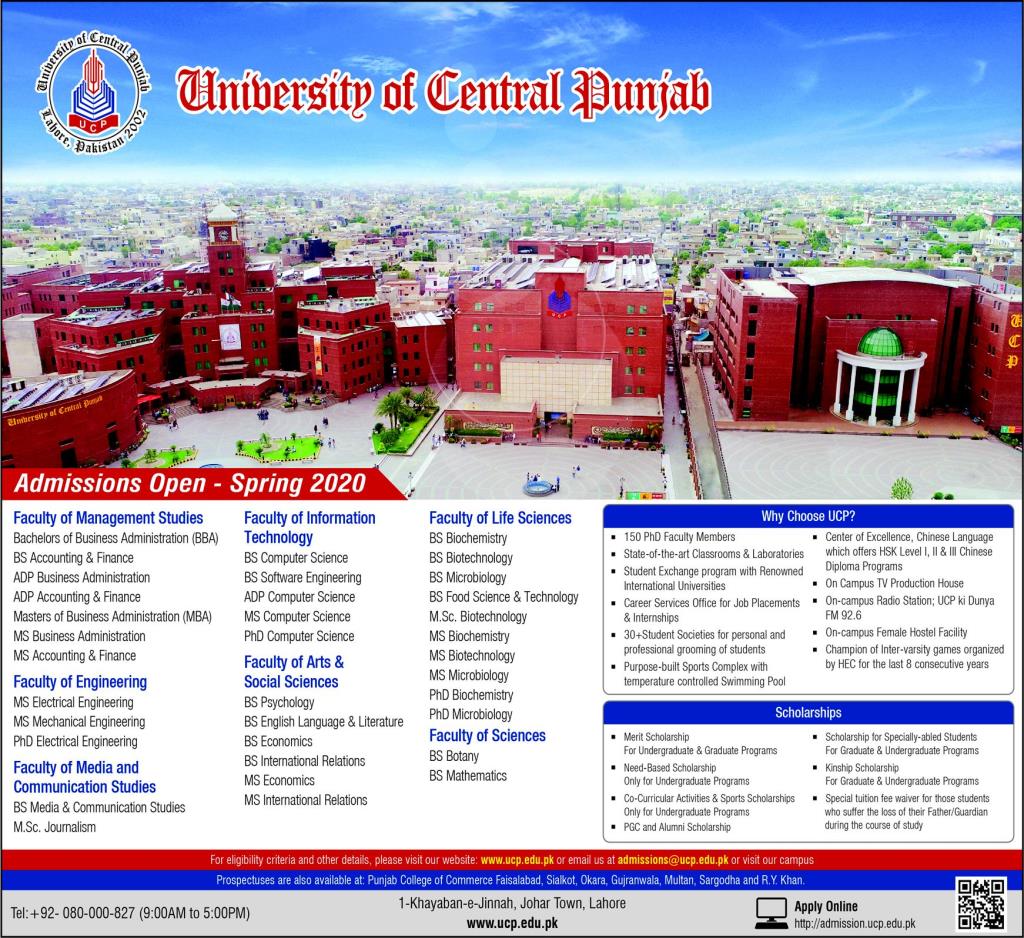 Programs Offered at UCP Lahore Admissions
The following are the faculties and there is a number of programs that are offered.
Management Studies
Engineering Programs
Media and Communication Studies
Information and Technology
Arts & Social Sciences
Life Sciences
Faculty of Sciences
University of Central Punjab Admission 2020 Form
The admission form can be taken online at www.ucp.edu.pk or from the campus.
Now signup by providing valid email and other information and the form will be on your screen.
Now fill the form completely and pay the admission processing fee as written in the form.
Then a test will be taken from the candidates and after this, the merit list will be displayed.
If you have your name on the list, then submit dues.
UCP Lahore Spring Admission 2020 
After completing the application form with the correct information attached the documents and submit them to the Office before the deadline. Also, check the UCP Entry Test Sample Paper. On acceptance of the application form, University will allot you an admit card, test date and Time. This admits card is important if you want to sit in the entry test because without this card examiner will not allow you to sit in the examination hall. So, if you are also going to apply, then do it now because a few times remaining in the closing of admission and if you have any questions, then ask in the comment section.