University of Central Punjab UCP Lahore Admission 2019 in various faculties including faculty of Engineering, faculty of Information Technology, Faculty of Commerce, Faculty of Arts & Social Sciences, Faculty of Pharmacy. So all those students who want to be a part of the UCP Lahore will have to submit their application before the last date to apply and the last date to apply for the UCP Lahore Admission 2019Bachelor programs is February 2019 and for Master's Program is February, 2019. 19996 was the Year when Punjab Group of Colleges submit a petition to the Government of Punjab for opening a University in Lahore and then No objection certificate was issued in the year 1999. From 1999 this University starts producing fine bachelors and master in Pakistan in the initial stages University of central Punjab starts offering courses Management Studies, Information Technology, Commerce and Law and with the passage of time UCP got a well known position in the Educational institutions of the Lahore as well as Punjab.
University of Central Punjab UCP Lahore Admission 2019 Form Last Date
UCP offers 100% tuition fee waiver in the form of merit scholarships on the basis of academic excellence in F.A/F.Sc and B.A/BSc examinations held under annual system of examination. Eligibility for merit scholarships is determined on the basis of 75% aggregate marks and 3 As in A-Level secured in one attempt for BBA/BS Programs.
University of Central Punjab Admission 2019
Normally every year University of Central Punjab Admission 2019 announce  for the new semester students and new courses classes two times in a year that will be in Spring and Second is in Fall. So take your application form from the admission office of UCP or download it from this page.
UCP Lahore Admission 2019
After completing the application form with the correct information attached the documents and submit it to the Admission office before the deadline to submit application. On acceptance of the application form University will allot you an admit card, test date and Time. This admit card is important if you want to sit in the entry test because without this card examiner will not allow you to sit in the examination hall.
Note: This is the older advertisement, as soon as the new admission opens we will upload the UCP Lahore Admission 2019 advertisement here soon.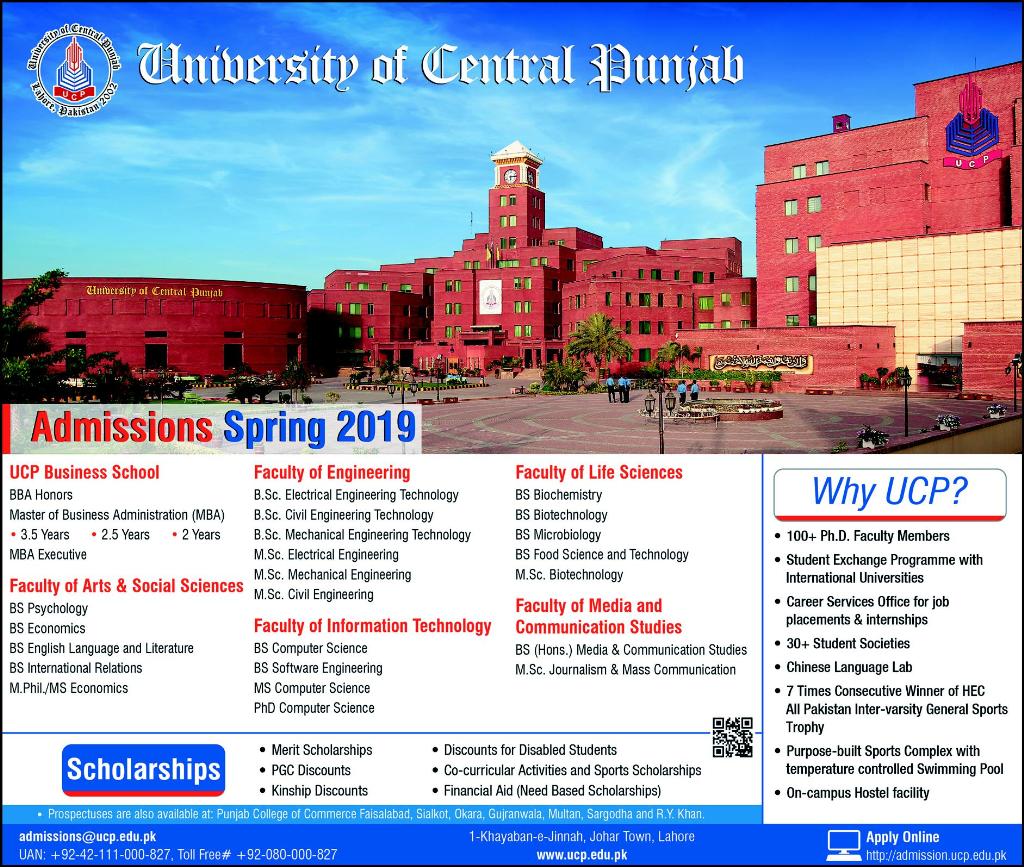 Right click on the image and then view image as to see the clear view of the image..