University of Sargodha Women Campus Faisalabad Admission 2017 are open in Undergraduate and Graduate Programs so all those women who wants to take admission in the University must have to submit their application form before October, 2017. Admissions are strictly on the merit basis that is the reason that the first merit list for the successful candidates will display after the entry test and that merit list will be available to this page as soon as the official will declare it. Prospectus are available for Rs. 1000/- students awaiting for their results may also apply with a hope certificate. However before display of merit list, they must submit the results. All Admissions shall be provincial liable to be cancelled on finding bogus certificate, tempering in the certificate or not falling on the merit. Candidate from other than the Faisalabad city can get a copy of prospectus along with the admission form through a courier by sending demand draft of Rs. 1200/- in favor of "University of Sargodha, Women Campus Faisalabad. Every year there are almost 2000 students who got their education and passing certificates from there. From the first day of its inception the University of Sargodha Women Campus Faisalabad is providing quality education to the students of the Pakistan.
University of Sargodha Women Campus Faisalabad Admission 2017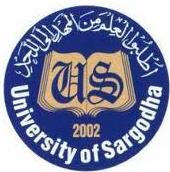 Undergraduate Programs:
B.Ed
BBA
BS (English)
BS (CS)
BS (IT)
BS (Fine Arts)
BS (Psychology)
BS (Economics)
B.Com (Hon)
BS (Software Engineering)
BS (Education)
BS (Islamic Studies)
BS (Mathematics)
BS (Sociology)
BS (Physics, Chemistry, Botany, Zoology)
Bachelor in Textile Designing
Graduate Programs:
M.ED
MBA
M.Sc (IT)
M.Com
M.Sc (Psychology)
MA (Urdu)
M.Sc (Economics)
MA (Fine Arts)
M.Sc (Mathematics)
MA (English)
M.Sc (Sociology)
MA (Education)
M.Sc (Physics, Chemistry, Botany, Zoology)
MA (Islamic Studies, Arabic)
Admission Schedule:
Application Form for University of Sargodha Women Campus Faisalabad Admission along with the prospectus are available from September, 2017 from the main campus Faisalabad. Last Date for the submission of the admission form is October, 2017. First merit list will be displayed in the month of October. All applications must reach in the office of Director Academics Faisalabad Campus.
In an academic Year University of Sargodha Women Campus Faisalabad called two times for the admission and as now the Intermediate Level result is going to be announced from all over the Punjab so the fall Admission are open in this University so that the new sessions with the new students could be start so keep in touch with this page for all the latest updates and news regarding the admission office and the admission rules and regulations of the University so that while taking admission in this University you do not have to face any hurdle.
UOS Women Campus Merit List 2017:
University of Sargodha Women Campus Faisalabad Merit list 2017 will be available to this page as soon as the university official will declare it so there is no need to go anywhere else just stay in touch with this page and keep yourself up to dated. so students there is no need to go anywhere else to get the UOS Women Campus Merit List 2017
For More Information Contact:
Director Academics
University of Sargodha, Women Campus Faisalabad
5 Kilometer main Jaranwala Road Faisalabad
Tel: 041-2422572, 75