University of okara admission falls 2019 for the various programs bachelor of science and master of science. Admission form display online apply on this page. All the interested students can apply online university of Okara regarding these programs discuss below. According to the Act, 2016 (XIII of 2016) University of Okara was came into being under Government of the Punjab. This educational institute is a government institute. It's affiliated by the Higher Education of Commission (HEC). On this panel high standard education provided to their with very low fee. Due to this facility discuss above many of the poor students can easily achieve their goals. There are total 6000 students currently studying and more than 300 high qualified faculty staff members. It's located at 204 Acres of land sandwiched between Multan Road & Canal Lower bari Doab at Renala Khurd, district Okara.
University of Okara Admission 2019 Apply Online, Last Date, Entry Test
University of Okara has been invites applications from all those interested students who's are liable for take admissions. Many of the programs has been discuss on this page below. There are total six number of faculty in which different departments like as computing, health science, life sciences, management & social sciences and others. Students can take admission in any department according to their interest. Morning and evening session are also available for different BS & MS, MPhil/Phd programs. All courses are mention in this advertisement given below.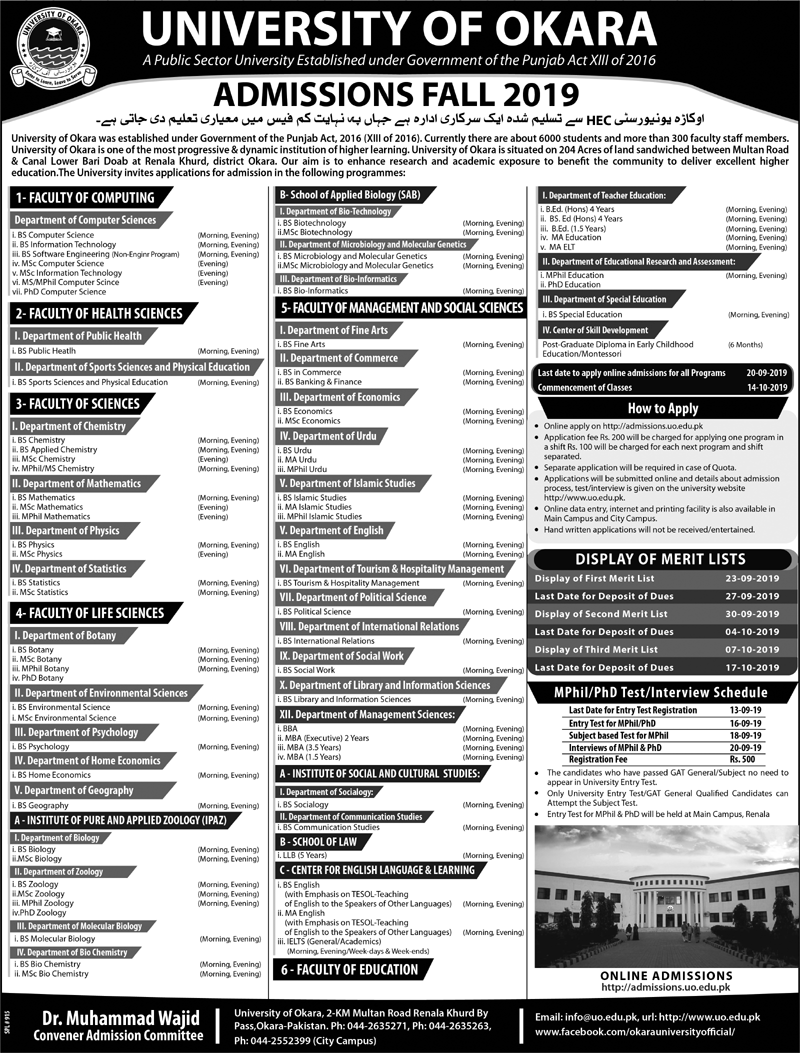 University of Okara Admission 2019 Schedule
| | |
| --- | --- |
| Deadline date to apply all program: |  20th September 2019 |
| First Merit List Display date: | 23rd September 2019 |
| Fee Submit last date: |  27th September 2019 |
| Second Merit List Display date: | 30th September 2019 |
| Fee Submit last date: |  04th October 2019 |
| Third Merit List Display: |  07th October 2019 |
| Fee Submit last date: |  17th October 2019 |
| Classes will be start from: |  14th October 2019 |
University of Okara Admission 2019 Eligibility Criteria:
All the interested students either male / female can easily get admission through proper channel. Candidates can online apply by the official page of university of Okara. You must be pay Rs.200/- as like application fee for any graduate and undergraduate program. According to the eligibility criteria students must have to obtain 50% marks for getting admission BS program. Candidates must be appeared in GAT test who want to take admission MS program.
In this educational institute all BS / MS programs offers to their students. You must have to get online admission through http://admissions.ud.edu.pk. Mphil and PhD programs are also provided by this great institute. Interested students must get entry test registration before last 13th September 2019. Interview will be conducted in the mid of September 2019 so keep visit our page for more latest updates.