It is to inform you all that the FBISE Federal Board 10th Class Date Sheet 2022s for the special exam is announced and people can easily check the schedule of the special exams in the advertisement. The officials have declared the schedule of the special exams that are going to commence in March. This is a very important class for all the students as they have to appear in the board exam. The time is very limited. If you are not serious about your studies yet then give more time to your studies now. This is a very important point in everyone's life. Every second is very important now. So, don't waste your time on any useless thing. The exam schedule is officially released now. You just have to move down and then, there you can find it and can download it. Federal Board 10th Class Roll Number Slips 2022 is also available. Scroll down to check it here.
10th Class Date Sheet
Date
Morning Session
Evening Session
28-05-2022

Mathematics
General Mathematics
Mathematics

30-05-2022

Clothing and Textile
Education
Education
Cosmetology (Hair and Beauty Services)
introduction of Tourism

Geography
Elements of Home Economics
Arabic
Essential of Home Economics

31-05-2022

Mathematics
General Mathematics
Mathematics

01-06-2022

Chemistry
General Science
General Science

Health and Physical Education

02-06-2022

Chemistry
General Science
General Science

Art and Model Drawing
Art and Model Drawing

03-06-2022

Pakistan Studies
Pakistan Studies

04-06-2022
06-06-2022

Essential of Home Economics
Woodwork and furniture making
Elements of Home Economics
Commercial geography
Motor winding

07-06-2022

Islamic Studies
Esthetics
Tourism Management
Fundamentals of Cooking
Food and Nutrition
FBISE Federal Board 10th Class Date Sheet 2022s
So, the exams are going to start in March. So, it is clearly seen that there is little time left for the preparation. This time is only for the final exam preparation and revision. Students, it is very important to know how to appear in the exam. Your confidence must be very good for this and at the start, you have to write your personal information there with full attention because on a single mistake, it will cost much for you. The exams for SSC-I and SSC-II will commence simultaneously. You can also download it here. Check and download it here.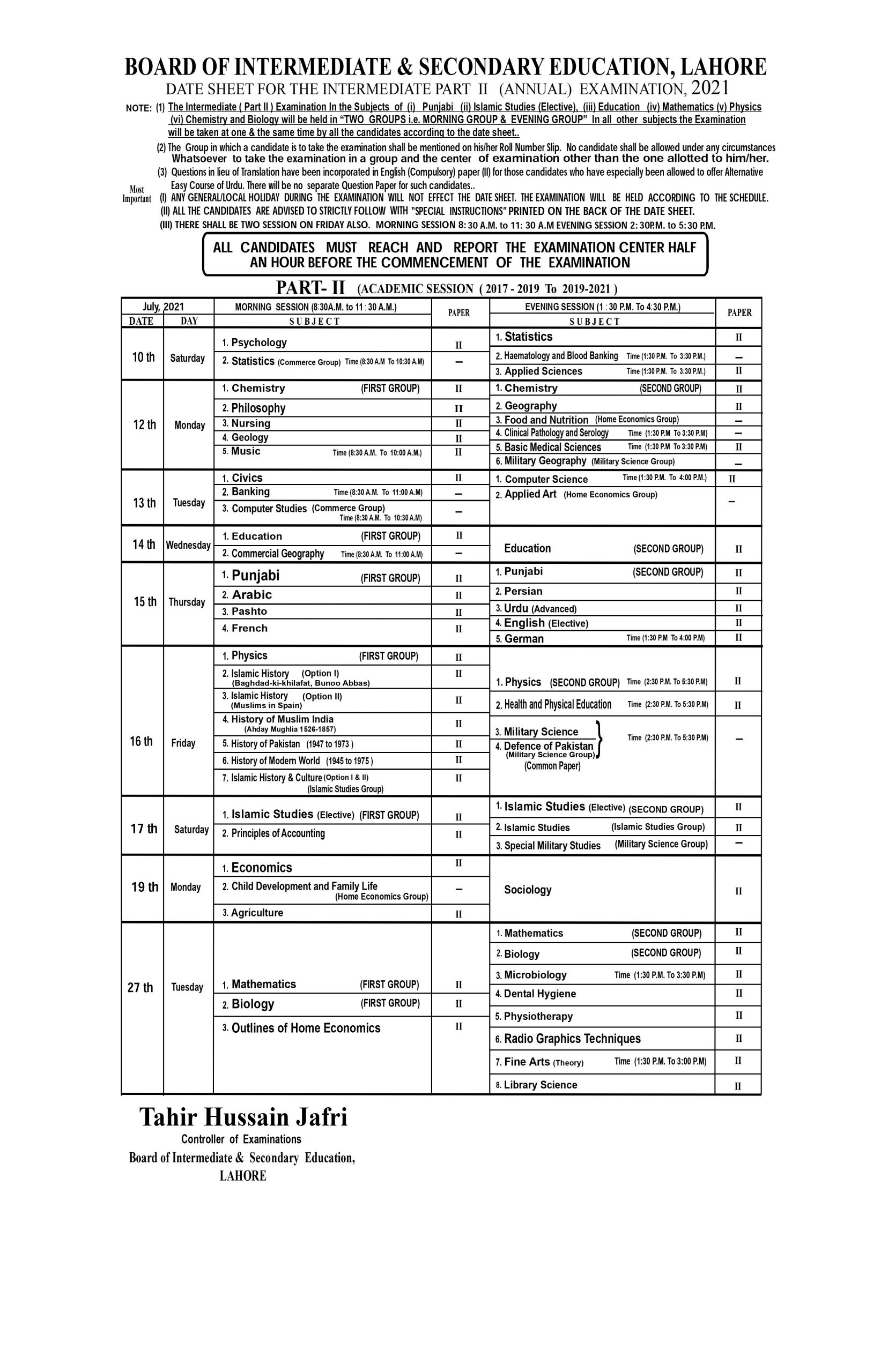 FBISE Matric Part 2 Date Sheet 2022:
Let me clear hear that the date sheet is announced as the exams are going to commence from March so there is no need to waste your time here and there for it. FBISE is the body that is not operating just in one Area, one City, or one Province but all over Pakistan so a huge crowd of students was always there in the annual examination who have registered themself before the examinations. As the Federal Board is responsible for arranging and managing the Matric as well as inter exams from all the schools and colleges that are in the area of Cantonment in the whole Pakistan and now the time for the 10th class annual examination has reached.
10th Class Date Sheet 2022 Federal Board
Students seeking the 10th class date sheet 2022 Federal Board from this page but till now officially they have not issued it. Moreover, they will declare the annual date sheet in the month of March or April 2022. On the other hand, 10th class date sheet 2022 Federal Board announce the same for the science group and arts group. Every year two types of students appear in exam science and arts. So the date sheet will announce the same day but the schedule of the exam will be different. So read the date sheet carefully and then follow the schedule.
So, the schedule is declared now and the starting date is March. So, you must have to prepare well for it because it will lead your future towards the college level. This is the most important part. No matter how good you are in these exams, your revised studies are very important. You must check the FBISE Federal Board Matric Date Sheet 2022, 10th Class now, and study according to it. So, your approach for the exam must be on the best and the outcome will be very good for it.
FAQ:
Are FBISE papers postponed 2022?
ANS: All rumors are completely wrong because the exam will organize on time and those candidates who are going to appear in this exam and they start the preparation for the annual exam. Further, when the schedule of the 10th class will issue then we will update it.
FBISE Date Sheet 2022 SSC 2?
ANS: FBISE Date sheet 2022 SSC Part 2 is going to issue in next week and all candidates would get the date sheet from this page.