Educational Testing and Evaluation Agency ETEA KMU medical entry test result 2020 check from this page.  All those candidates who have appeared in the ETEA medical entry test for admission in the Medical and Dental Colleges of the Khyber Pakhtunkhwa can check their entry test result from this page. ETEA is the testing agency that conducts an entry test yesterday in three different cities that are Peshawar, Abbottabad, and Swat. In Peshawar, there was two examination center that is Peshawar University Cricket Ground, Opposite to IRNUM Hospital and Islamia Collegiate Hockey Ground. In Abbottabad and Swat, there is one center that is Ayub Medical College Abbottabad, Grassy Ground, Swat. ETEA conducts this combined medical admission test for all the KPK candidates. Candidates who have done FSc pre-medical or equivalence qualifications can attempt this entry test. The result card of this test will be attached to your admission form when you will go for MBBS or BDS admission in any private or public medical college collating in Khyber Pakhtunkhawa (KPK) province.
ETEA KMU Medical Entry Test Result 2020
As soon as, you just have to stay in tune with this page because as soon as the ETEA KMU medical entry test result 2020 is announced will be uploaded here. Keep on reading this article to get all the details from this page because here we are just alert for you to provide the best remarks and up to date information about your test.
KMU ETEA Result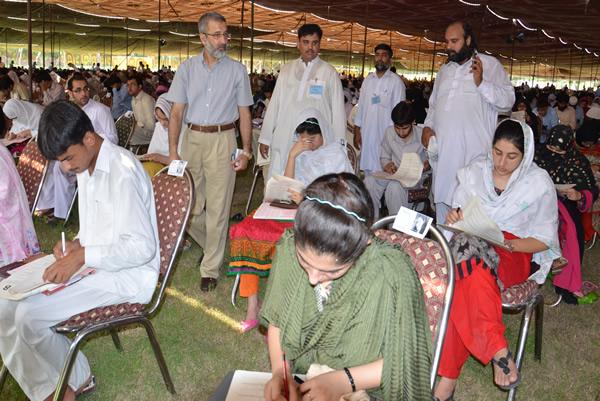 In the entry test taken by the ETEA from Khyber Pakhtunkhwa which includes students from FATA, AJK, Gilgit Baltistan, Punjab, Baluchistan, and Sindh. It is officially announced that the result of the ETEA KMU entry test will be announced on 15th July 2020 at 10: 10 AM, so students if you want to get your result online then you have to stay in touch with this page. This page will provide you the officially announced result. Khyber Medical University and officials of the ETEA together confirmed the news that the ETEA KMU Medical Entry Test Result 2020 will be announced soon.

Khyber Medical University and the ETEA is providing extra features to the candidates who appear in the  ETEA KMU medical entry test 2020 that is SMS so students can get an SMS that is about their outcomes from the officials and for this a special software is designed by the IT Department of KMU. According to the official record, there were a lot of candidates who appeared in the medical entry test from Ayub Medical College, Abbottabad, and some candidates who appeared on Grassy Ground Saidu Sharif Swat for admission in medical and dental colleges of Khyber Pakhtunkhwa.
There were male candidates and female candidates who want to take admission in the medical and dental colleges of the KPK and appeared in the Medical Entry Test. The Vice-Chancellor of KMU was also present in the examination center for the transparent mode of the entry test. Now the time has come when candidates can get their ETEA KMU Medical Entry Test Result 2020 from this page so stay in touch with this page in order to stay up to date.