United States Educational Foundation in Pakistan USEFP Fulbright Scholarship 2015 For Pakistani Students is announced for the Master's and PhD Level students. AS the Fulbright Degree program will provide a great opportunity to all the students of the Pakistani educational institute to study in Master's or PhD programs in any USA university under the flagship of Scholarship program. This Scholarship program is funded by the United States Agency for International Development USAID. In the scholarship the selected candidates that are purely selected on the merit basis will get tuition, required textbook, Airface, Living Stipend and Health Insurance from the USEFP.
The candidates applying for the Master's degree program must have to pass the four year degree program or a master program or any other degree which is equivalent to 16 years of education from any HEC recognized university. On the other hand all those candidates who are applying against the PhD Programs must have a certificate of Master degree of M.Phil or any comparable degree which is equivalent of 18 years of education from any HEC Recognized University of Pakistan. Those candidates who have work experience in Teaching, Research or Public Sector in Pakistan will get preference for the Scholarship. More than 5000 candidates get the USEFP Fulbright Scholarship  till now and now its your turn to study your Master's or PhD program in the United States of America.
USEFP Fulbright Scholarship 2015 For Pakistani Students
Eligibility Criteria:
All those candidates who have clear thier 16 years of education or 18 years of education in any discipline except in Clinical Medicine or Business administration are eligible for the Scholarship
Candidates must have to clear the Graduate Record Examination (GRE) with minimum score of 136 in each section of the GRE.
All the selected candidates have to sign a contract with the USEFP that after completing their degree immediately they have to return back to their own country.
Ineligibility:
All those candidates who have dual nationality of US and Pakistan
Those candidates who are employee of the fulbright Organization or the US Department of State
All those candidates who have pending application for immigration to any of the country
How Candidates can Apply:
All those applicants who wants to apply can get the application form from this page so just click on the link below to download the application form
DOWNLOAD APPLICATION FORM
the complete application form with three reference letter, GRE score report and all the attested copies of the educational certificates that are attested from the Higher Education Commission HEC should be send to the P.O. Box No. 1128, Islamabad before the deadline as the last date to submit the application is 14th May, 2014. All those application form that will received late or found incomplete will not be entertain in any case.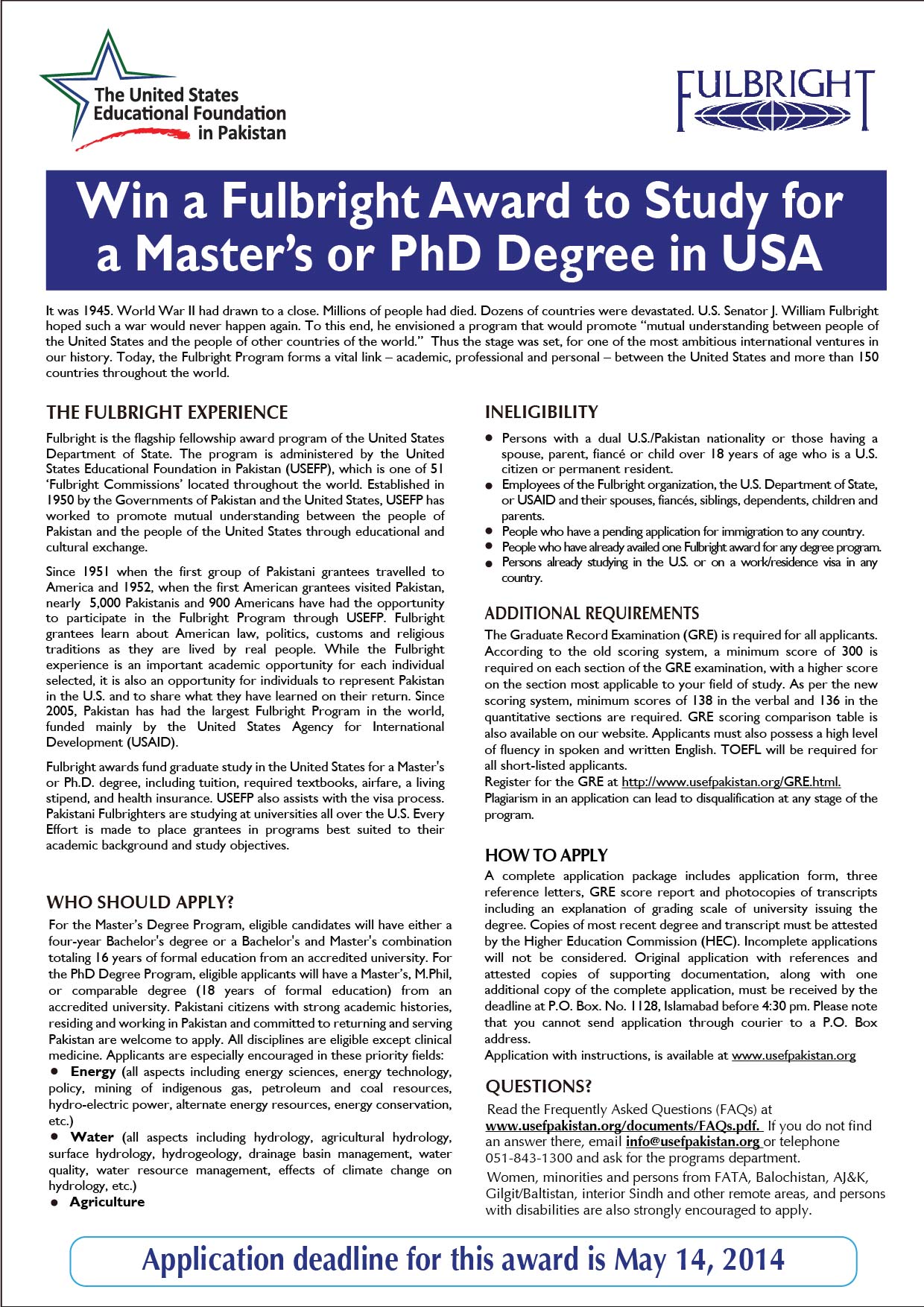 For More Information contact:
United States Educational Foundation in Pakistan USEFP
Tel: 051-8431300