Are you searching for the Board of Intermediate and Secondary education Assessment Scheme for 9th Class 2019 Lahore Board For Biology, Physics, Math, Computer, Urdu, English, Pak Study and Islamiat then you are at the right place to get it all. Right now you are on the fastest growing educational website of Pakistan so that is why this is our prime responsibility to provide you each and every thing you are looking for that could help you in your studies. Like Model Papers and the guess papers like biology paper scheme 9th class is also very important for all of the students who register themselves to appear in the 9th class annual examination under the supervision of the Board of Intermediate and Secondary Education Lahore. These Assessment Schemes for all the subjects are announced by the officials every year as you all know that there must a little bit changes in the annual examination in Lahore Board every year and if you are unaware of these changes then you cannot be able to get as good marks as you are capable of. BISE Lahore 9th Class Date Sheet 2019 is also announced. Here down on this page we are providing you the complete 9th class pak study scheme Lahore Board for all Subjects.
9th Class Assessment Scheme 2019
In the 9th class there are some subjects which you can choose as you can go for the Computer or the Biology or even simple arts subjects that all depends on you taste or aptitude so no matter which subjects you choose it must be from the list of these Arts and Model Drawing, Biology, Chemistry, Civics, Computer Science, Economics, education, Home Economics, English, Ethics.

Food and Nutrition, General Mathematics, General Science, Geometrical and Technical Drawing, History of Islam, Health and Physical Education, Islamiyat, Pakistan Studies, Persian, Physics, Punjabi and Urdu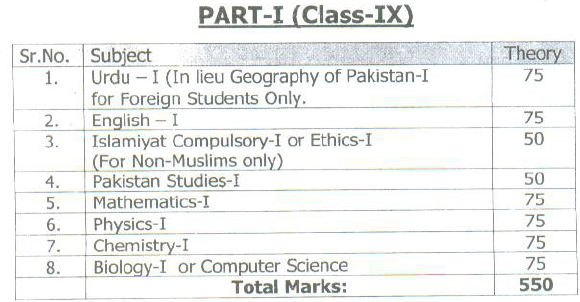 BISE Lahore Board Assessment Scheme For 9th Class 2019 All Subjects
Students if you are really a hardworking and want to get good marks to make your parents proud of you then you must have a look on these New assessment scheme bise lahore Board Biology, Physics, Math, Computer as these assessment scheme will clear you each topics in the complete subject and how much percent does it will make in the annual examination.
Some time it happen that some students leave one topic on choice but on the day of final exams that topic carries most of the marks in total it happens when you are unaware of the new rules and regulations so that is why these Assessment Scheme For 9th Class 2019 Lahore Board are perfect to have a look on.