University of Health Sciences has issued the list of UHS MDCAT Entrance Test 2019 Examination Centres Roll Number Wise so all those candidates who did not receive their roll number slip yet can contact to their nearest examination centres today as soon as possible. As This roll number slips are really important to sit in the examination hall as no one will allow to enter into the examination hall without this admit card. University official said that University has issued the roll number slips to all the eligible candidates but still we are receiving some complaints that many roll number slips are not yet received by the students so that is why now University of Health Sciences has Issued all the Roll Number Slip Collection Centres list of complete 12 cities so that students can easily get their roll number slip before the date of the examination Now are your ready from your UHS MCAT Preparation or not but test will held on 25th August, 2019

University of Health Sciences, Lahore is the only responsible authority that conduct Medical Colleges Entry Test (MCAT) from the students of the Punjab that are willing to take admission in the all Medical and Dental Colleges of Private and Government sector. So now this year in 2019 UHS MDCAT Entrance test will be held on Sunday 23rd September, 2019. Last year there were total 45,000 students who attend this entrance test and now this year it is expected to a lot more than that so to control and make sure the fair examination University of Health Sciences arrange 20 Examination centres in 13 Cities of the Punjab.
UHS MDCAT Entry Test Answer Key 2019
UHS MDCAT Entrance Test 2019 Examination Centres Roll Number Wise
The University of Health Sciences UHS MCAT Entry Test  paper consist of just 220 Multiple choice question (MCQ's). This year the MCAT Syllabus is divided into four sections and each section has its own question and partition that are Physics Section contain 44 question, Chemistry 58 questions, English 30 Questions and biology 88 question.
Important Information for Candidates:
UHS MCAT Entry Test will be start on 09:00 am in the morning and candidates are advised to come to the examination hall at least one hour before as right on 08:12 the gates of the examination centers will be closed and after that no one is allowed to come into the examination center in any case. And if you want to sit in the examination then do bring your roll number slip along with you as no excuse will be accepted in case of forgetting the roll number slips.
2019 List not announced yet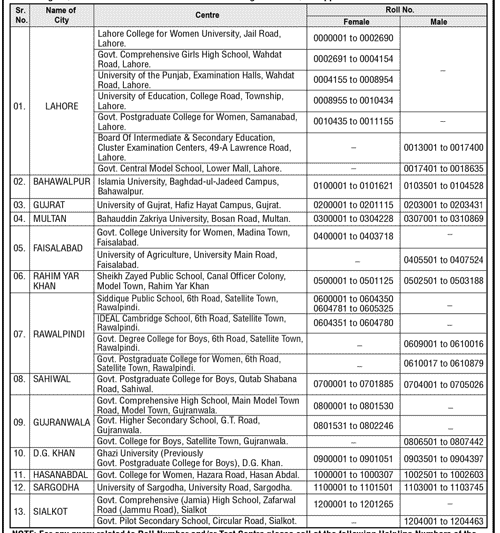 For other inquiries:
chairmen Admission Board
Medical and Dental Institutions of the Punjab
Ph: 042-992313004-9