If you are not familiar with the search on the internet and can't do a search for your result on the Internet, then don't worry, it's quick and easy to get your result. Because, fortunately, the ilm.com.pk (Pakistan Biggest Educational Portal) has spend many hardworking hours compiling the database for this kind of facility, so any average Pakistani citizen can have access to this facility. It is a great tool to get result in convenient manner on mobile, and this facility is only provided by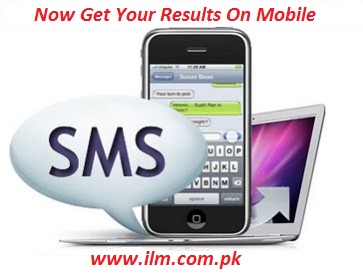 ilm.com.pk. Just in order to facilitate the students.
This is a great facility for not only those, who haven't internet excess but also for all Pakistani citizens, because light is one of the major issues which is not going to solve anywhere in the Pakistan. And due to lack of light students face trouble especially on the day of result announcement. But students you need not to worry about it because ilm.com.pk has solved this problem and the solution is here…
Procedure to Get Your Results on Mobile
Simply take your mobile, type ILM<Space>Name of respective Board<Space>Roll No. and then send on
For Example: ILM Biselahore 123456 & send on
List of examples for all boards. Suppose the roll number is 123456
For Lahore Board:  

Gujranwala Board:

Multan Board:

Faisalabad Board:

Sargodha Board:

Rawalpindi Board:

Bahawalpur Board:

DG Khan Board:
Type your relevant code as per above example and send to 8888. You will receive the result on result announcement day without sending any other SMS.
This service is providing just to deliver board examination results to students via mobile SMS. This is combines web and mobile technology service in an interactive and cost-effective communication platform. The results would be delivered via two-way web-based SMS service on the respective Mobile Number immediately after the official announcement of result. Because all the information will be saved on server database, and students you need not to worry about your personal mobile number or other personal information because your all information either these are personal or public are always confidential and will never ever shown to the third party.
So students don't waste your time and just get facilitate of this great opportunity by sending an SMS to get your result on mobile within time. And don't forget to visit ilm.com.pk periodically to seek latest information and knowledge about every aspect of your life.