If you are here looking for Mirpur Azad Kashmir Ramadan Calendar 2020 With Sehri, Iftar Time then you are on the right page. This year, this month is expected to start on 24th April in Pakistan. In AJK, there is a lot of love for Ramadan Kareem. All the people in the city celebrate the starting of this month and welcome it. It is mandatory for all the healthy Muslims to fast during the Ramadan month. There is a lot of importance and rewards for this month. All the Muslims wake up in the Sehri timing and prepare themselves for the fast. Then they visit the nearest Mosque and offer the Fajr prayer and then recite the verse of the Holy Quran. Allah Almighty has set many rewards for the Muslims who fast and does all the good works in this month. Scroll down to have a look on the calendar for AJK.
Mirpur Azad Kashmir Ramadan Calendar 2020 With Sehri, Iftar Time
After this, people go to their offices and then take a break for the Zohar and Asar prayer. In the evening, the offices normally off before the Iftar and the females make Iftari. Then all the Muslims break their fast through Iftar and then visit the Mosque for Maghrib Prayer. In the night after offering the Isha prayer, they take part in the Namaz-e-Taraweeh that has great importance in Islam. So, check the complete calendar of Ramadan in AJK here.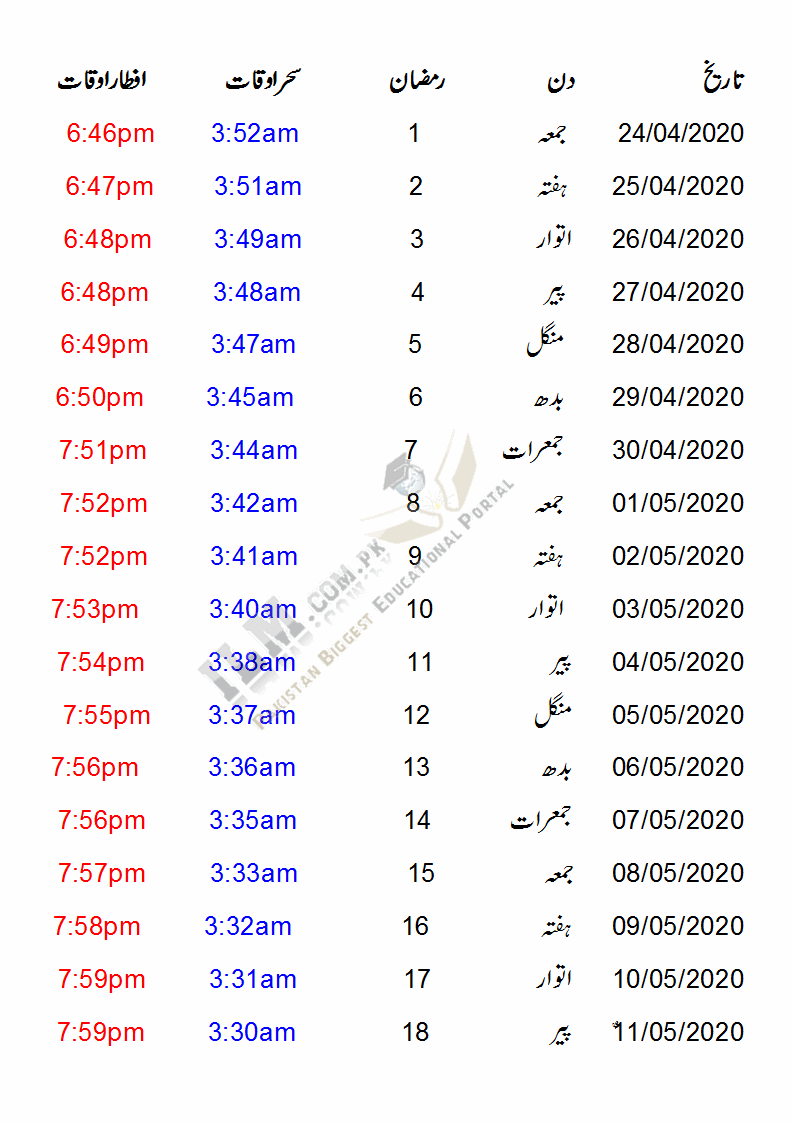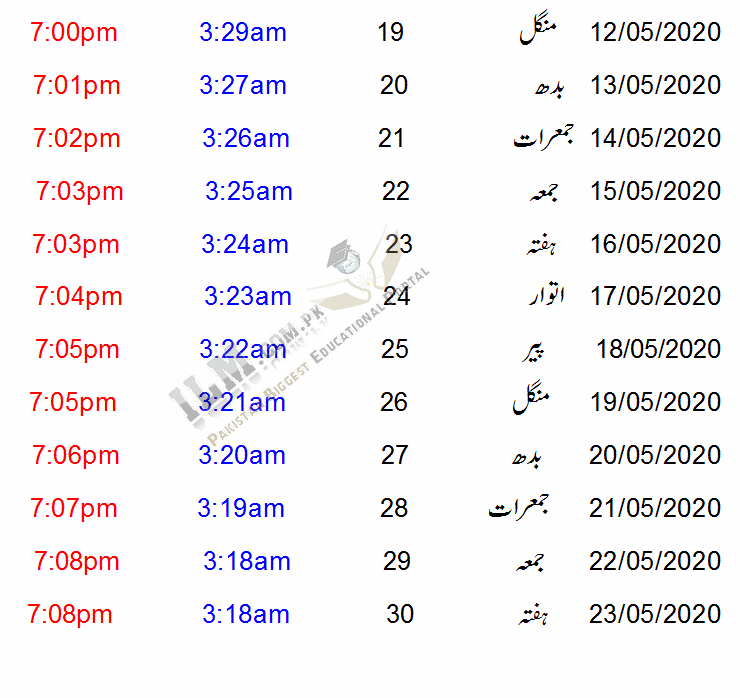 Mirpur Azad Kashmir Ramadan Calendar 2020
Ramadan Kareem is a month full of blessings by God which are showering on Muslims who respect this month and fast all the month with the reciting of Quran and Taraveh. Ramadan is also known as the Month of Holy Quran because in this month Allah ﷲ sent the Holy Quran-e-Pak on Hazrat Mohammad ﷺ through Hazrat Jibareel (ﷵﷷ). So that is why it is our religious obligation that we must fast and recite at least once Quran-e-Pak in this Holy Month. Stay Blessed! Ramadan Mubarak to all Muslims! So all the viewers who are currently working or leaving in the Mirpur which is in the AJK Azad Jammu Kashmir wanted to download the Mirpur Azad Kashmir Ramadan Calendar 2020 With Sehri, Iftar Time then there is no need to go anywhere else. The complete calendar is available on this page above.