Welcome Ramadan!!! Searching for First Ramadan In Pakistan 2019 With Sehr, Iftar Roza Time? Your have reached on the accurate page to get knowledge about Ramadan 2019. Muslims the time has arrived when we make us depurate from our sin we have perform during past year. Month of Ramadan is just far few days and the first Ramadan in Pakistan 2019 will be held in the month of May and continue till the month of June. Ramadan is also known as the month of Quran (The Muslim's Holy Book). The first Ayat of Surah Al-Alaq was sent down on Holy Prophet Mohammad (SAW) in this month and in the same month Allah orders to all Muslims for Roza. Allah also tells Muhammad (SAW) the way of Fast (roza) that how a Muslims will perform roza and what will the timing of Sehr and Iftar. Since that time Muslims every year in this Islamic Month Ramadan fast and offer special prayers with Namaz-e-Ishah called Taravih.
First Ramadan In Pakistan 2019 With Sehr, Iftar Roza Time
During fast Muslims stop eating, drinking and spent all the day by rehears the name of Allah. God has onus Fast on all those Muslims who are physically and mentally fit but those cannot fast who are ill, traveler, menstruating, slave or pregnant. Otherwise there is no relief for any Muslim that he or she leave even a fast during Ramadan.

1st Ramadan In Pakistan 2019
First Ramadan or 1st Roza or Fast will be held on Monday 06th May, 2019

First Ramadan In Pakistan 2019 Sehr Time: 03:42 AM
First Ramadan In Pakistan 2019 Iftar Roza Time: 06:46 PM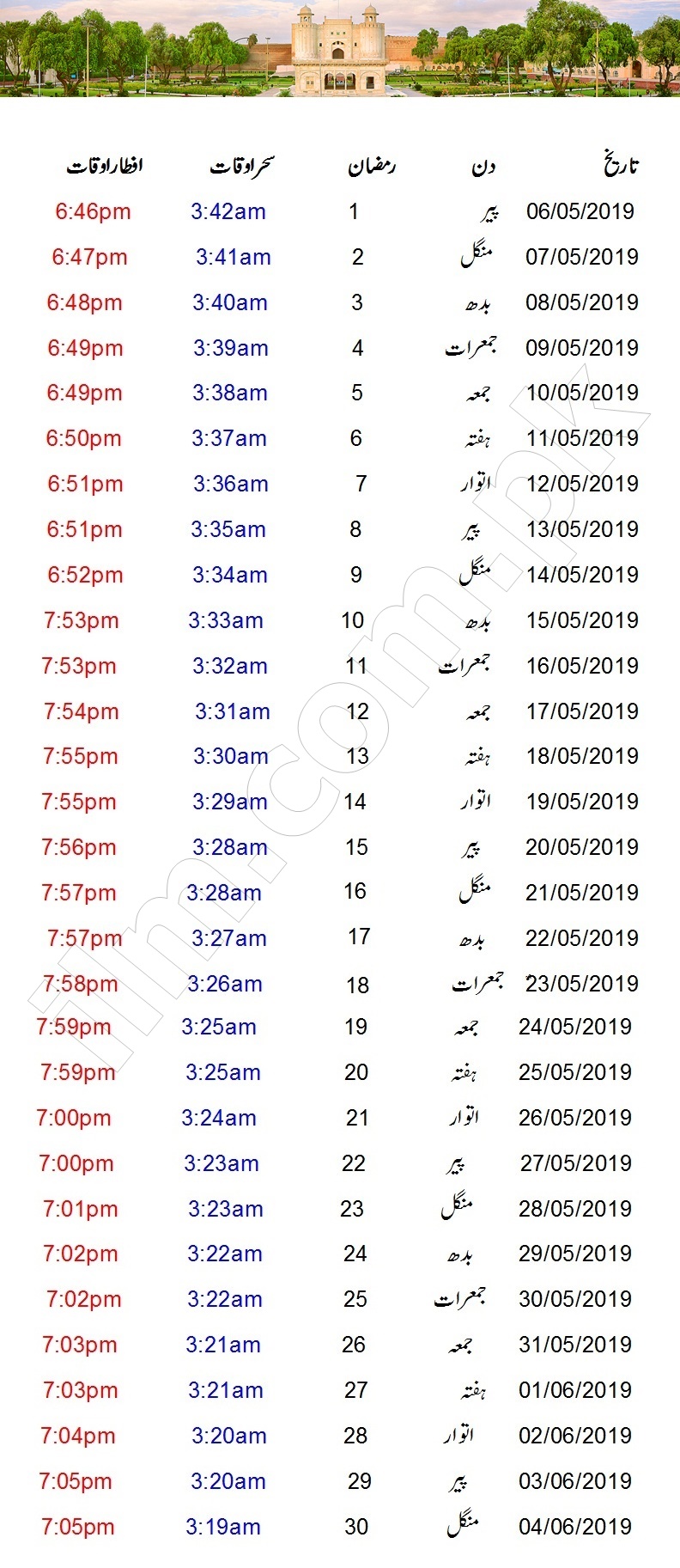 So Muslims as there are few days are left behind in starting Ramadan 2019. So we all must make up our time table for 5 Namaz with Taravih in order to welcome this Islamic month in that way Allah oblige us and write our name in those will sent to heaven.