The page is specifically created for those who wants to learn about How To Become A Homeopathic Doctor In Pakistan from scratch.
What is Homeopathy Actually?
The name homeopathy is form the Greek word having the meaning of like cures like. It is actually the application of art which is practiced in the form of science. Homeopathy works by vital response.
The homeopathy medicine is used to increase the strength and healing power. These medicines are tested by the process called proving, in which the curative drugs are tested on healthy human beings subject in which inclusion and exclusion criteria's are set. The people who are emotionally, mentally and physically fit are included in the testing. There are two principles of homeopathy, firstly like cures like secondly, the minimum dose is given.
Homeopathy in Pakistan
Government of Pakistan officially recognized the homeopathic medical system. Like pharmacy council in Pakistan recognized the examinations and syllabus of pharmacist, similarly the training , examinations, diplomas in homeopathy , formulate the policies, homeopathy practices, approving of new medicine all are recognized by national council of homeopathy.
How To Become A Homeopathic Doctor In Pakistan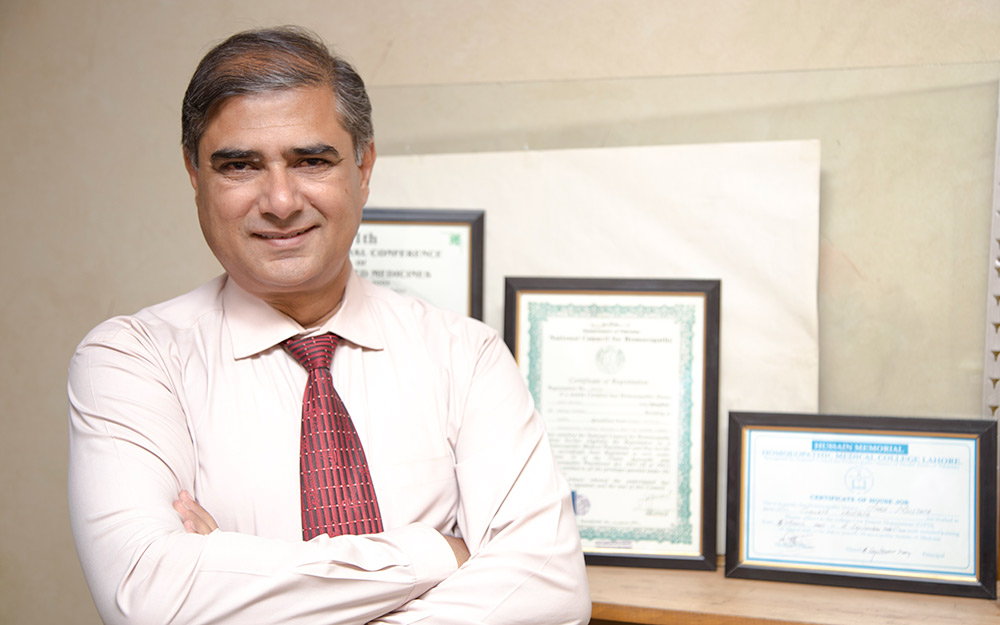 Eligibility Criteria
As there is eligibility criteria for every admission so as for BHMS degree
The candidate should have 50% marks in FSC pre medical to get admission in BHMS five year degree program.
SC degree minimum of 50% marks both in F.SC and B.SC
Eligibility to Practice Homeopathy
For doing practice the candidates should have gone through the following steps.
Candidate should be qualified
Have done internships for six months
Registration by national council of homeopathy.
How to Get Admission in Homeopathic College
Candidates must have knowledge about the admission criteria, should be eligible for this course, admissions are usually opened after the FSC examination of 2nd year. Yet there is no knowledge about the admission notices to know about admissions stay connected with us! But there are some rules for the admissions that are discussed below:
Application form and prospectus are obtained from the respective college.
Fill the form according to the requirements.
Form must be attested
Admissions are done on merit based system.
The order of preferences for the admissions is there, priority is FSC students then BSC students for BHMS course.
The merit list is displayed after the 15 days of last date for application form.
Original documents are required to be submitted at the time of admission.
These are some subjects for How To Become A Homeopathic Doctor In Pakistan
BHMS Subjects
In BHMS all the medical subjects are being taught. The syllabus is classified according to years.
1st year:
anatomy ( theory and practical)
pharmacy ( theory and practical)
material medica
homeopathic philosophy part 1
2nd year
Physiology
Pathology
Microbiology
Hygiene
Material medica
Homeopathic philosophy part II
3rd year
gynecology
obstetrics
psychology
materia medica
Homeopathic philosophy part III
4th year
Forensic medicine
Minor surgery
Material medica
Homeopathic physiology part IV
BHMS Authority in Pakistan
Act 1965 called a unani ayurvedic and homeopathic practitioners act they regulate the qualification and registerations of homeopathic doctors.
Composition
(Under Section 5 of UAH Act, 1965)
The National Council for Homoeopathy consists of the following members:
The federal government nominate four members after consultation with the provincial government and one from each province is nominated
Eleven members are nominated of whom 5 from Punjab, 3 from Sindh ,2 from NWFP and 1 from Balochistan they all must be registered homeopaths
Two teacher members from the recognized homeopathic institution
4 members from the federal government
Scope of BHMS
There is great scope of BHMS in Pakistan. People are fed up of the allopathic medicines due to their side effects profiles and the need of dose adjustment in children. You can run your own business by opening of the pharmacies as homeopathic person is the pharmacist itself. The thing you only need is the registered homeopathic practioner. You can work in herbal pharmaceutical companies, can open up your own clinic either online or the physical clinical setup, can get government jobs as dispenser.
After read out this you will have the complete idea How To Become A Homeopathic Doctor In Pakistan. If you want to share anything with ilm.com.pk please share us . You will get many other career related articles here in this blog. Stay Tuned