Experience letter is a type of business letter which is issued by the company or institute to its employees, worker or staff in their favor who are in search of new jobs.  It is a proof that a person, who is looking for new job, has experience of work with any company. Almost each company use different format of experience letter but majority use formal Experience Letter Format In Pakistan. Experience letter is a certificate which assures that a person has work experience and the qualities and abilities are also mentioned on that letter. it also confirms the employee's resume or CV. An experience letter has many parts which must include while issuing an experience letter to an employee or worker otherwise it shows immaturity of your personality and skills. In this article you will learn about the Experience Certificate Format in Pakistan.
Experience Letter Format In Pakistan
An experience letter or certificate must contain following points.
Letter Head:
Experience letter should be issued on a proper letter head of your company, which includes company name, location, contact address and email
Salutation:
Start experience letter with Salutation like "Dear concerned" or "To whom it may concern"
Introductory Paragraph:
After salutation, provide brief introduction of the employee and his experience, also mention the period from which date he joined the company and his departure date
Closing paragraph (The Hook):
Then describe the experience that you had with the employee and mention his plus point in the letter and his work for your company
Complimentary Close:
After this include complimentary close, in which you should appreciate your employee for future
Signature Line:
Finally close your experience letter with Signature line
Experience Letter Format Sample is given below,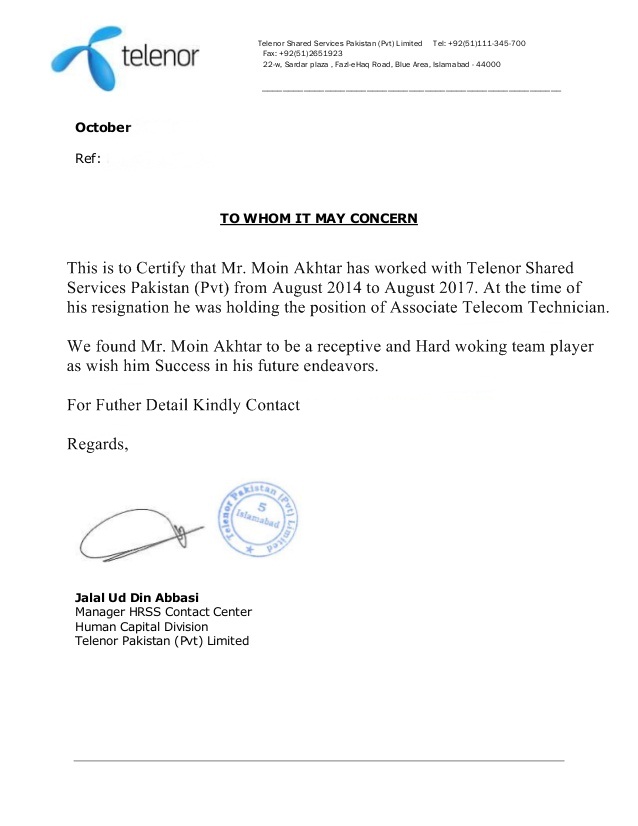 An Experience Letter Format In Pakistan should be written in full block letter format or formal business letter. It must include open punctuation. You can also add subject line in experience letter which is not compulsory.