Federal Public Service Commission FPSC jobs in May 2016 are notified through the advertisement and eligible candidates have to apply online before till the last date of submission of online application form. It is because according to the general instructions of this job only online application form is required and any application form that is not online will be rejected. So here in this post you will get complete details of FPSC jobs 2016 notify in the month of May advertisement, name of each position, eligibility criteria including education, age and domicile details, how to apply and details of entry test taken out by the FPSC. Federal Public Service Commission FPSC is a federal government owned treasury that is responsible for hiring the civil servants and bureaucrats in Govt of Pakistan. FPSC is working since 1926 under the provision of government of Pakistan Act 242 of the constitution of Islamic Republic of Pakistan. FPSC offer recruitments and conduct competitive exams for all the positions and purify the eligible candidates so that only the merit based individuals can be preceded for each post. So for this time in May 2016 FPSC jobs are vacant and you can read further details from the advertisement below for each post.
Federal Public Service Commission FPSC Jobs May 2016 Advertisement Apply Online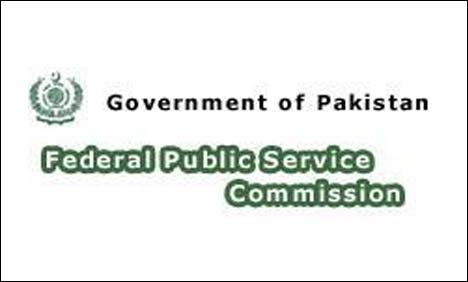 FPSC Jobs in May 2016
Eight Junior Research officers (BS 16)
Senior Official Reporter (Urdu) BS 18
Research officer (Urdu) BS 17
Two Consulting Physicians / Surgeons BS 20
Assistant Executive Engineer (Civil) BS 17
Two Officials Reporters (English) BS 17
Deputy Chief Translator (BS 19)
Eight Charge/ Staff Nurses (Female) Civilian (BS 16)
2nd Engineer (Electronics) System Engineer PCBRF BS 18
Assistant Chief Administrative Officer BS 17
Librarian BS 17
Programmer BS 17
Neonatologists Bs 18
Pathologists Cum Bacteriologists BS 18
Associate Professor, Islamic Studies (Female) BS 19
Associate Professor/ vice principal (Computer Science) Male BS 19
Two Scientific Officers BS 17
Four Deputy Assistant Solicitors BS 17
Two Assistant Private Secretaries BS 16
Sub Engineer (Civil) BS 16
Subject Specialist (Pakistan Studies) Female BS 17
Assistant Professor (Computer Science) BS 18
Director BS 19
Assistant Professor, Political Science (Male) BS 18
Assistant Executive Engineer (Mechanical) BS 17
Twelve Assistant Meteorologists BS 16
Staff Officer-II (Stat) BS 17
Microfilming Officer BS 17
Computer Operator BS 16
Assistant Professor Commerce Male BS 18
Director General (BS 20)
Acupuncture Specialist BS 18
Director General BS 20
Eleven Junior Ordnance Management Officers BS 16
Last Date for Online Apply: Monday 16th May, 2016
Apply Online
For More Details visit fpsc.gov.pk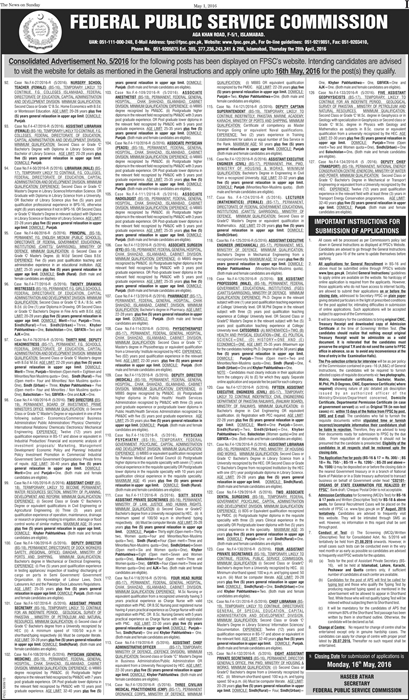 How to Apply
Before you apply you have to make sure that if you are eligible for any post or not that is written in advertisement of FPSC Jobs May 2016. If you see you are eligible then you have to click on the link below for apply online at FPSC jobs. After this you have to submit the FPSC test fee in state bank and write the receipt number in the online form. Also write down complete information accurately and then resubmit the form within the due date of submission of application form that is written above. After receiving application form officials will call you for interview and on the time of interview you have to bring original documents with you and if you are successfully verified then you will be hired for the job in anywhere in Punjab.
FPSC jobs May 2016 Advertisement
It is hereby informed and advised you that you must read the complete advertisement by click on it to make the words large so that you can read it clearly. In advertisement you will get general instructions, eligibility criteria and all terms and conditions for this job that are mandatory for you to read.
So all about Federal Public Service Commission FPSC jobs May 2016 Advertisement apply online date and how to apply procedure further we invite you to leave your comment for more details about www.fpsc.gov.pk jobs 2016.