Binary Options Pdf Download Rollover
http://ideas.kanojo.de/?p=5-Binary-Options-Hirose 5 Binary Options Hirose
http://wonderfulwebwomen.com/?p=International-Forex-Trading-Investment-Service-I-F-T-I International Forex Trading Investment Service I F T I
The Exchange Forex Advisers Work From A Treydaroma
Candidates must have Bachelor degree in Architecture, Civil Engineering, or Town Planning from HEC recognized institution, first preference would be given to the students with an architectural background.
M.A. Music
Eligibility Criteria:  BA/B.Sc or equivalent
Preference will be given to the applicants who have BA with music as an elective subject from HEC recognized institutes. All applications are required to either have mastery over any musical instrument, or in case of those interested in vocal singing have to demonstrate sufficient mastery of the crafts and basic understanding of Rags.
Admission Criteria: Basic according to the University's rules.
Additional Marks: Music as an elective subject in BA (30 marks)
Merit: As per basic criteria.
Age Limit: There is no age limit.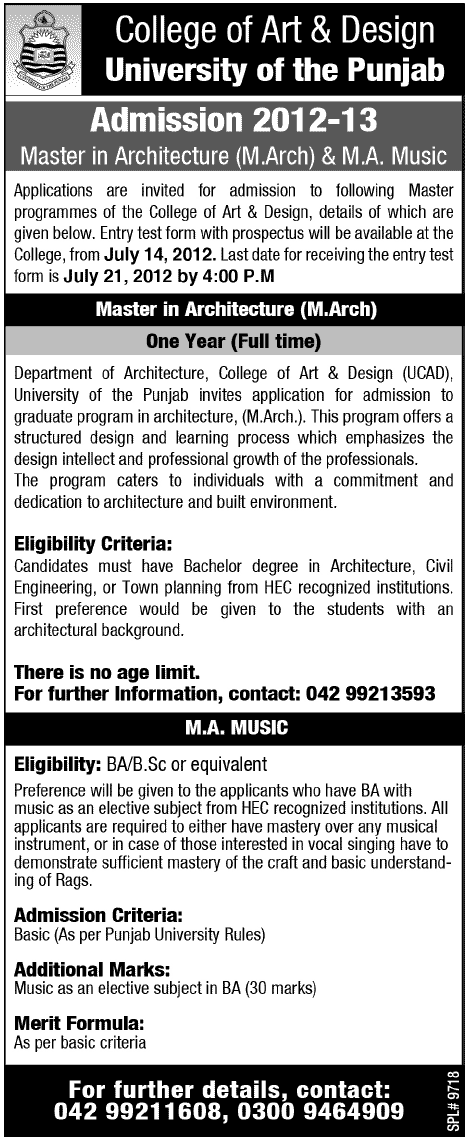 Contact Information:
For further details, contact:
Ph: 042-99211608
Cell: 0300-9464909
Punjab University Admissions in College of Art & Design Session 2012-13

,