National Defence University NDU Islamabad Spring Admission 2016 is open for M.Sc, M.Phil and Ph.D programs. Chancellor of NDU is the president of Pakistan and this University is organized into two faculties that are National Security College and Armed Forces War College. NDU also provide affiliation to the colleges like Command and Staff College, Quetta, Naval War College, Lahore and Air War College, Karachi. From the first day of the inception of this University the management and the faculty tries to provide quality education to the students who are admitted their for the education purpose.
The mission statement of National Defence University is to provide higher education to the students and this is like premier institution of the country just because of their rules and disciplines. There is no compromise on studies and education in National Defence University. All the eligibility criteria of each class is discussed in detail in the given below advertisement issued by the National Defence University NDU Islamabad so as the admission session 2016 are now open in NDU then all those candidates who want to take admission in that University submit their admission form till or before 05th January, 2016 as this is the last date to submit the admission form and all those candidates whose admission form will be received after that date should not be entertain in any case because the only way to get admission in this University is merit.
NDU Admission Schedule:
Schedule Of Admission

Last date For Submission Of Admission Form
05th January, 2016
GAT General for MS / M. Phil (09: 30)
12th January, 2016
NDU MSc Entry Test / Interview (09: 30)
12th January, 2016
M.Sc Interview (09th: 30)
12th January, 2016
Entry Test for MSPM / M.Phil Interview (09:30 Hrs)
18th January, 2016
Display of Merit List for MSc
20th January, 2016
Display Of Merit List of MS / M. Phil
28th January, 2016
Last Date For Deposit Of Fee
 05th February, 2016
Commencement of Classes
08th February, 2016
 National Defence University Islamabad Spring Admission 2016
OR
OR
Admission Form cal be obtained from the National Defence University registrar's office or from the above given Links.
You can also apply online while going to the official website of NDU
In addition to applying online, form filled in all respects along with the copies of Academic Testimonials, 3X Pictures and Pay Order/Demand Draft in favor of NDU is to be mailed on address given Below /Submitted in person.
Admission form processing charges are Rs. 300/- in Cash or Bank Draft in favour of NDU Islamabad.
Other Charges (M.Phil & PhD Students Only)
GAT (General) Candidates (M.Phil only) will be required to pay Rs. 900/- separately in cash or bank draft in favour of NDU Islamabad.
GAT (Subject) Candidates (PhD Only) will be required to pay Rs. 1500/- separately in cash or bank draft in favour of NDU Islamabad.
Result awaiting students can also apply with hope certificate of getting 2nd division at least ( For Admission in M.Sc Programme only)
Note: Gat (Gen) and NDU Entry Test for M.Phil and GAT (Subject) For PhD candidates will be held at the NDU Campus.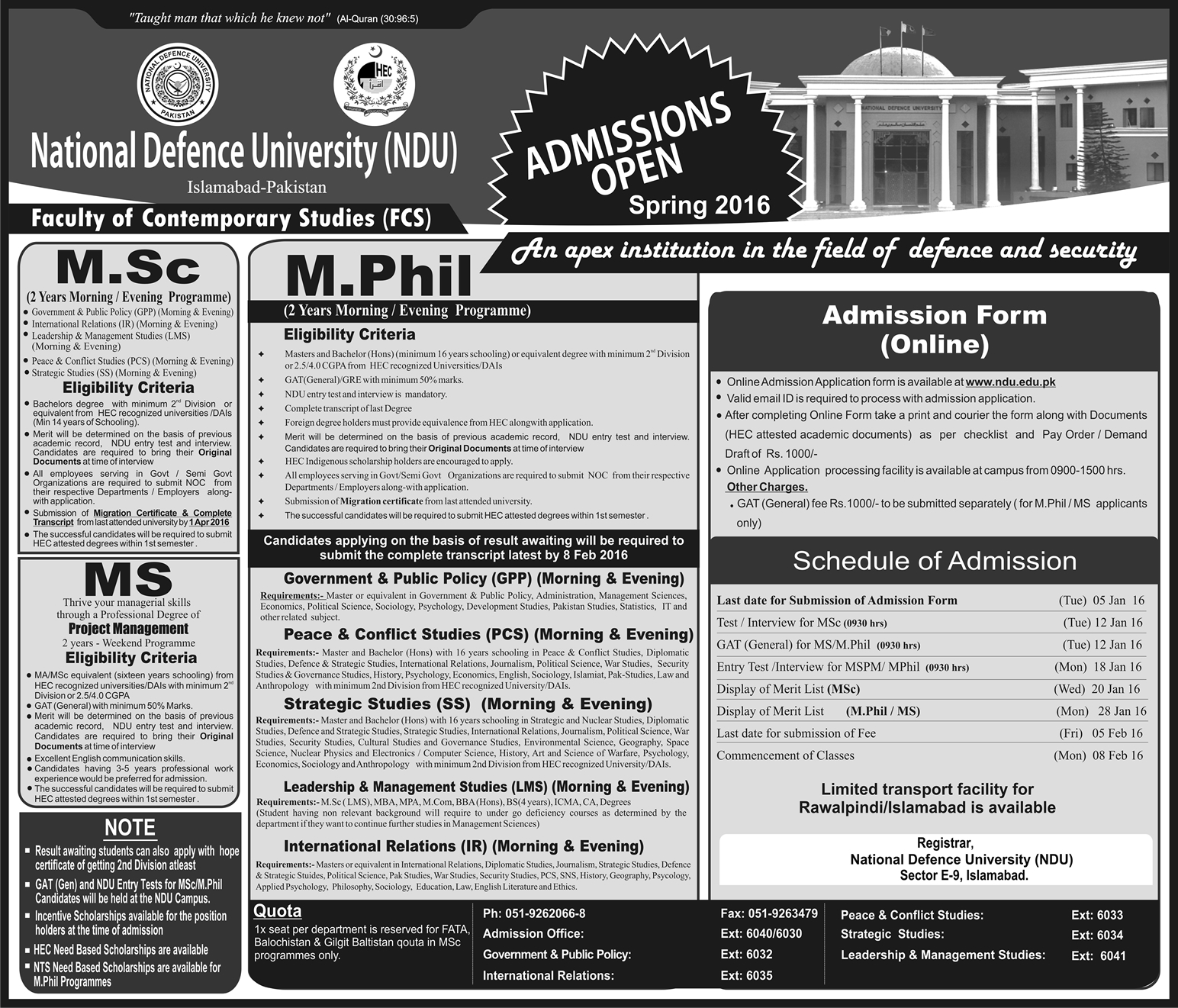 For More Information:
Registrar, National Defence University (NDU)
Sector E-9, Islamabad
Ph: 051-9262066-8, Fax: 051-9263479
Admission Office Ext: 6059/6030