Education News
Punjab University PU MA Part1 Private Registration 2015 starts
Punjab University PU MA Part1 Private Registration 2015 starts
Punjab University PU MA Part1 Private Registration 2015 starts as Under the rules and regulation of Punjab University(PU) Lahore it is officially announced that private candidates are welcome to get register themselves according to listed advertisement.This is an common but official advertisement taken from leading newspaper that MA Part 1 private candidates can take admission for upcoming exams of MA. Registration of Private candidates starts from Today 10th November, 2014 and it will be lasts up to 16th January, 2015. Those students only can register themselves who are having equivalent education of BA and Bsc who recently passed up exams 2014. Those students can't register against this exams registered who recently passed out supplementary exams 2014.
Registration Form:
All those candidates who wants to appear in the MA Part 1 Annual examination 2015 can take their registration from from the welcome counter of Punjab University New Campus or from the selected Habib Bank Branches. And all those candidates who are not from the Punjab can also download the Registration form from this page easily as what you have to do is just click on the given link below and your form will be downloaded to your computer.
Students you must have to keep those dates under your consideration as if these dates are gone then your form will not be accepted in any case and then you have to wait for the next one year till the next year registration is started so stay in touch with this page as this page will keep you up to dated from all the latest updates regarding the PU MA Part 1 Private Registration 2015 as it is started now so if you also want to ask some question then you can do it by commenting down on this page as our response team will provide you accurate and proper answer within no time.
Punjab University PU MA Part1 Private Registration 2015 starts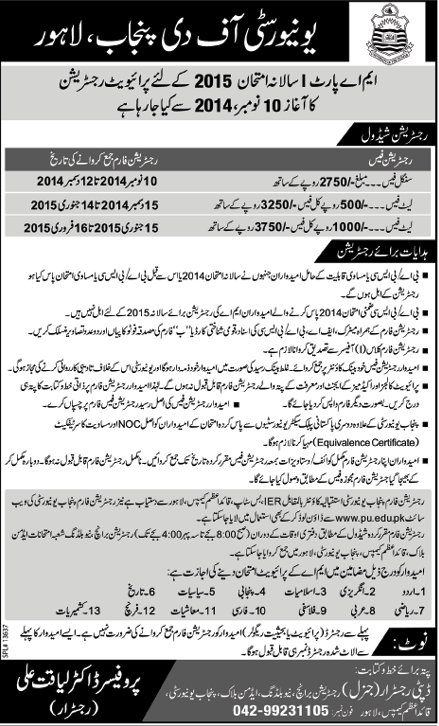 Private candidates can register themselves in Urdu, English, Islamiyat, Punjabi, Political Science, History, Maths, Arabic, Philosophy, Persian, Economics and French Language against this exams registration Schedule. Registration Single Fee is 2750 and form will be accepted till 12th December, 2014 with single fee. On the other hand the same fee along with 500 Fee as last fee forms will be accepted till 14th January, 2015. After that date the same forms will be take along with 4000 fee. The other relevant Information and NOC complete guidance is also available here at this page in this official advertisement of Punjab University.
Punjab University PU MA Part1 Private Registration 2015 starts

,